Garden Report: January 11
Today was my birthday, and Noel got me six bales of straw. Isn't he the best husband EVER? We put four of them in the shed for later, stacked on top of the base of my old thesis model (they weren't kidding when they said I would use my thesis for a long time after I finished it).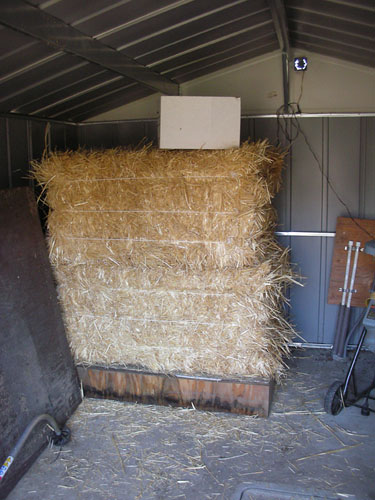 The other two went out by the pond, where we will be putting the vegetable garden this year. It's a piece of lawn that has never done particularly well, so I'm looking forward to converting it to vegetable beds.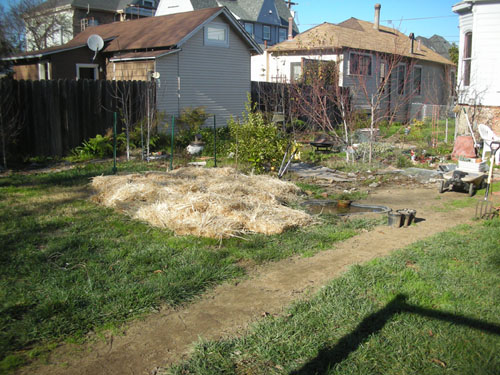 If you grow your dogs in a bed of straw, and turn them every day, they develop a perfect sausage shape and texture. Noel demonstrates the technique here.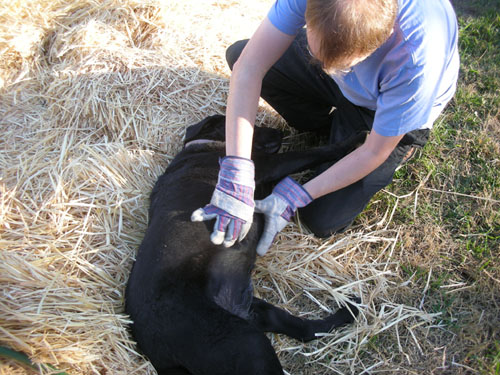 I did a lot of other gardening things today, too. Like planting my new apricot tree, which arrived from Trees of Antiquity on Tuesday. Planting the apricot meant relocating a lot of Wahlenbergia that was kind of going crazy in that spot. I left a sizable clump behind, but I still had about fourteen plants worth of divisions to replant.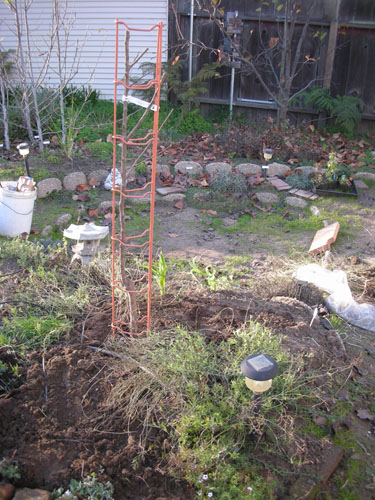 So I planted it everywhere. It's a drought-tolerant, spreading plant, low to the ground, with blue bell-shaped flowers that bees love (it's always teeming with bees in the summer). I put several large clumps in the back between shrubs, where I've been trying to kill Bermuda grass. I've found that Bermuda grass can't establish itself in the bed with Wahlenbergia, which endears it to me all the more. I also put clumps along the front, where they will be in shade and rich soil. It's been my experience that Wahlenbergia does not care for that sort of situation, so it's an experiment.
I also moved these Allium schubertii that were starting to come up in the same bed. I don't think they would have liked it under the apricot. They are now between the quince and the new apple trees.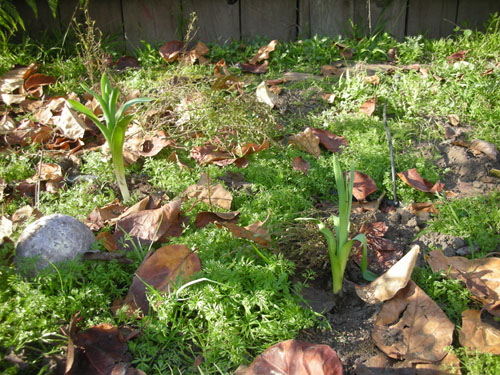 And I started pruning the Cecile Brunner and wisteria. I've been slowly pruning my way across the rose hedge out front, which also involves a lot of weeding. I should be able to finish that off this week, and then we want to rent a shredder to plow through all these prunings. That also means I have to prune the orchard this week, too.
Just taking down the major section of the Cecile Brunner (I haven't even gone over to look at the wisteria, and I know it is out of control) took quite a bit of time and suffering. This is going to be a long week. On the other hand, roses always respond well to heavy prunings, and I expect this will be a good year for Cecile.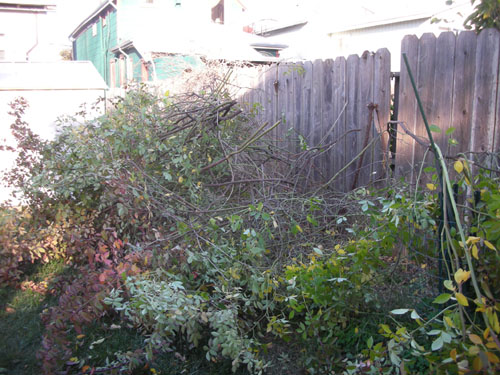 When I was tired of being scratched to death in the roses, Rosie helped me set up stakes to show where I wanted to move the citrus trees. I'd decided that we needed to space them out more, because their root systems were not developing as well as I would have liked. I moved them to make a slight curve along what will be a perimeter path through the garden. Noel helped me dig holes, then dig up and move three of the four citrus.
(While we were moving them, an orange fell off the blood orange tree, so we ate it. It was pretty good. I'm looking forward to when they have more fruit.)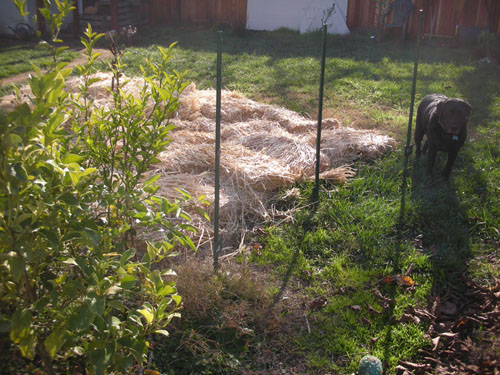 Now they are in a row along the side of what will be the vegetable garden this summer. Just having them there brings so much more structure to that side of the garden.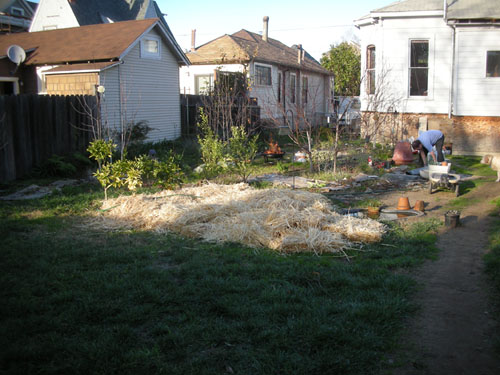 And speaking of that garden, in the mail yesterday was the first new planting: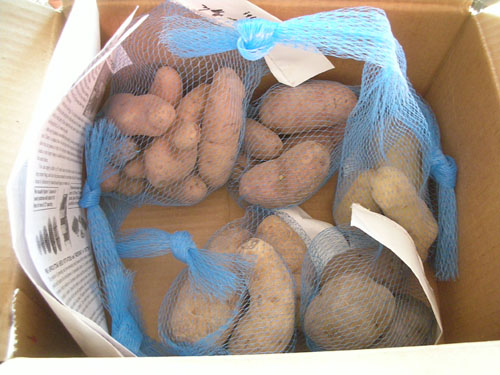 Seed potatoes! I've never grown potatoes before, so I'm pretty excited about it. I'm planning to grow them in a hill of straw (that's what the straw we got today is for). We got five kinds: Bintje, All Blue, Russet Burbank, and a couple of kinds of fingerlings.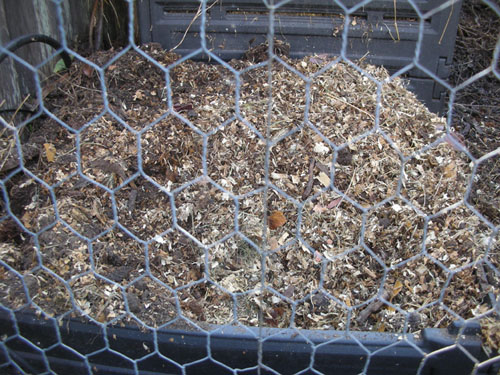 And just in time for spring planting, I turned over the far compost pile today and found nice, finished compost at the bottom. I'm going to leave it to the chickens for a week or so to go through it for anything interesting, and then it will go into the garden. They were digging through it enthusiastically when I left them.
It's not all digging and hard work in the garden right now. We've had a couple of days of unseasonably warm weather (yesterday it was around 70F, which is warm even for here). Being outside has been really pleasant. And even more so because we have quite a few things in bloom.
Like Heliophila longifolia, under the new apples. The horizontal light we have at this time of year makes the bright blue wash out in photos. Trust me: it's even more beautiful than this picture shows.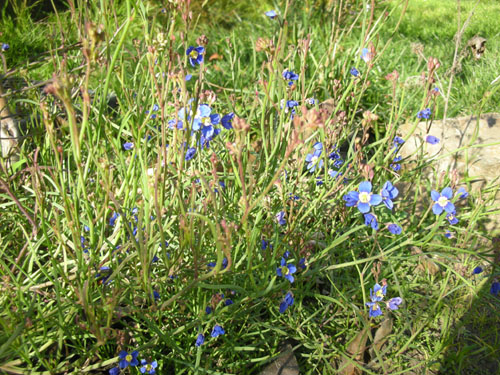 And the contorted quince. The other day we came across a piece of information: a contorted quince may be pollinated and bear fruit if there is a fruiting quince nearby. Fortunately, the contorted quince has chosen to bloom just as the fruiting quince has shed its leaves and gone to sleep for the winter. So we dodged a bullet, there. I'm not sure what possessed this guy to flower now, since it usually does so in the spring.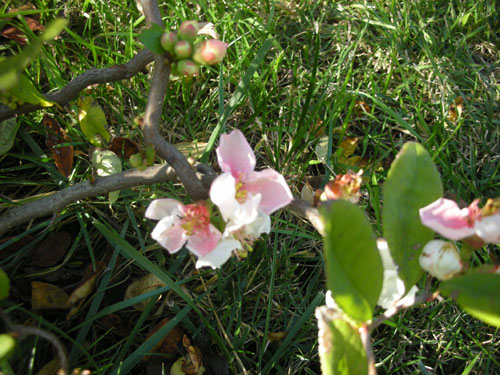 And here's a nice one, hiding under all the Wahlenbergia I dug up. It's Gilia tricolor, a California native. It's very pretty, and I should not have planted it where it had to compete with a plant of similar shape. But since I moved most of the Wahlenbergia when I planted the apricot, it now has room to be itself.
And finally, indoors, we have one of the three amaryllis we brought back from the Netherlands in bloom. Looking rather more peach than the dark red and white stripes it was supposed to be. We'll see how the other two come out when they open up.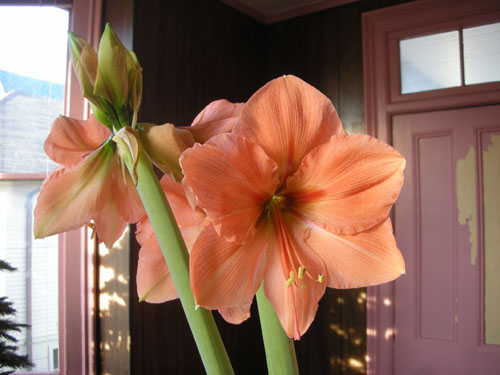 So that was quite a weekend, and now I think I will take a bit of a rest before birthday dinner.

Technorati Tags: bare root, compost, digging, flowers, fruit, gardening, native plants, plants, roses, trees, urban farming
posted by ayse on 01/11/09