Garden Report: January 25
It finally started raining this week, after a long hot and dry patch. The weather is still a lot warmer than it usually is, but at least we might get a decent recharge on the aquifers.
Today it's mostly spitting rain in short bursts, and in one of the lulls I went out and did some raking and messing around.
My fava beans are coming in nicely. I'd like them to be large enough to dig under when I am ready to put out some other vegetables in that bed in about eight to ten weeks. Here they are pictured with our primary garden pest.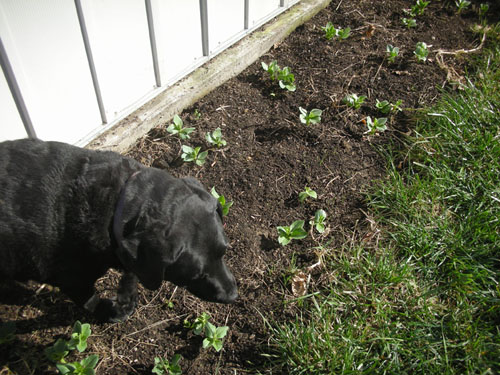 (Which reminds me, I should clean out and prep the seed-starting rack, because I'm days away from starting the first seeds of the year.)
I started installing the posts for the anti-dog fence around the garden, and also to hold up the cage for the potatoes to grow in, but the ground was harder than I expected and I had to put it off until Noel could help me (he was at our colo, fixing a bad bit of memory in our server, so if you can see this, thank him). As usual, the chickens wanted to help out.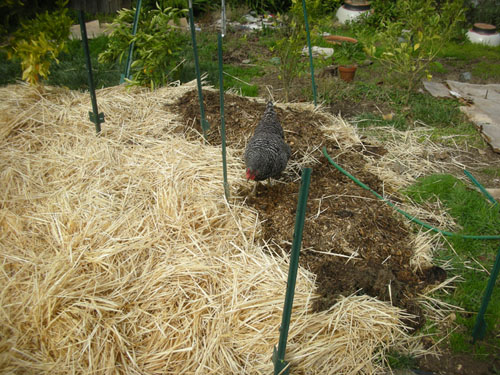 Thanks to the unseasonably warm weather, and the rain this week, we've got lots and lots of new weeds. And new plants that I want, like the poppies coming up in the lower right here, and the little English daisies in the bottom center. I'm somewhat slowly going through the garden weeding out little bits of grass and other weeds as they come up, and pulling out the dead leaves to go in the compost. Fortunately, the days are now getting longer, so I have more time to work.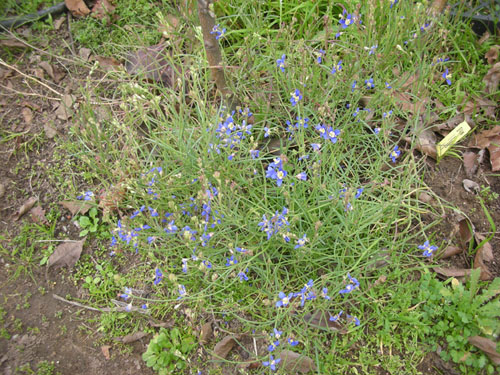 Technorati Tags: california, chickens, dogs, fence, flowers, gardening, rain, weather, weeds
posted by ayse on 01/25/09