House Beautification Project
So one day a couple months ago we got kind of tired of the half-done projects, the mangy bedroom walls and the yucky plastic blinds the previous owners installed. I know, here we are closing in fast on our eighth anniversary of buying La Casa, and suddenly we develop an intolerance for construction?
Anyway, we decided to do some small projects to make the house more livable. Like putting up curtains in several rooms, finishing the bedroom, decluttering a bunch of unneeded stuff (we combined households twice: once when we moved in together and once when I moved back from architecture school).
That's what decluttering the bathroom and pantry was all about. And while we haven't quite gotten rid of as much of the STUFF we have as I'd have liked, I have some side trips planned this week to offload things at various donation sites.
This weekend, we got more work on making the house prettier.
Noel did the really awful job: strapping on a respirator and having at the mastic on the back bedroom wainscoating with a scraper.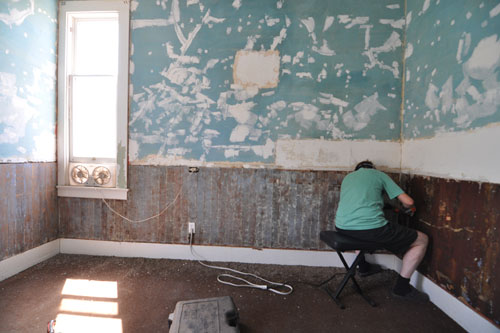 When he's done prepping the wainscoating, we will prime the entire room (apart from the ceiling, which is being held on by a prayer and a thick layer of ceiling paper and paint, so we're not touching it yet) and then we will paint. To that end I will be picking up some paint this week, and I spent some quality time with the Benjamin Moore colour picking software to find good accent colours.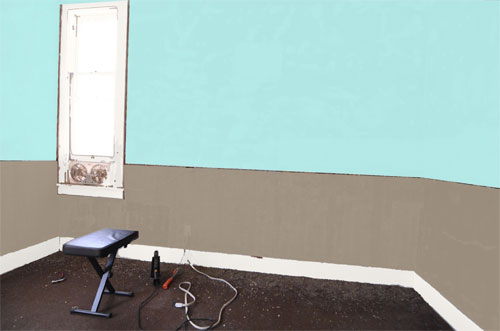 That's the same aqua as in the front parlour downstairs ("Jamaican Aqua" BM 2048-60) -- I considered finding a different colour but I love this one so much downstairs that I thought I'd use it up here. Then I need to get a testing quantity of the mushroomy wainscoating colour (this picture has it as "Weimeraner" BM AF-155 but we'll see what best works in the space).
But we can hold off on buying paint until we have workable walls. Among other things, I need to make another washing pass over the plaster, and we need to install some replacement trim at the top of the wainscoating to close up the gap there.
In the meantime, I went into the kitchen and began mudding the doorway to the pantry.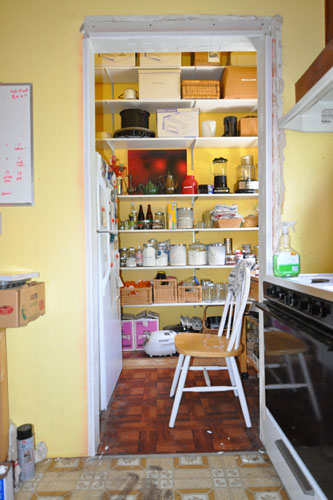 That involved first cleaning the stove, washing the wall beside the stove and the useless recirculating hood, and moving the refrigerator over. I started by doing one heavy layer on the inner edge of the doorway, which I then let dry for a couple of hours before I did the outer sides (didn't get a photo of that, sorry blog stalker types).
I've been touching at it on and off all weekend, and I expect it will be all done and ready to prime and possibly paint tomorrow.
While I was waiting for the plaster to dry, I hemmed some new curtains for the laundry room.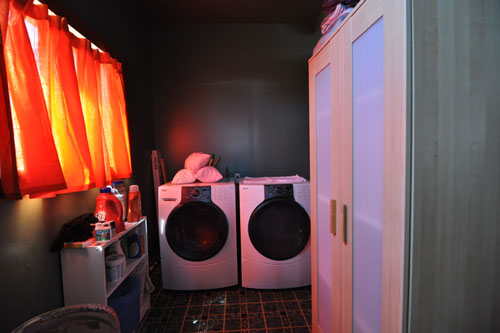 We did most of the work in the laundry room last week, moving out a dresser we'd had full of dog towels and moving in this old wardrobe that Roomie John left behind (we'd had it up in the Accordion Room full of linens and office supplies). So now we have one big repository of linens of all types. Plus, we retired several worn or wrong-sized sheets and comforter covers, and a number of dog towels are going to go to the shelter where they will be very welcome.
Then it took until this weekend for me to get new curtains for the space, which I picked up on the cheap at IKEA -- I'd say this was a necessary delay but mostly it was a delay because I hate crowded shopping places. But IKEA has the best quality curtains for the price, so Saturday afternoon (yes, I know), I stopped there on my way home from another thing.
I decided to try out the iron-on hem tape IKEA now provides with all curtains, and it worked OK. I can't say I'm a big fan of the look of iron-on hem tape hems, but they did go fast and with everything else going on I was not keen on hauling out the sewing machine and finding matching thread and all that.
My next big move in the laundry room is to finish touching up the drywall in there, then repaint in a lighter colour. While we had no curtains in the window the room was bright enough for the very VERY dark paint, but unbearably hot and glare-y all the time. Now a lighter colour will open the space back up but with a more even light. I'll also be installing some deep shelves over the washer and dryer to store some big bins of stuff for various arts/crafts stuff I do. But maybe not quite yet, because we have a lot of other projects on our plate.
I also bought new curtains for the front bedroom, because the ones we installed when we turned it from our office into a temporary bedroom were startlingly sheer. The new curtains are heavier and will also help protect the books on the shelves there, which are getting faded and damaged from too much sunlight.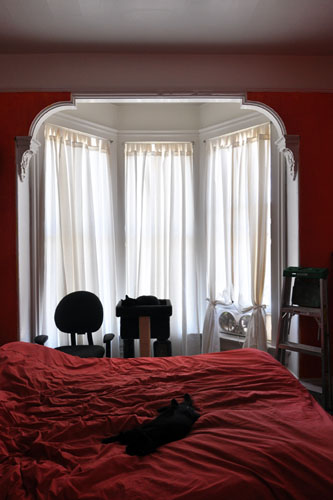 (That's Henry in the window, and Dot socked out on the bed. The super-wide angle lens throws the relative sizes way off.)
I'm looking forward to having the back bedroom finished so we can use this room as our office again.
posted by ayse on 09/06/10