Nearly-Bare Wood
Noel spent the weekend working on the last of the mastic on the bedroom wainscoating. He spent one very very long day scraping in the respirator until all the thick bits of mastic had been removed.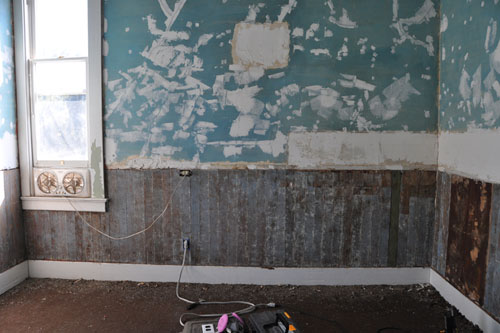 There were some problem spots, where the original pine boards had been replaced. The replacement boards held tighter to the mastic because they didn't have a layer of paint underneath to give up to the heat gun.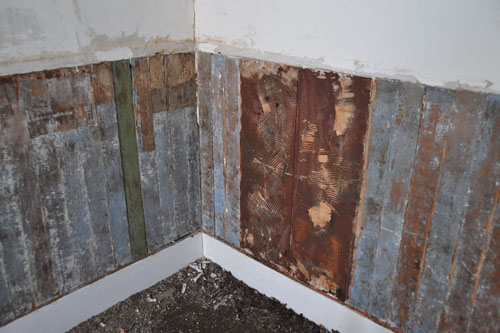 Then this morning and afternoon he used the random orbit sander to get a nice surface for painting. You could argue that that was a bad idea: the paint under there could well be lead paint, after all. But there aren't many options short of removing the wood and replacing it with drywall (or other wood, I suppose, but that's too rich for our blood right now). Anyway, he wore a respirator and then did a thorough cleanup.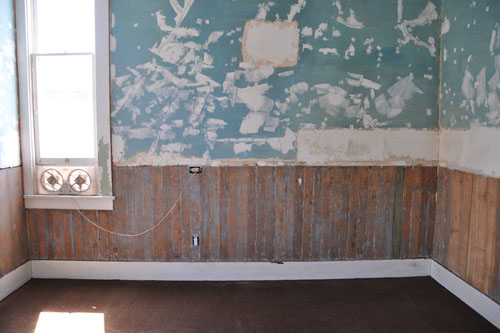 You can see the replacement boards here: just some 1-by stock. We know there was a sink in this room at one point, and we guess that this is where it came through the wall (the upstairs bathroom is on the other side of the wall).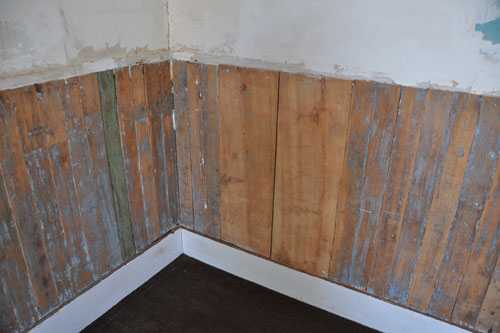 We still have prep to do:
I have to wash and finalize the plaster repair above (which I decided to not try to do while Noel was making fumes and dust in the room), and there are many gaps between boards in the wainscoating that need to be caulked.
That funky sideways outlet seen above must come out (it's not safely wired) and we'll have to make a repair to the wood there.
All that will be done tomorrow, so tomorrow night we should be able to do the first coat of primer. And it only needs an hour to dry, so maybe we can do a coat of primer, test the wainscoating colour, and do the first coat of wall paint.
(We're going to put a piece of plain molding to cover the gap between the waincoating and the plaster (there was one there, originally), so we need to measure and buy wood for that. We decided to paint it separately, so that can wait until later this week.)
posted by ayse on 09/12/10