Doorlips
While Noel has been slaving away at the back bedroom, I've been moderately chugging along with finishing the pantry doorway.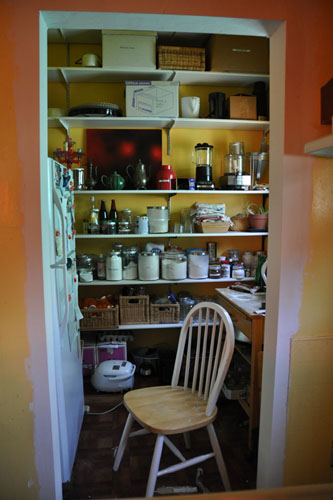 It would have been so much easier to have done this when we did the rest of the room, but of course we didn't because we were having threshold issues at the time, and we ran out of drywall, so here you go.
On Friday I declared the plastering done, since this was just going to suck up as much time as I would give it. Not my finest plastering job, but functional.
On Saturday I taped off and did a coat of primer. Looked good enough, so on Sunday I took all the little pots of sample paint from when we did the dining room and put down a nice coat of gray paint.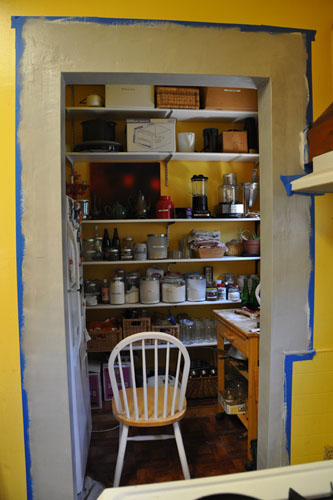 We had had a discussion about how to paint the doorway, with the biggest restriction being the desire to not spend more money on paint. Since we have a bunch of partial cans in the basement this seemed like a totally workable goal. The question was, do we use the bright hotdog-mustard yellow can, or the orange, or maybe... the bright red.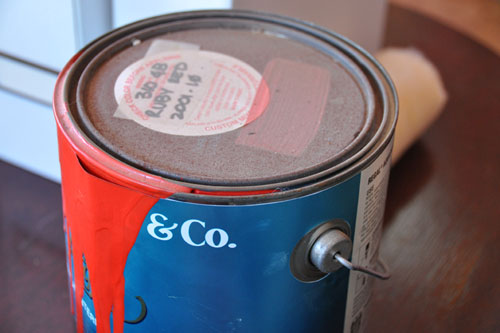 My argument was that it's better to make something weird look intentional than not, so let's go crazy and use the bright red. It was leftover from the glaze coat in the front bedroom, and it's not a colour we're likely to use a lot of in any other place (as evidenced by the six years of dust on the lid of the can).
My only worry was that I remembered this as a very glossy paint, and my half-assed plastering job would look even more half-assed with gloss paint. But it turned out to be satin, which is not ideal but more acceptable.
So the gray coat was there to help the red, since reds have such terrible coverage.
The good news was that the paint was in reasonable condition despite six years in the can. The bad news was that the can was not, and chunks of rusty gunk fell into the paint when I opened it. But I picked out the gunk and decanted into a storage jar I'd been planning to throw out, anyway, and all was well.
Well, all was slow, because this is Benjamin Moore Regal, and it takes 12 hours to dry solid enough to recoat. A couple of years of painting with Aura, and I am totally spoiled for fast-drying paint.
This morning, I put on a second coat, and by early this afternoon I was able to pull down the masking tape.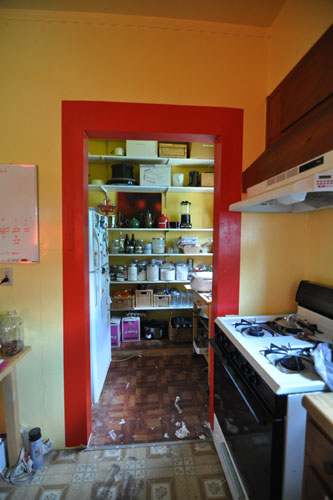 It's not a colour scheme that works for everybody, but it works for us. I suggested we make a pair of big white teeth and hang them from the top of the doorway. A tongue-shaped rug, and we're all set.
And boy, is it nice having the stove back in place again.
posted by ayse on 09/13/10