Decorating the Bathrooms
We don't get to do a lot of decorating around la casa, on account of being kind of in perpetual construction mode and all. But now that we're about ready to get started on the big bathroom project, we've started choosing fixtures and finishes.
For the half bath under the stairs, we've chosen a wall-hung toilet. That's not easy to install in your average bathroom remodel, because it requires ripping stuff out of the wall and possibly some re-framing, but just about all the framing down there needed reworking, anyway, so it works well for us. Less stuff touching the floor means fewer crannies for fur to lodge in (six indoor animals means a near-obsession with fur drifts).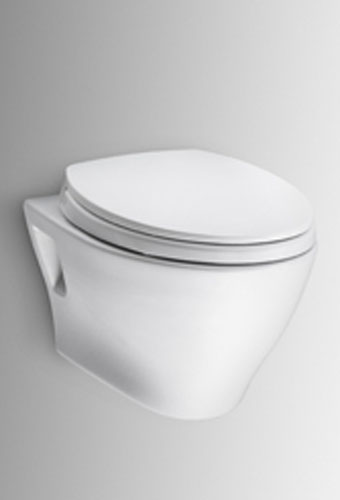 This is our toilet. It's a Toto Aquia, dual flush. Reviews are good, with many people saying they never use the #2 flush at all. The wall tank takes for-ever to arrive so I ordered it a few weeks ago and it should arrive... someday.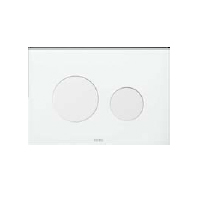 We ordered an actuator plate for the flusher -- a pair of buttons that install in the wall above the toilet, required by this kind of wall-mounted toilet because there's no exposed tank with flusher. I'd really love to do something funny with that: put four buttons up there labeled from 0 to 3, and if you press the wrong button something funny happens like music playing or a stream of water sprays you in the face.
Our friends would never visit us again!
My only real gripe with the Aquia is my gripe with the direction of American toilets in general: I really hate big toilets. Elongated seats are now the norm, and Toto doesn't make any dual-flush toilets in a normal, round-front shape. Not only does this make new toilets hard to fit into older homes where even a round-front toilet might barely squeak into the space with code-required clearances, but I find elongated toilets very uncomfortable (because I am a short person and do not care to snuggle into the toilet bowl), so if I want a good flusher I am doomed to tragic discomfort.
As a compensation, we are getting two Toto Washlet seats for the two bathrooms. The one for downstairs is here already; the Aquia only comes in elongated seat and I really wanted a wall-mount for downstairs. I am undecided on the upstairs toilet (can't do wall-hung there because of the framing issue) and might opt for a single-flush Toto with a round front for comfort's sake, so I haven't ordered the Washlet yet.
(I mentioned the price of the Washlet to a friend and he said for that amount of money he would expect it to wipe his butt. In fact, the one we are getting will not only wash your butt but blow it dry with nice warm air while playing music to you. So it will surely earn its keep.)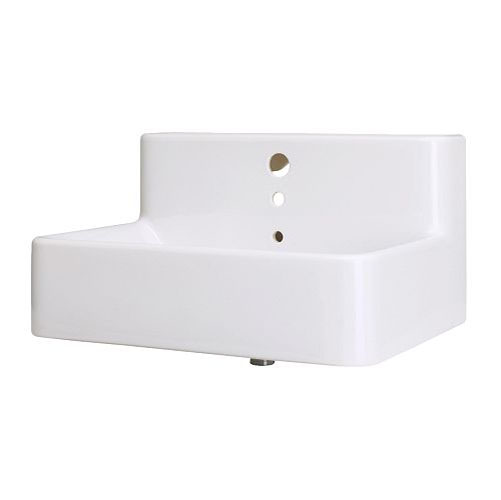 In both bathrooms we'll be putting these Ann sinks from IKEA. They're kind of a compromise because we can't afford the sinks I'd love (a custom-built marble and cherry vanity downstairs, and a soapstone and painted wood vanity upstairs). They do have wall-hung faucets, which are so far superior to deck-mounted faucets that you wonder why anybody does it any other way (they don't get that nasty gunk around them because water cannot pool in the connection between faucet and sink).
Some of what we're doing in these bathrooms is 5-8-year compromises. These sinks are one of them.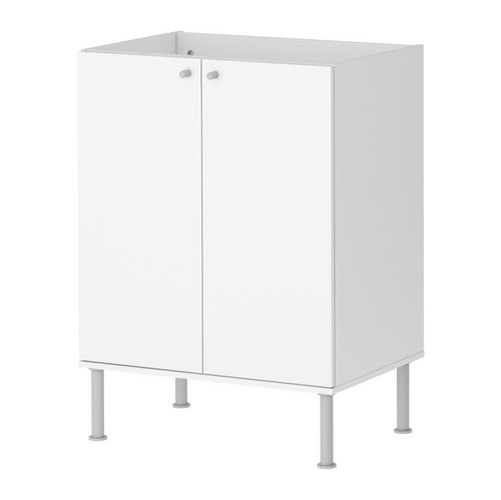 Installed under the sinks (which are wall-hung so they don't technically need anything underneath) we're going to put some small storage cabinets. I'm undecided on which. Either this one, which is IKEA Fullen, or this: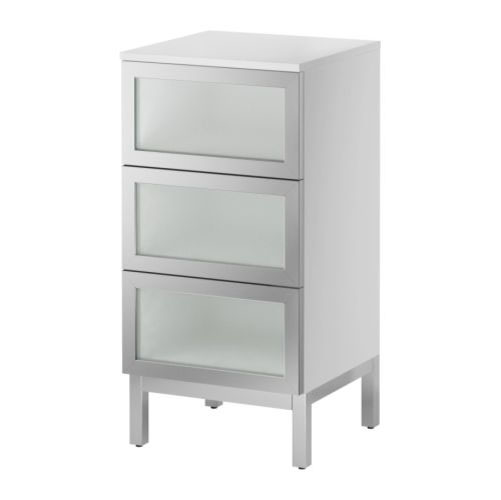 Which is IKEA Lillangen (only with more interesting characters, but I will spare you). Lillangen has its own line of sink tops, but they're all pre-drilled for deck-mounted faucets, and have places where it looks like a vigourous washer would be splashing water into the crack between the cabinet and wall all the time, so we are giving that a pass. Either cabinet will be modified to accept the plumbing from the sink. I just like having storage close at hand for certain necessities, especially in the guest bathroom.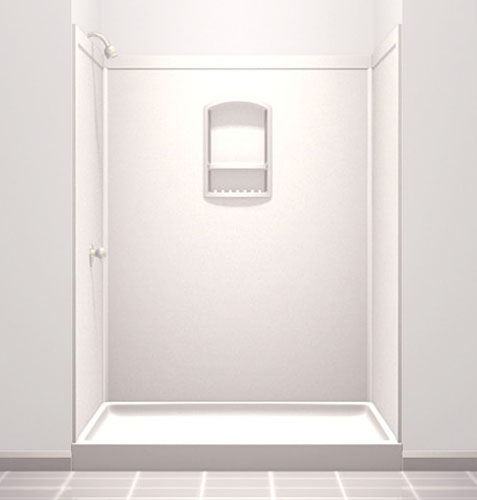 On the theme of compromises, I'd love a nice tiled shower surround, but I'm already spending a lot of time studying plumbing for this project, and I just don't feel like learning to be a master tiler. So we're going to get some Swanstone solid surface panels for the shower (plain white, since I hate materials that lie about what they are). Swanstone is one of the few products that can accommodate our kind of funky-sized shower area. I can choose where to install that utterly hideous shampoo shelf, so it will go on the short end opposite the shower head.
The shower controls themselves are one of the few areas where we are not making compromises. No, we're not going all water bandit on you, splurging on a ridiculous shower with a hundred body sprays and an enormous "rain" head; we're just getting something beautiful. We both love thermostatic shower controls (one control for volume, one for temperature: set the temperature once and you only need to adjust a little for a perfect shower every time), and I wanted a Steampunk-ish Edwardian look. We wanted a hand-held option for washing dogs, even though we'll be converting the downstairs tub into a dog wash. I guess this way we can each wash a dog, and get them both clean in half the time.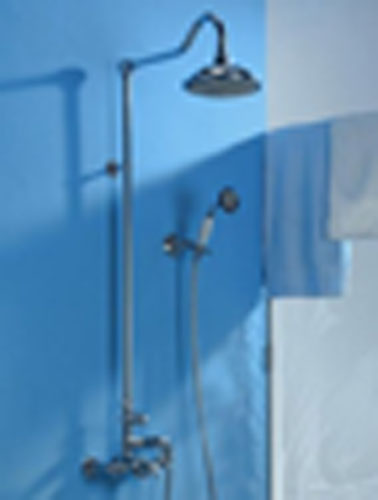 Yes, that's a horrible picture, scaled up from a fuzzy, too-small photo. How about this: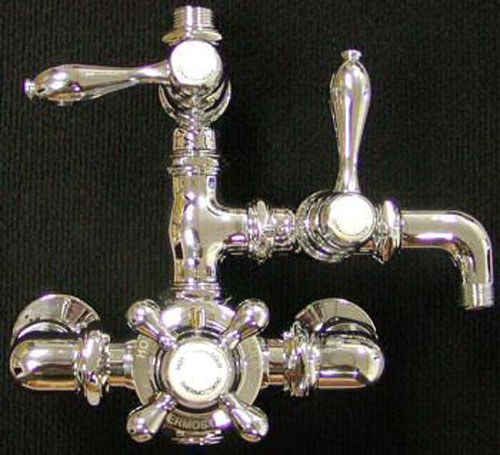 Now that, my friends, is all about crazy early 20thc. plumbing. Sure, it blows the budget out of the water, but I always say to spend your money on the things you touch the most often.
For flooring, we're thinking of just painting the wooden floors with high-gloss floor paint. They'll need some cleaning up, and the wide cracks will need filling, but that's the cheapest and most effective way I can think of to make a decent floor. I'm open to other options, of course.
One of the other good ideas we had for the downstairs bathroom, given that that will be used by guests, is an indicator lock. (Currently none of our bathrooms have any kind of lock at all, and the one functioning bathroom doesn't even have a latch on the door. It'll be nice to not have that edge of anxiety about being walked in on when there are visitors in the house.)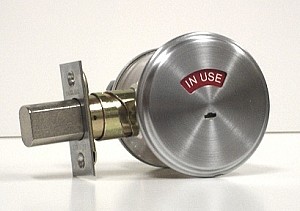 So you don't have to try the door or knock to see if the room is occupied, of course. The only one I can find mass-produced in the US is this one, made by Schlage; I've found several in the UK, but nothing really has the somewhat classier look I'd like, since this will be in our main downstairs hallway. I'm still looking for a fancier version that isn't done as a custom run; I will go that route if I need to, but I'd rather not.
As for room colours, upstairs will remain shiny white, while downstairs, which is currently Barbie pink and fake wood panels, will go dark and mysterious. I'm thinking maybe burgundy, or a warm charcoal gray. I want something dark and sophisticated, because it's a small room that is never going to feel expansive, and it has no windows. Thoughts?
posted by ayse on 02/16/11