Garden Report: April 15
Garden bloggers like to post pictures of what is in bloom on the 15th of the month, but if I did that today it would be ridiculously long.
The garden is doing very well.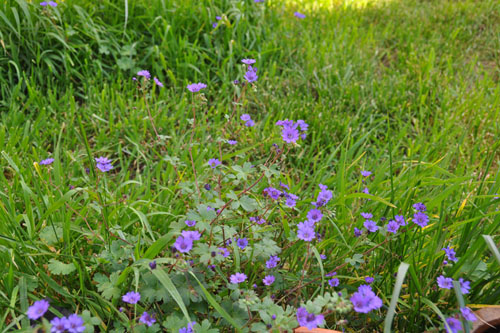 My "Bill Wallis" geranium is gorgeous, as usual. It's also seeded itself around the yard in some charming ways, from the looks of it with the help of the dogs, who have their little dog-paths they like to follow as they inspect every inch of the yard (the neighborhood has a rat problem that has largely stayed away from our house thanks to their vigilant patrols). There are now pretty little purple flowers coming up on the favoured dog paths.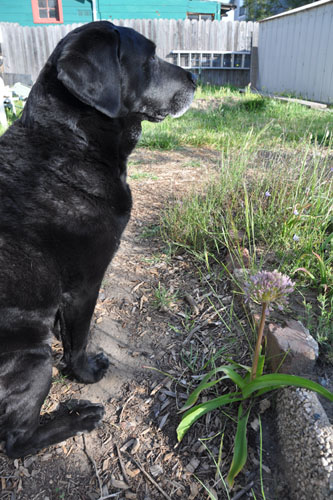 Here's Rosie, ever alert to intruders (there have been homeless people camping in the U-Hauls behind the house this winter). Beside her is the renegade Allium schubertii that I missed transplanting last year when I widened the pathway. When it has finished blooming I'll dig it up and move it to a better location.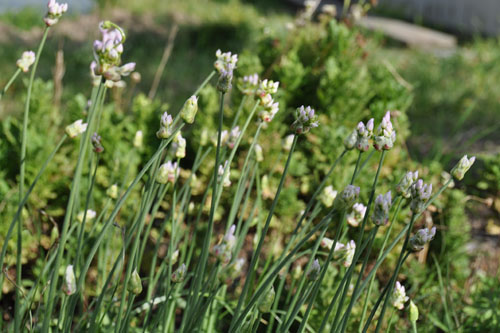 Now is the time for the allium bloom. This year there are tons and tons of them, so from now on I won't feel bad when I weed them out or cut the bulbs in half with the trowel. They are officially well established here.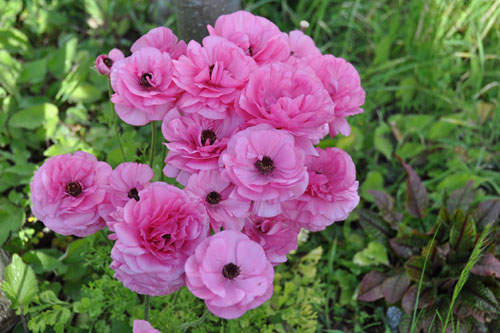 Less so are the ranunculus, of which only one stand remains. Granted, the location where I planted the others had its problems -- a persistent Bermuda grass invasion and a couple of other issues. I love the pop of colour the ranunculus give, so I do intend to get more of them to put around the garden. They're sort of a more reliable version of what I'd like tulips to be.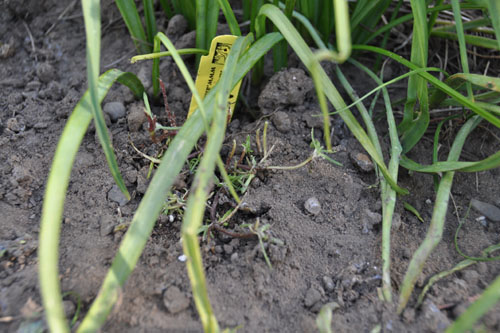 Speaking of reliable, I can always count on the garden population of snails to devour a favoured plant. This year it is my leptosiphon, which I only bought last weekend, the little jerks. I was counting on that plant to fill in after the bulbs are gone.
Other new planting includes filling this strawberry pot with more succulents (the best use for a strawberry pot I know of, since they are hard to manage for strawberries). I had a bunch of little tiny succulents I was growing on the kitchen windowsill that I divided up and put in here.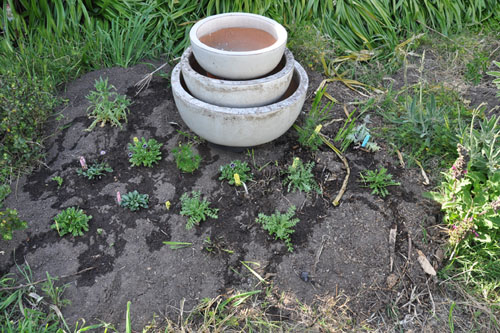 I also made and planted this bed last weekend (some parts of it are rather poorly prepped, because I am a lazy weeder). The pile of bowls is the fountain I started working on a few years ago and abandoned because solar pumps are not all they claim to be. Instead, I bought a regular pump and Noel is converting it to solar for me. I planted nemophila around it, and a new, weird sage, and a couple of other fun little native annuals. This area is going to get a fairly heavy reworking by me in years to come, but it would be nice if it wasn't just a weed zone in the meantime.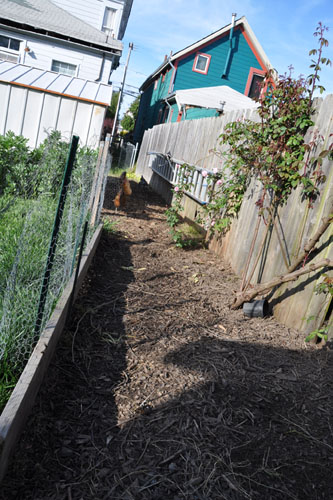 The chickens have been pretty lazy this week. Apart from digging large dust-bathing craters in the pathway, they have hardly touched the Fern Walk, those lazy little jerks. I took them in there today and read them a lecture on responsibility and the merits of hard work, but they just kind of cackled and ran off. This is most irritating because Carole has gotten in the habit of cackling in the Fern Walk first thing in the morning, right under our bedroom window (the neighbors tell us they don't hear it, because they have hardly any windows on that side).
The nectarine/peach bloom is almost done (one branch is left), and it looks like we're coming in with very minimal peach leaf curl this year. That's really good news because I could not stand to lose another tree after giving up my beloved quince. We are now into the apple bloom, and this little bee is hard at work on the dwarf apples. A friend also gave me a potted Whitney crab in the fall, and that is blooming, too.
What you may not be able to see about this bee is that it is not a honeybee; it is a black and yellow fuzzy bee, one of our native bumble bees. It's also covered in pollen.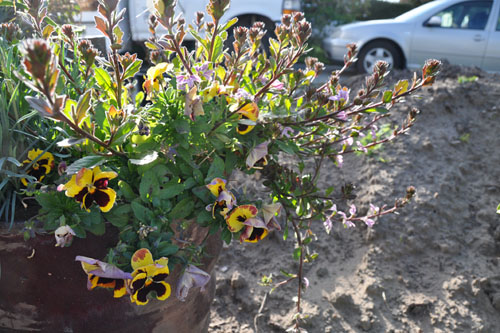 And lastly, the containers out front are doing well, despite not getting any water besides the rain. I suppose it helps that it basically rained all the way through March.
This weekend we're back at work on the retaining wall, getting the formwork cut out and at least partially built.
posted by ayse on 04/15/11