Formwork, Part One
Today we spent the day at Techshop, in San Francisco, constructing the more regular parts of the retaining wall formwork. (Our big gift to ourselves last year was a lifetime membership, so we can just go whenever we need to use the equipment; now that the San Francisco location is up to speed, we'll be using it more often.)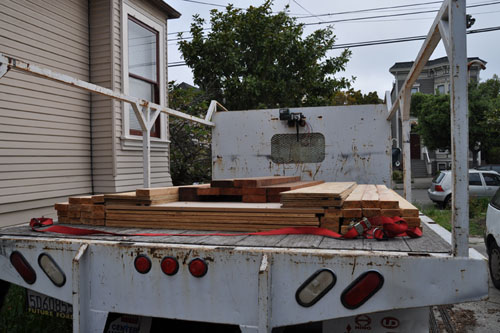 We started by loading the truck up with supplies. We brought not just wood for the formwork, but also wood for the cross-pieces on the pergola, if we had time to do that.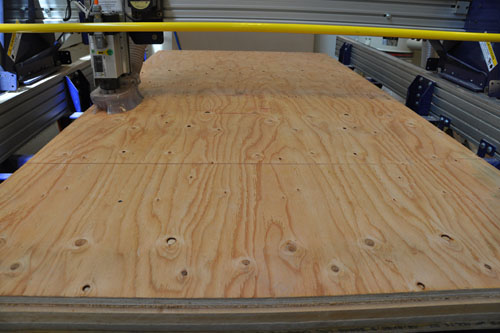 We were using the Shopbot -- a computer-controlled router -- to cut out the more complicated back pieces of the formwork. The Shopbot gets every cut exactly right, with some time spent on squaring the material. This was a learning experience for us, because this was our first project on the machine since taking the class.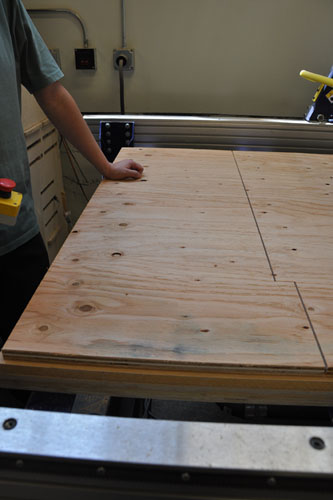 I'm glad we had such a simple project for this first one. We didn't have time to do the pergola pieces on this visit, and that means we can take the experience from setting up the cutting files and the machine itself to use on those, rather than stumble through.
The pieces came out pretty nicely, too.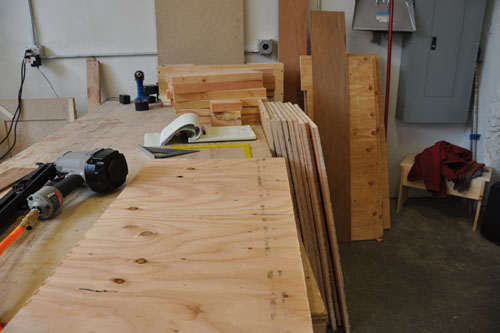 We also used the big panel saw to cut the plain pieces -- that was super easy and totally worth the trip. Between that and the radial-arm saw, we saved a ton of time and grief trying to make tools that don't quite work make do. Then we set up an assembly line to make the "sleds" that will be the front of the wall.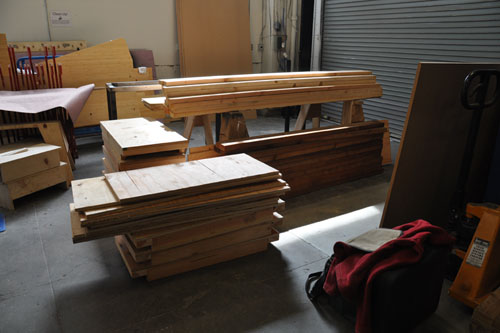 By the time we were finished, we had nine neat little sleds, a pile of cut-out column fronts, and a bunch of unused materials stacked up and ready to re-load on the truck. The rest of the wall can be assembled in place, I think.
Tomorrow we'll begin the assembly.
posted by ayse on 04/16/11