Garden Report: November 30
The swath between the houses has lots of oxalis growing in it. That's sort of the nature of the season: it starts raining and the oxalis pops up. Not as much in the back yard this year because the free-ranging chickens are eating it all, but definitely everywhere it can.
I went out this morning before a conference call and weeded out nine buckets of the stuff, piling it on the compost heap. In my fantasy world I take a desk job and we would hire a gardener who will take care of the weeds so I can do the fun parts of gardening. I'm halfway there; the desk job starts Monday. We'll see how hiring a gardener goes; I'm probably excessively picky.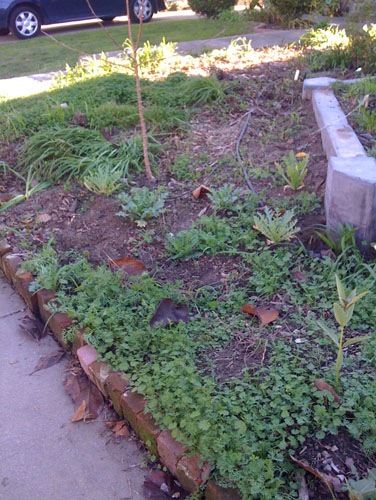 In other news, right before Thanksgiving I went into the city and picked up our permit to do most of the work we had planned to do this year. We had not planned for it to take so long to get the permit, but there you have it. Most of the fault lay on our side, with getting paperwork properly assembled. The shoemaker's children, and all that.
So in January we will get started on some of the work there (we have some prep to do this month, plus let's be realistic: it is December and there is no way we are going to get much done this month).
Also, on Monday I gave in to a Cyber Monday sale and we have parts for two beehives on their way as I type. It's been ages -- more than ten years -- since I had bees and I have really missed them. My old bees were Carniolans, but I'm thinking of getting one of the local "breeds" on offer at a nearby bee store. I prefer not to have bees mailed to me if I can avoid it, and I'm interested in what developments have been happening in breeding disease and pest-resistant bees.
posted by ayse on 11/30/11