Lots of Lighting
More work this weekend on the Big Bathroom Project.
We tested the wainscoating in the upstairs bathroom, which turns out to come off very nicely without breaking into pieces (I didn't get any pictures, but you'll see it soon enough). We're going to start out right with a little wiring, replacing the fusebox in the front bedroom closet with a nice new breaker panel in the back of the hallway, so some of that paneling has to come off. Actually, lots of it has to come off eventually, because it's in the way of the plumbing. But we have good plans for it now that we know it can be salvaged. I'm thinking we can line the hallway walls with it on both sides.
A last-minute addition to the project is replacing the window over the front door. We're getting a new insulated glass window with hopper hinges from Wooden Window in Oakland. If things work out well with them, we'll do more windows as we get to them.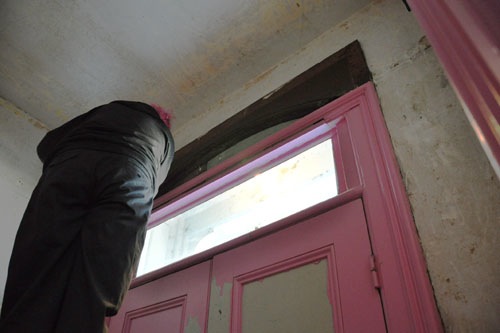 The Wooden Window people will be coming out later this week to take final measurements for the new window, so Noel got up on the ladder and took down some of the trim to prepare for them. We'll have to put a piece of plywood up in the hole while the window is being made, but it's not like what we have is actually much of a window. Once we get a cut sheet we can go to the city and find out if they consider this a repair or a replacement.
We spent some time going over our plan and rearranging the post-its, and adding more, as well. In order to do the rough wiring we need to do to replace the fuse box, I needed to figure out where lighting fixtures were going, and what kinds of loads they offer. We spent some time this weekend generating a rough lighting plan.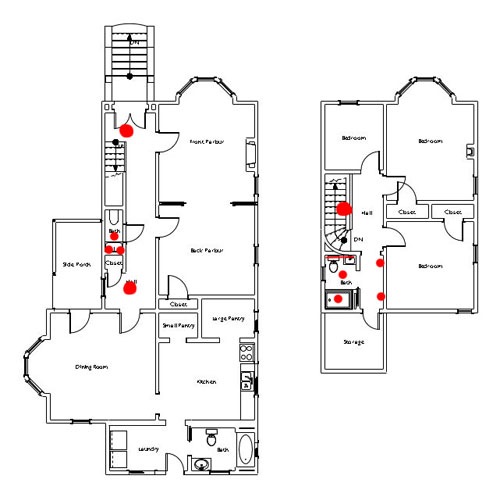 The red dots are where light fixtures need to go, either replacements for existing fixtures or the new installations we're planning to do. In the hallway, upstairs and down, we're planning to replace the very rudimentary fixtures with some cute little chandeliers:
In the front hallway in the entry: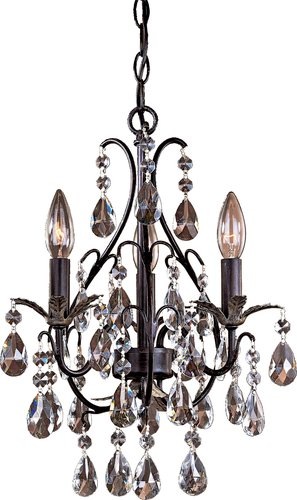 In the back hallway: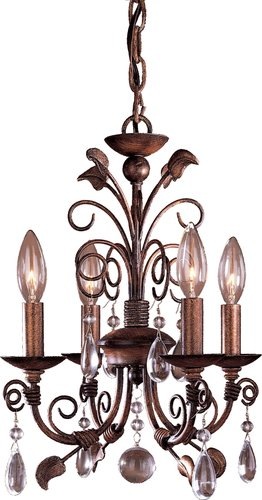 And in the upstairs hall, we're thinking of something like this: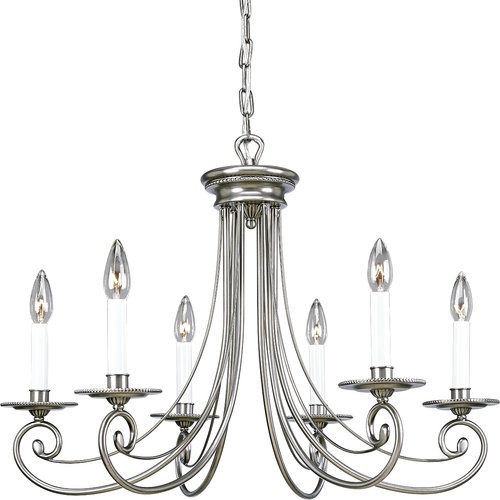 Any thoughts? I'm kind of really into the cute little mini-chandeliers as a concept, but I'm not sure how they will age, if you know what I mean.
And I'm still looking for reasonably unobtrusive ceiling lights with fans (for the required ventilation) for both the upstairs and downstairs bathrooms, and wall sconces for the upstairs back hallway (which is, by the way, a new hallway; previously you got into the attic through the upstairs bathroom). In a way the least showy fixtures are harder to choose: you want something that works well, but at the same time you want something that doesn't look like a big ugly piece of Home Depot oversized fake patina junk.
We're not going to order lighting for several months, thank goodness, so we don't need to commit to fixtures quite yet, but we made some decisions about it today, including a plan to put low-level lighting in the upstairs bathroom for late-night potty runs, and some intense discussion about whether to do a wall-hung toilet in the upstairs bathroom, too.
What we did order this weekend was our first piece of pocket door hardware, for the upstairs bathroom. We have the door -- the original upstairs bathroom door is going to work just fine -- but we needed the hanging part to frame out the new hallway wall up there. I think we'll also do a pocket door downstairs, but that will depend on how the measurements work out down there.
We haven't chosen the lockset for that door, but that is not a huge worry right now and we don't need to spend that money until we get to it.
We also bought a paint sprayer. I'm a little excited about it, and my first project is going to be painting the cat room, which is getting a bit of a refresh this winter. More on that when I get there.
And that's our weekend.
posted by ayse on 01/16/12