Gardened Up
The gardeners finished their work today, and it looks amazing.
I should add here that one of the prices you pay for hiring gardeners -- and I knew this going in -- is that they will inevitably rip out some plant you love. That definitely happened here and I'm not 100 percent happy about it but it all looks so amazing that I can forgive a little carnage.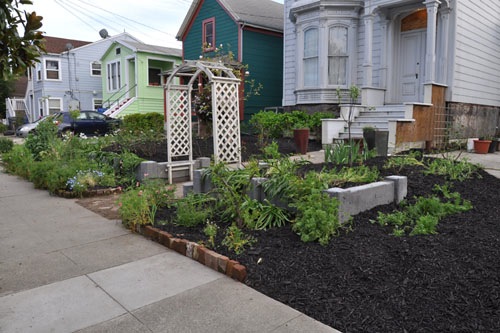 The gardeners suggested getting black dyed mulch -- apparently it is just dyed with iron oxide, not something totally toxic (I know nothing about other colours). It does look pretty fancy, a lot nicer and cleaner than the arborist mulch we have gotten before. We picked it up at the Davis Street transfer station in the big truck, $28 per generous yard.
They laid mulch for us in the part of the garden they worked in -- we basically divided the lot in half diagonally because there's a lot going on in the other half that means any landscaping would be in some trouble, anyway. Also I need to do some grading work near the chicken yard because the little jerks have been making dirt piles outside their doors, so I didn't want gardener interference over there.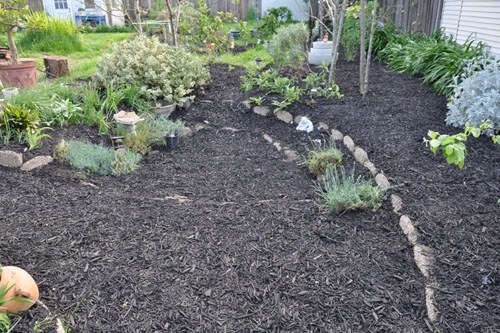 What they worked on looks amazing. Just amazing. Of course, I did lose some plants -- a favourite dianthus or two in the rain garden. That weird Australian mossy thing that was slowly climbing my laughing buddha statue. Nothing rare (not like the rare bulb the chickens ATE over the winter, damn them). Nothing irreplaceable.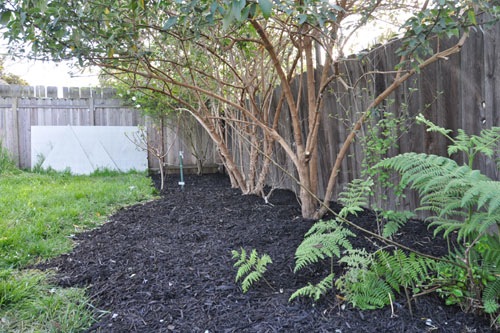 The pruning they did really helped, too. They lifted the canopy on the Buddleias and lightened up both the big fence roses. You can actually see the other shrubs planted under there now.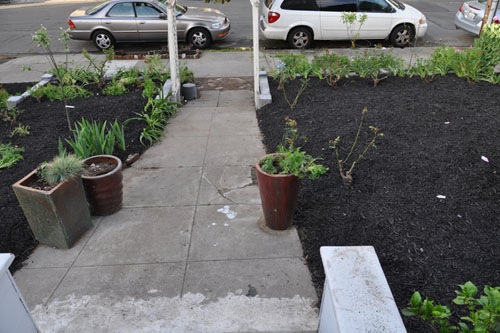 The front was what really mattered a lot to me. I am tired of it looking half-built there and would like the front of the house to look more gardened, and this made it 90 percent of the way there.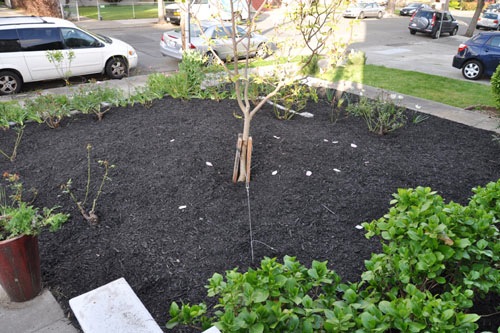 My longer-term plan here is to put in a flagstone patio out front. I'll have the soil actually dug out, so the roses and the tree end up in slightly raised beds, and we can hang out here and yell at the neighborhood kids.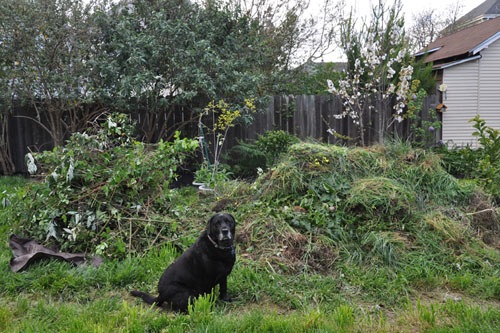 I thought the pile of weeds was intense on Wednesday, but this is two more days of work, and it is something else. I will spend quite a bit of time moving that this weekend, let me tell you.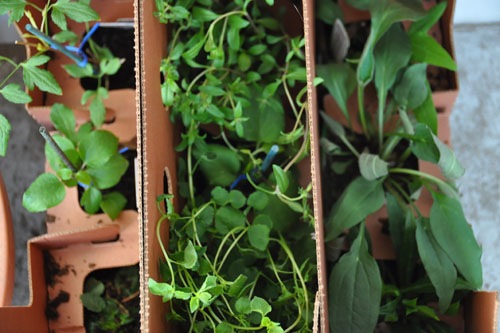 And today my spring order from Bluestone Perennials arrived today, just in time to sooth my anxiety over losing plants.
For the time being, we're on maintenance with the gardeners, which is going to be pretty nice.
posted by ayse on 03/30/12