A Brief Deck Update
So in between all the other stuff he had on his plate, Noel got some more boards down on the deck over the last couple days.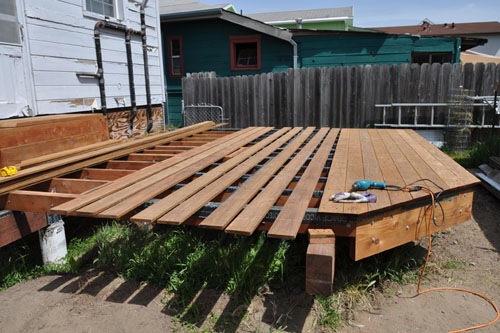 First he predrilled them, and then he screwed them in place. He had to devise a nice little clamping jig to pull the boards into place, now that the installed boards are wider than our clamps fit. I lobbied for a 14-foot clamp but the jig was both cheaper and easier to handle. Not to mention store.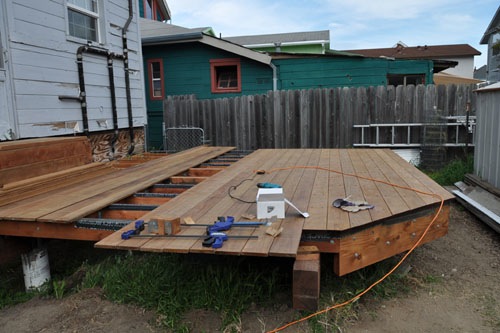 The boards have an overhang because we're going to trim them to have a straight edge after they are all installed. Our deck book suggested this as a way of making a perfectly straight line on the side of the deck.
The forecast says possible rain tomorrow, so we'll be able to see how the wood looks with a finish on it. I also ordered some samples of a wood finish that should give us the nice shiny look I like, and I'll make up sample pieces with some trim ends. Apparently putting a finish on ipe is a dark art, involving hand-rubbing penetrating finish on each board. One forum commenter even said he would do both sides of each board, but that is crazy talk.
posted by ayse on 05/02/12