Laundry Room Makeover
The laundry room has been kind of chaotic lately. We got some big bins to store bedding in -- especially the guest bedding that we want to keep relatively fur free -- but they take up a lot of space on the floor. Add in less time for me to do laundry with the day job, plus more clothes being used (the clothes changes I go through in a day make me feel like Mr Rogers), and things were kind of out of control. Noel suggested we build more shelves going around the corner, to get the big bins off the floor.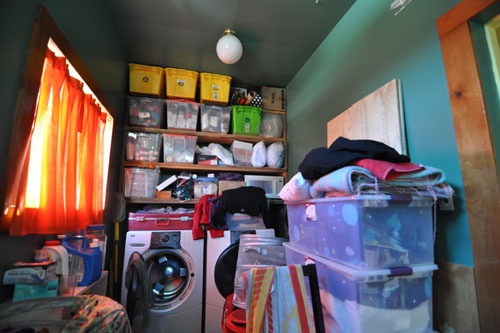 Here's our before picture. The shelves as they were were actually quite organized, with bins of supplies for spinning, knitting, weaving, and dyeing (among other things I get up to in my copious spare time), plus other bins with wrapping paper and assorted related wrapping stuff. The main issue was down lower.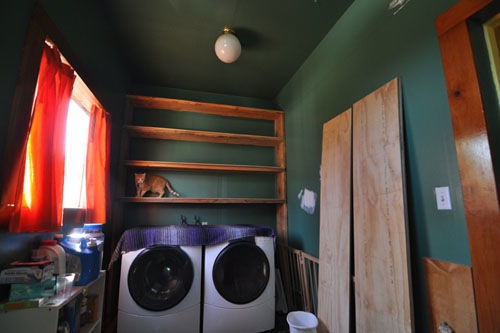 We took everything off the shelves to be able to rebuild the shelving as a whole. Noel wanted to make some changes to how the original shelves were put together, so this was the right time.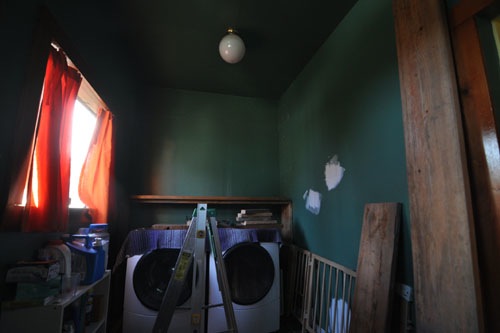 Taking the shelves apart took a while, and was pretty noisy. Once they were down I was reminded of how much of a dark pit the laundry room is. I'd love to get the time and energy and so forth to take everything out (again!) and repaint in a lighter colour, but I doubt that will happen any time soon.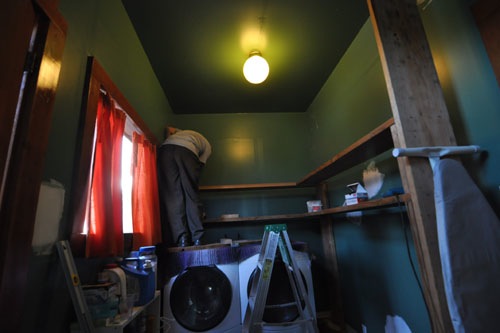 Then Noel got to work putting everything back together, adding the new shelves as he went. The two shelves are attached with seismic nailing plates, because we have a pile of them left over from the foundation work, and they did the job.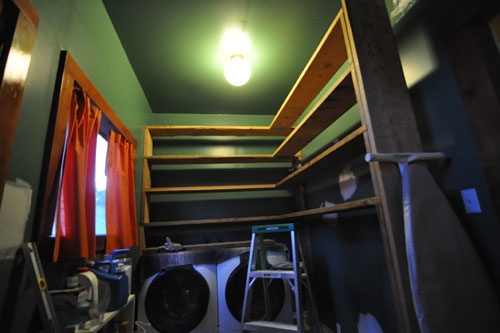 The whole process was over fairly quickly; only a couple hours from taking everything off the shelves to the shelves ready to use again.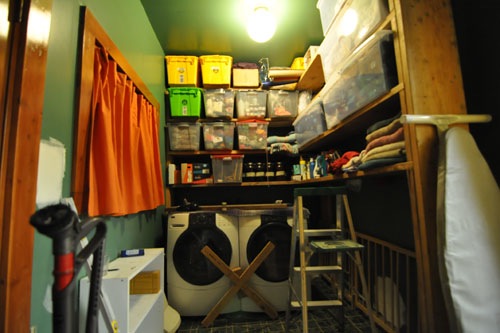 I managed to get almost everything that was originally in the room up onto shelves. I even cleared off the small bookcase I use for laundry detergent, though obviously I need to start working through some extra bottles of detergent or spot cleaners: there is no way I need four of everything. I also want to make a place to hang up the ironing board, and maybe make a fold-up folding table for processing laundry.
It's nice to have floor space again.
posted by ayse on 05/29/12