Cat on a Ladder
For once, I have a picture of a cat on a ladder that is not also a cat getting himself in Trouble: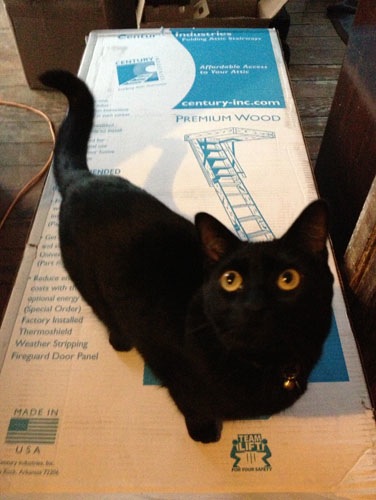 That's our new attic ladder (350lb. limit and wide treads, the better to accommodate your larger building inspectors), just arrived from Pagano's. (They don't stock them, but the special order was easy and fast. Recommend.)
On Monday afternoon, Noel popped down to the city with the installation instructions and picked up a permit, so he may well just throw that bad boy up into the attic tonight if nobody stops him.
(That bad boy would be the ladder, not Dash. We try to keep cats out of the attic because they are hard to get out once they get in.)
This is going to make installation of the bathroom vent for the upstairs bathroom pretty cushy. That also arrived today, along with the vent for the downstairs bathroom.
posted by ayse on 10/10/12