More Wall Washing
It's almost as exciting as watching paint dry! Only, like, in reverse!
In the spirit of just getting things done for heaven's sake, I got Noel to help me set up the scaffolding on the stairs so I could get more wall washing done.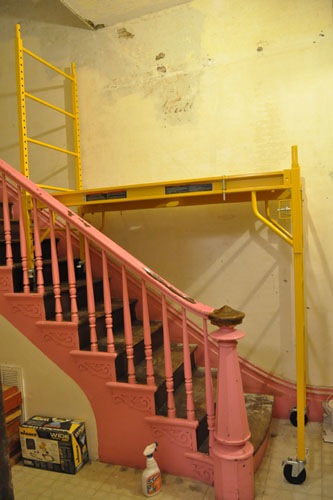 This is not the recommended configuration for stairs, but it worked OK and was stable enough.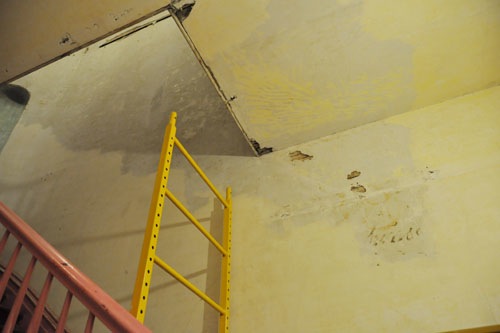 I decided I would see how far up the wall I could get tonight before my shoulders gave in or it got to be too late. The level the gray stuff started at in the photo above is as far up as I can reasonably reach from the stairs.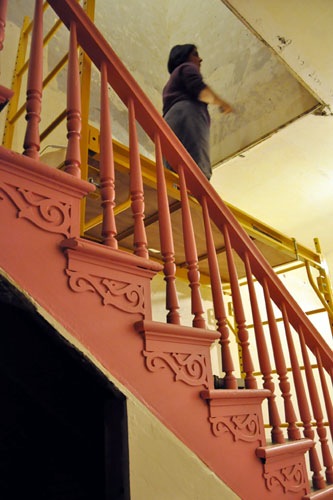 It wasn't that long before I had to get Noel to help me move the scaffolding further up the stairs. The outer walls go much faster than interior walls; I think the paint is less well adhered because of the seasonal temperature changes.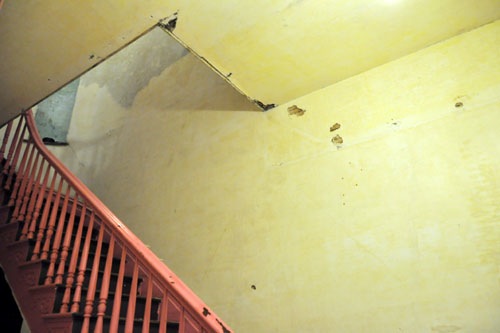 I made way more progress than I expected, getting quite a bit of the way up the stair wall.
This is about as far as I can reach from the scaffolding, so our next move is to bring the scaffolding up the stairs and add a level. That's when it will get fun.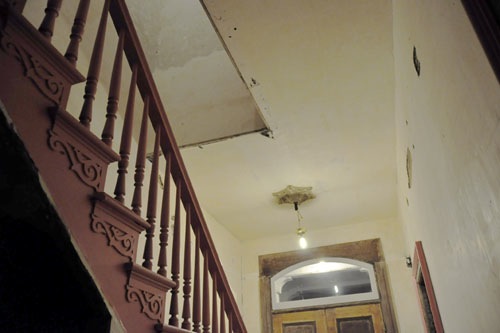 Just that little bit of washing off the gray makes a big difference in the light.
The scaffolding takes up the whole width of the stairs, which makes getting around it interesting (Noel climbed up over the high end, across the platform, then down the low end to get himself a cup of tea). It also means we have to take it down every night, which is going to get a lot less fun as this progresses (it's already not exactly fun). But it's good to be making progress.
posted by ayse on 10/22/12