Water Supply Takeoff
We're at the stage of the plumbing where we need to order things so we can commit to a definite layout for the plumbing. We decided to do the supply plumbing with PEX, based in part on my own reading on the subject and also on the enthusiastic recommendation of Dan Neumansky (he wrote about his work here and here, but we had the inside track because we went over and got the grand tour).
I had to spend some time learning how to design a PEX system, which is a little different from copper, but in a good way. You could in theory do exactly the same thing in PEX that you do in copper, but you don't need to and there are good reasons not to bother. Basically, with copper you have to try to limit your use of the expensive pipes, but with PEX the tubing is relatively cheap and fast to install, so you can do all home-run supplies for your fixtures, lessening the chances that you will ever notice if somebody flushes the toilet while you are showering, for example. (You can't eliminate the water pressure issue -- not without oversizing your water supply and having just gotten a quote on that for a client I can tell you that that is not something you want to approach lightly.)
One thing I learned is that the inside diameter of a 3/4" PEX tube is about the same diameter as a 1/2" copper pipe, which means that for the shower supply lines, I upsized the tubing to 3/4"
Anyway, I spent some time with the design manuals and Dan walked me through his system, so I was able to come up with a decent design for our supply system. I want to eventually move us to all PEX supply, when we get the kitchen redone, so I slightly oversized the inputs into the manifolds.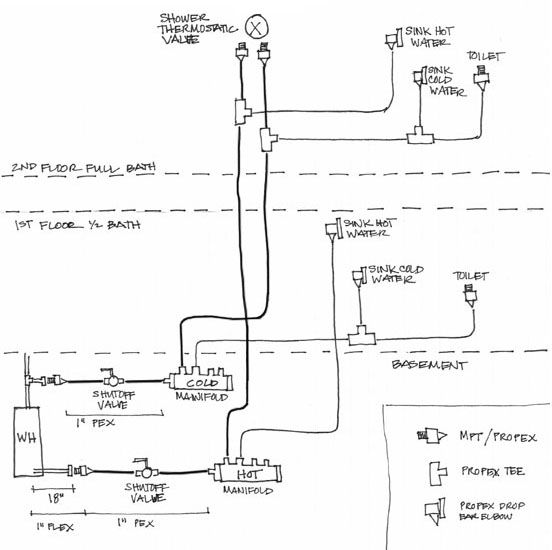 This is how I manage every plumbing project, by the way. I make a little diagram with lines for the pipe or tubing, and draw symbols for the fixtures. It doesn't show me exact dimensions (I really don't need those on a diagram), but it enables me to figure out how many of what kinds of connections I need.
Then I use the diagram to make a list of the parts I need. I got prices from Pex Supply, because that seems to be the place a lot of professionals I know use, and Dan used them, and they had good prices and a wider selection of stuff than most places. Like Dan, I'm using the Uponor brand.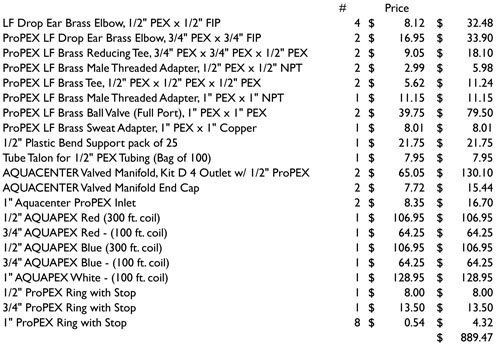 Here's my takeoff. This doesn't include the tool for expanding the tubing because Dan said we could borrow his, which is saving us about $300 (definitely a factor in the decision to go with this brand of tubing and fittings). The big cost items that were technically optional were the two 1" shutoff valves. I may yet change those to be copper sweat fittings, but that would only save me $30, and the cost of the copper probably exceeds that. And I need to work out how much tubing we need, really.
I also need to figure out how to run a 3/4" tube out of a 1/2" manifold, which I believe means changing the manifold to a different type.
We've spent (rather, I've spent) a lot of time going back and forth on exactly what kind of fixtures should be in the upstairs bathroom. To say I was indecisive about this is understatement. I placed the order this evening and then immediately panicked and had to do a couple web searches to reassure myself that the fixture's we chose were the right ones.
When we stated the bathroom, I had this great idea of doing a steampunk bathroom as a sort of caricature of a Victorian bathroom (to be historically accurate: Victorian bathrooms were very low on the elaborate valves and pipes thing and very high on what we would consider to be contractor chic these days).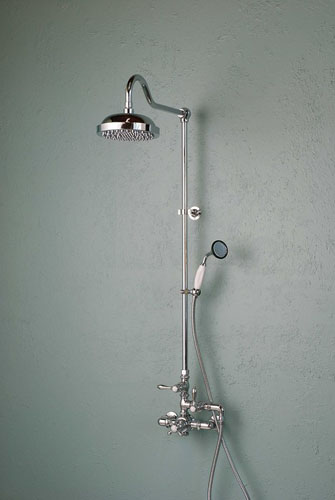 This is the set we ordered, from Strom Plumbing, via Plumbing Supply, who are not High Design but will always sell you very functional and good quality stuff.
My big concern with this shower is that those waterfall heads are ridiculous and not very fun to try to get a good, cleaning shower under. Sure, they look sexy. But I have some suspicion that we might replace the shower head.
And I'm not going to add showerheads to the shower to cheat the water-saving regulations. Not in this horrific drought. (How horrific? Empty reservoir horrific. You can't make up for that with a few heavy rainfalls.) Anyway, we'll see on the showerhead, but I'm keeping my options open.
To match the shower, we also ordered a faucet for the upstairs sink in keeping with the kind of steampunkish faux-Victorian look: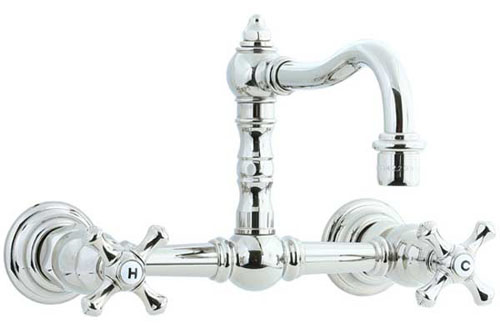 I am a big advocate of the wall-mounted faucet, because they are so much easier to clean around. So much so that I already ordered this faucet for the (modern styled) downstairs bathroom: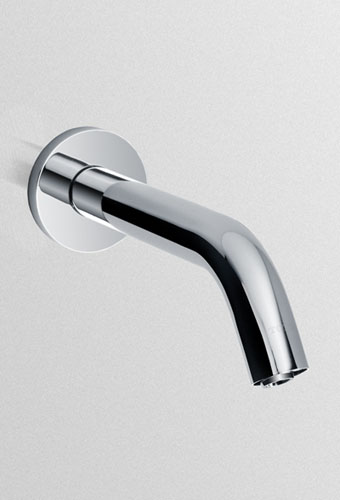 That's a Toto Helix Eco-Power faucet. The version I got has a thermostatic valve (so what comes out is not freezing cold, but we don't need to install a point-of-use water heater) and has a maximum discharge time of 60 seconds. It's motion-activated which means we will probably need to keep that bathroom door closed all the time or Mr Kitty will drink himself to death. Or us into the poorhouse.
With the upstairs toilet arriving last week, that means we have all the fixtures. Our next big purchase will be the linear drain for the upstairs shower. That will allow us to frame the upstairs bathroom floor and finish roughing in the drain lines.
And in all this, I somehow have the idea that I'm going to design and make two concrete sinks.
posted by ayse on 03/08/14