Some Light Wiring
Or rather, wiring for lights.
So for the last couple of weeks Noel has been working on the wiring for the hallway and downstairs bathroom. We're also putting a light and switch in the little closet.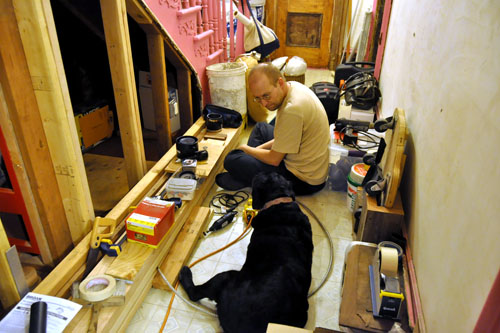 Rosie always wants to be right where you are when something is happening. Especially if it involves people sitting on the floor. This is not always convenient, especially when she lies down on your electrical cable. Anyway, we decided to add some outlets in the hallway for vacuuming and other assorted hallway needs, so Noel stuck those in place and pulled wire for them.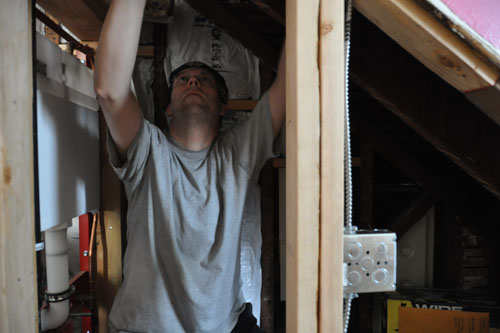 And he installed a little bare-bulb light fixture over the door in the small closet. I suspect we will end up with kids in this closet soon enough, and I think a little light in there will be handy. Also it enables us to see when the cats are in there getting into trouble.
You'll notice that all the wiring is with armoured cable rather than the plain wire that would meet code in this location. That's just Noel being a little more cautious than he technically needs to be, in case anything gets nailed into these walls or ceilings later.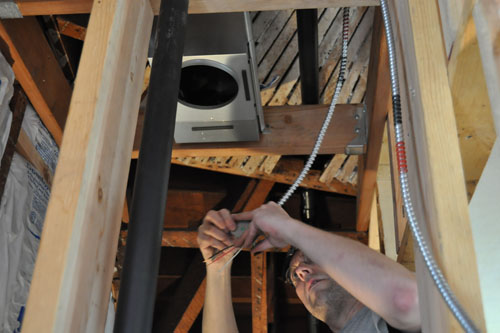 After he finished the closet light, he wired up the light and fan combo in the bathroom.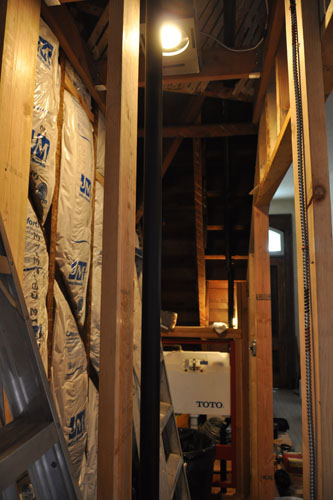 And now we keep turning the light and fan on in the bathroom to try them out. It's so cool having that wired up! You can see the closet light in the back there, too, behind the dramatically lit toilet tank.
As a note about the fan: this bathroom is right next to the hall as you can see, so on purpose I did not choose the quietest fan available. There is a place and use for very quiet bathroom fans (most notably for meeting the whole-house ventilation requirement for new construction and major additions), but that place is not in a bathroom near a public room where the masking nature of a louder fan is helpful.
There are still outlets and a couple more lights to wire up, but first we need to do the pocket door installation.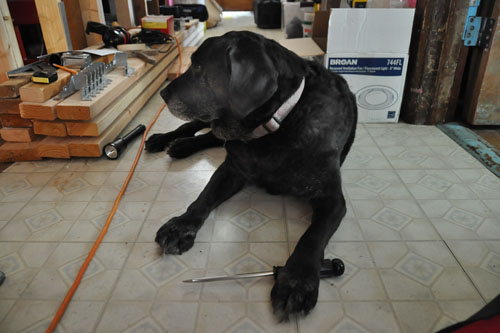 Truth be told, Rosie did most of the work and Noel just handed her tools, but we like to keep that on the down-low.
And last night I figured out my manifold issue (how to get 3/4" tubing out of a 1/2" manifold) and I'm ready to get this show on the road.
posted by ayse on 03/09/14