Building Paper Started
It took us a while to get rolling on installing the building paper this afternoon. We went to Economy Lumber and got some pieces of redwood for flashing around the various wall penetrations, and some metal flashing as well.
While we were getting our butts in gear, our friends Paula and Steve stopped by to help, which was awesome. Between the four of us we got building paper up on the long wall along the alley, which is probably the easiest one to do.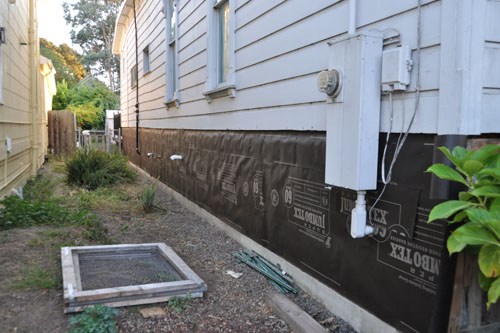 (As you can see, the alley has gotten a little barren lately; I turned the irrigation off a while ago because it needed rework, and this is what happened.)
Tomorrow we'll go around the rest of the house and see what we can do. We hope to have time to finish flashing in more places. And then it will be one more weekend to install the primed siding.
posted by ayse on 09/13/14