More Building Paper
This morning, a contractor came over to do a site visit and give me a quote on fixing up the side porch: new stairs, a new porch floor, and a new roof. The structure is still good, so that can stay, but there's a lot of other stuff that needs doing, especially that roof.
After he took off to fight his way through the Raiders' traffic, we got back to work on the building paper, this time on the other side of the house.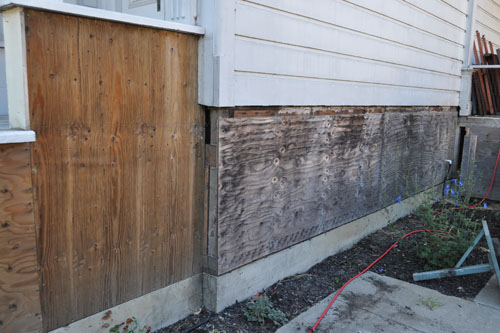 There's where we started. Of course, this leaves out the epic moving around of crap in the driveway to make room to work, plus pulling out the trellis and disengaging the clematis and sweet peas wrapped around it. I am looking forward to having a chance to clean things up in the driveway again when all this is done.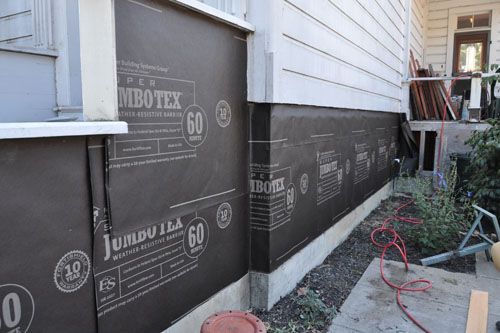 Once we got to the actual work, it didn't take that long. Our friend Betsy came to help us out, which was awesome. It feels like putting up building paper is just a little too much for two people, but not quite enough for three or four to be fully engaged.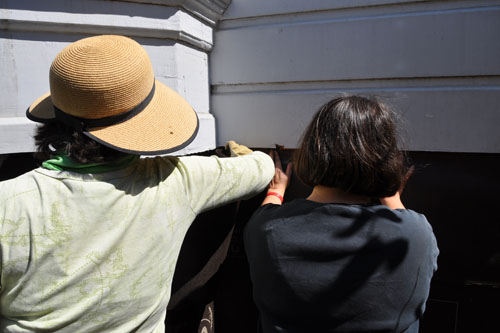 There's a lot of this. That's Betsy and me, holding paper in place under the dining room bay window.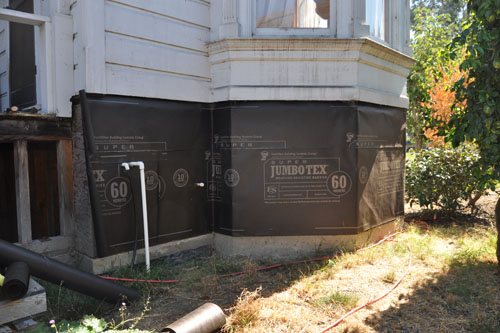 And in short order we'd made our way around the bay window...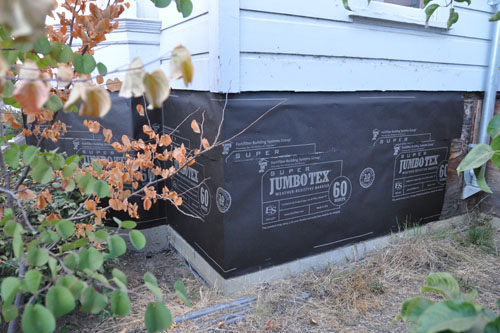 To the back of the house, where we hit our next series of snags.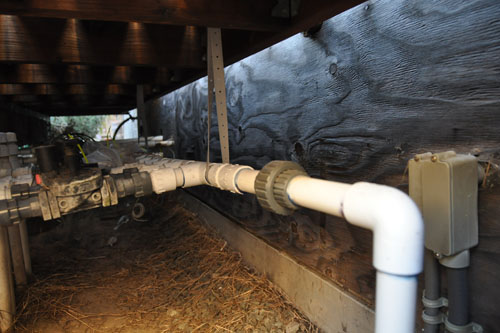 The first thing we did was detach the irrigation manifold from the wall. We had it on a pair of brackets, hanging off the wall, and we really didn't feel like flashing around those. One of our big future plans is a rework of the irrigation system, anyway, so for now we just hung the manifold off the bottom of the deck with plumber's tape.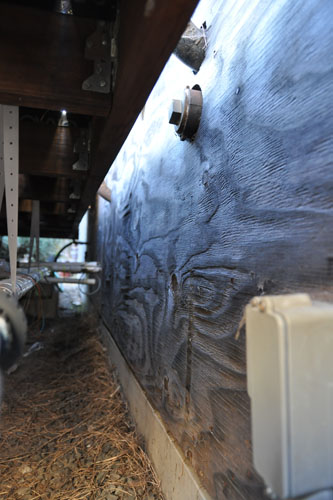 There are a LOT of things sticking out of the back of the house. And if everything goes as planned those things won't stay there beyond next year. So we spent a bunch of time plotting how to reduce the amount of flashing we had to do back there, since flashing around seven or eight openings while under the deck was nobody's idea of fun.
Not pictured was the time spent trimming back the edges of the deck that we ran long in expectation that we'd trim them when it came time to install the siding (that would be now), and time spent trimming off the ends of a few screws that were mysteriously poking out of the basement.
I usually don't like to plan on having to get work done on weeknights -- work is a little too unpredictable about when I will have to throw extra hours at it -- but this took longer than we wanted and wore us out, and so our plan is to try to finish it up tomorrow evening.
posted by ayse on 09/14/14