Under the Deck with Building Paper
This evening we worked on the building paper on the back wall, mostly under the deck.
Noel got us started by cutting off the hose bibb that is under the deck. He took one for the team because apparently the house plumbing holds an amazing amount of water, and he got to experience all of it.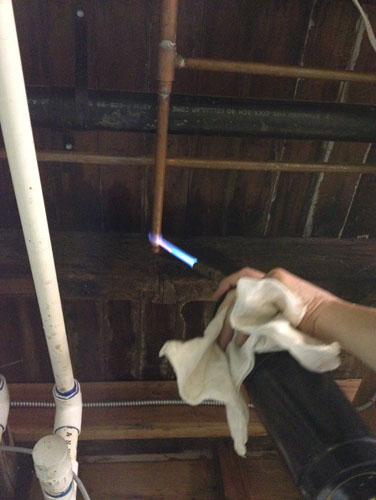 It didn't take too long for him to solder a little cap on the pipe. Eventually we will figure out where we want that hose bibb to end up, but for now we don't really need it, since we mostly use the water from the tank for watering.
Our friend Jennie came over to help us wrestle with the building paper under the deck, which was great. Noel stayed on the deck and handled everything that needed handling above us, and Jennie and I crawled under the deck and handled things down below.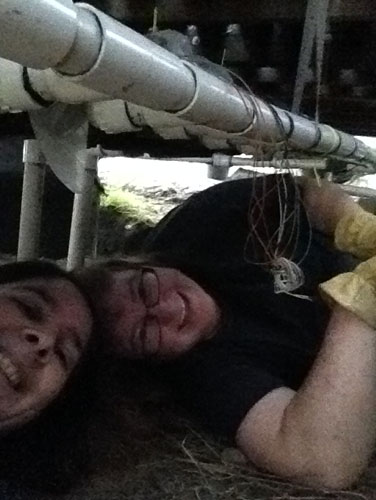 We had a great time. When I wasn't shooting staples all over the place. Jennie was a champ, squirming along under the irrigation and bending in the strangest ways to get the paper in place.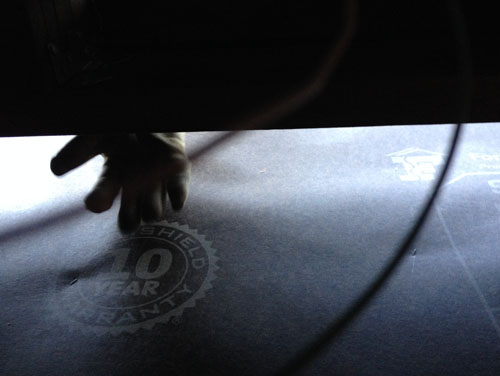 This is how we saw Noel most of the time.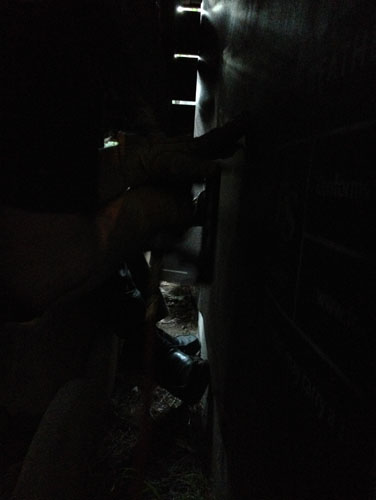 I'd have more photos, but this is what it was like most of the time. A little on the dark side. And by the time we finished up, it was dark enough that photos were not going to come over very well (here's a picture of black building paper in the dark! Whee!), so I passed on that.
We only have a short length of paper to finish up, around the corner at the basement door. Then we have the flashings to install. I have doubts that it will be done in time to get it inspected before this weekend.
posted by ayse on 09/15/14