There's a Hole in the Bucket
Or in the house, I guess.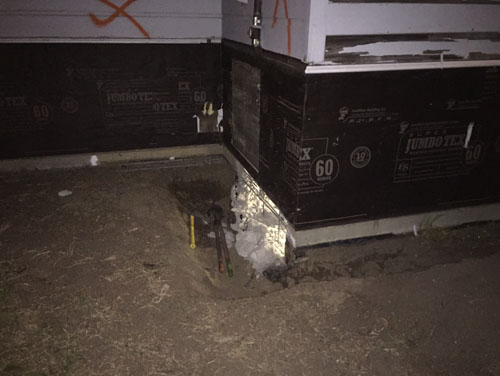 We hashed out a contract at long last. It wasn't a painful process, but it took some time because I wanted to do it right; my hope is that we pretty much never look at the contract again, but I sleep better knowing it is there, safe and secure.
There was a flurry of activity around nailing down some prices for materials.
Then last night the foreman, Joel, asked us to move the truck from the driveway because the concrete guys would be coming the next day. When we went over, there was a gigantic truck in front of our house (I guess reserving parking spaces; I should let them know we can get a street permit for that from the city), and it looked like a lunatic vandal had gone through the house.

The kitchen looked like an angry interior designer was let loose.

And there seemed to be some questions in the dining room.
So we moved the truck, Noel set up some cameras, and then this morning Joel and I had a good clarifying conversation about the roof (I'd made a typo on some notes on the drawings and we worked out what I wanted to have said; this sort of thing is why I chose this contractor). And Noel showed me the live feed from the cameras (not publicly accessible, sorry; we don't have the bandwidth for that) and holy cow, some guys were going through the wall with a jackhammer.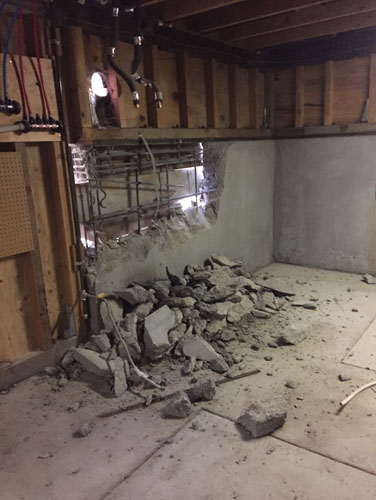 What we didn't see, because we hadn't set up any cameras inside, was that they were also demoing inside. I don't usually do this, but I'm linking these images to full-size images so you can appreciate the destruction.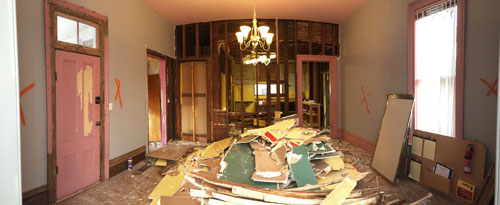 There used to be a wall there between the kitchen and dining room.

I've gotta say, the kitchen has never looked so good.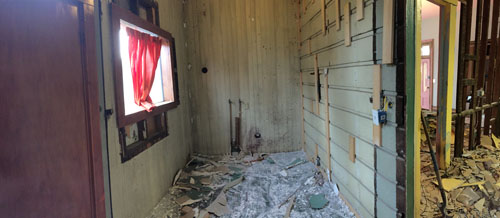 In the laundry room they uncovered a lot of untouched siding (which we knew was there), old wood paneling (which we did not), and the shape of the original back window (interesting!).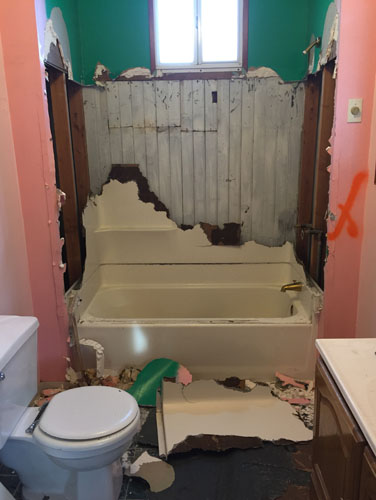 The same wood paneling was in the back bathroom, too, not surprisingly since it was the same porch.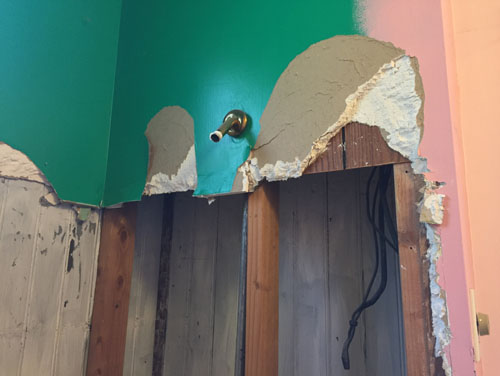 Also hidden under there: MORE FAKE WOOD PANELING. That stuff is hidden all over this house, I swear it.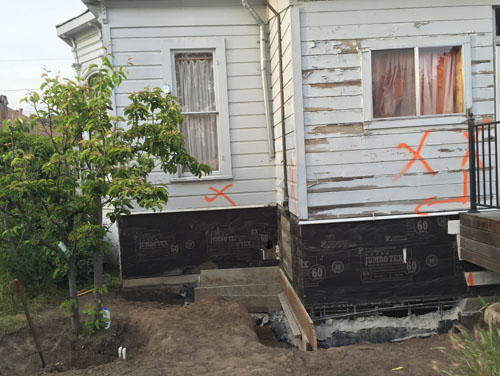 They are hand-excavating the addition to the basement. That makes sense; it's too small and too close to the house to do by machine.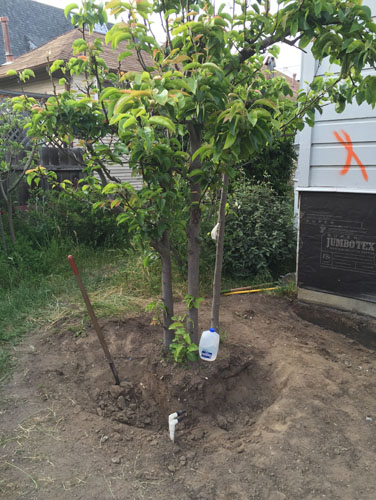 They're also taking an interesting approach to removing the asian pears. The foreman actually asked if we wanted them moved, but I held firm. I am not paying a ton of money to move trees that are cheap and grow fast and bear soon. The apricot was one thing. Asian pear trees? No.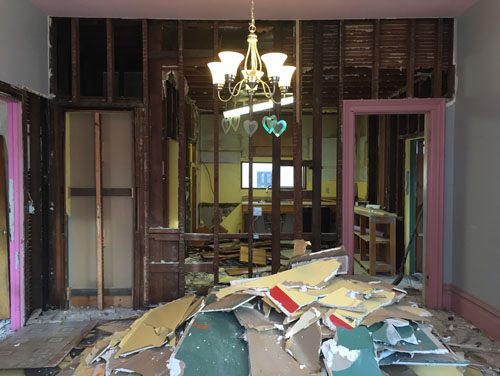 Nothing feels quite so out of control as a bunch of people destroying your house when you are not there. I mean, it feels pretty out of control when you ARE there, and I know that feeling well. But being at work, knowing things are happening but not being able to see, is excruciating. I couldn't even see the live feed from the cameras because it's limited to our house network. I don't bite my fingernails but this seemed like a good time to start.
posted by ayse on 05/04/16