Electrical Beginning
This week the rough electrical work started. We've had a lot of time spent on detailed little bits of the rough framing, and most of that is done, so it's been kind of photographically boring for a couple of weeks. But no more!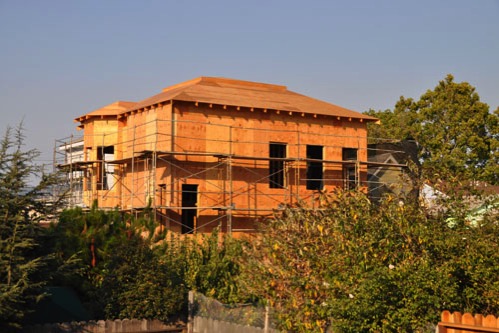 Here's the view from our neighbors' back porch (we had been plantsitting their venus fly trap). They've trimmed the sheathing plywood to the window opening sizes so you can really see the shape of the back of the house now.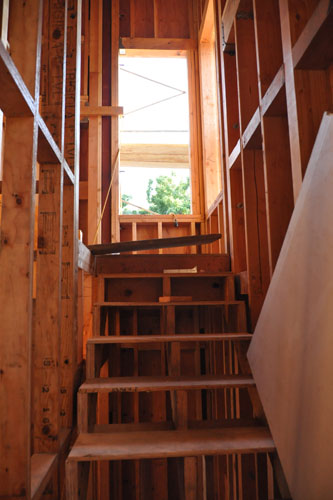 The back stairs are still being built slowly. When contractors work on a job like this, they may not settle down and work on one thing exclusively until it is done. People get pulled off to do this or that this which is more urgent to the work timeline. The back stairs are not going to be a thing for a while, so they get attention in dribs and drabs right now.
As you can see, the upper run of steps has not been fully framed yet. They only needed enough stairs to get the two windows in down at the landing level at this point.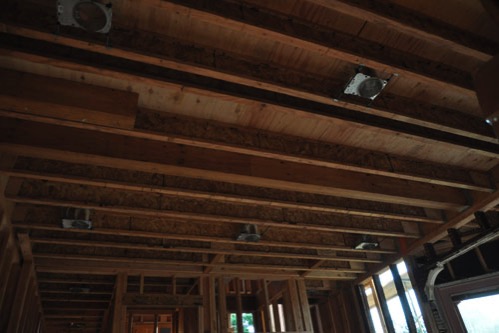 It was a pleasant surprise to see rough electrical work starting this week. I've gotten used to everything just taking forever and adjusting myself to the idea that work might feel pretty incremental for a while, and then I look at the ceiling and there's an outlet box for the smoke alarms, like boom. These are the recessed lights in the kitchen.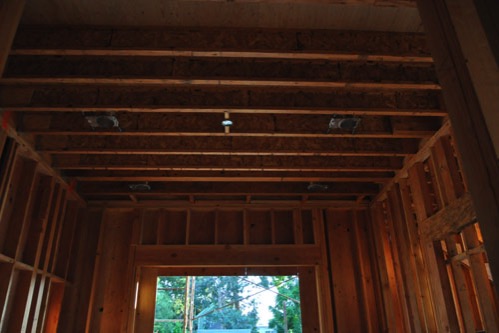 And the dining room. There has been some doubt about how recessed lights will work in a Victorian, so soon enough you will see how that works out.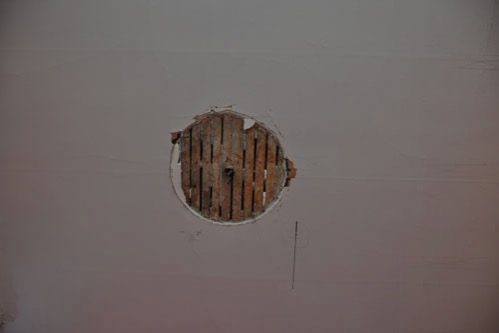 We're also adding more lights upstairs, and redoing the center pendant lights to be more sturdily attached and also appropriate to the period. To that effect, yet another ceiling medallion has come down.
Our job foreman, Luis, used to be a plasterer and knows people who do plaster restoration, so efforts are underway to get complete restoration and reinstallaion of the many stowed away damaged medallions in the basement. My own efforts to hire somebody to do that have not been particularly successful.
We are also adding recessed lights in the two front bedrooms upstairs. We have a walk-through with the contractor Tuesday when we will discuss this, but I'm curious about why they have chosen to leave the collapsing plaster ceilings in place rather than take them down. In particular the one in our bedroom has been sagging rather perilously for a while, and it seems to be mostly held up by multiple layers of wallpaper and latex paint.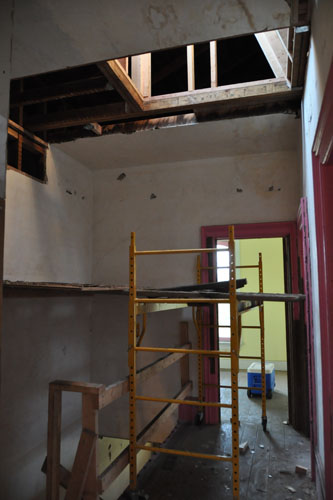 In other ceiling-related news, the new skylight in the hallway has been framed in. This hallway has always been really dark, and I look forward to a lot more light. The skylights have little solar panels on them to control electrical motors that open and close them with a remote control, and have automatic rain sensors to shut themselves. That's not a huge deal around here, because it generally doesn't rain when it is hot out (unlike where I grew up, where it would be 88F and a heavy rainshower would just make it even more humid), but the feature just with the electronic controls.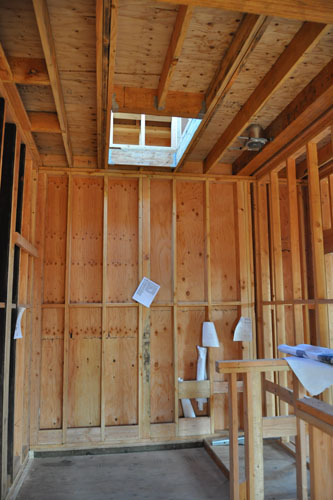 The back bathroom, which is for my parents, also has a skylight. I could have put a window in this bathroom, but it would just face right into our neighbor's house. The skylight gives everybody a little more privacy while bringing a lot of light in. This side of the house faces east, so this will be particularly bright in the morning.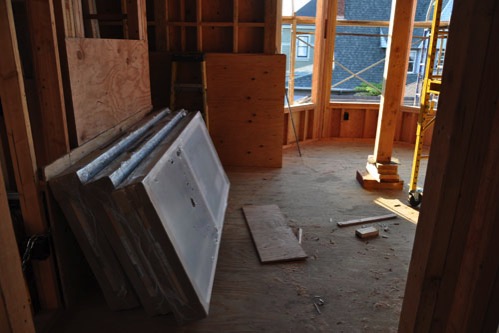 And some quick views of the two bedrooms. First the new side bedroom with its bay window. This has a great view over the neighborhood and will be the place to be for the fireworks every year. If we watched the fireworks, which we do not, because we are old and grumpy people.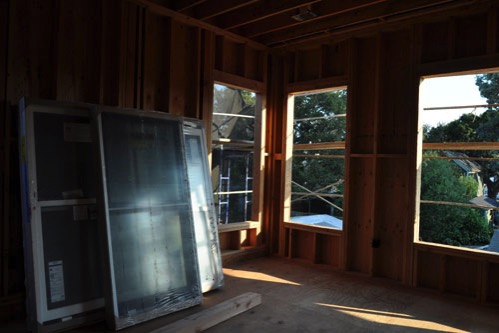 And the back bedroom, which is going to be amazing. For the most part the windows will have to be covered because the sun will be BLAZING through there, but at least this is not a room that will be dark and unpleasant, right?
posted by ayse on 08/21/16