The Best Laid Plans
After all our assorted ceiling work over the years, we had two remaining ceiling medallions left in the house. One in the front parlour, and one in the front hallway.
This weekend I showed you that the one in the front parlour had been taken down.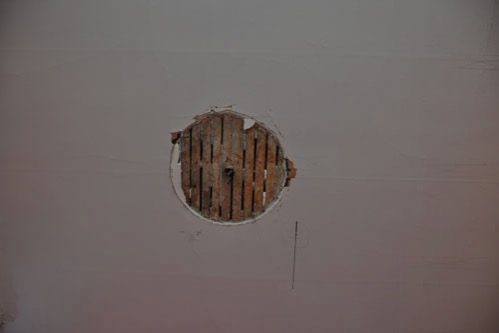 What I learned, yesterday, was kind of shocking. We had a walk-through with the electrical subcontractor to discuss his questions about the lighting plan. As we were discussing lighting in the hallway, and the location of the ceiling medallion setting the location of the chandelier to go there, the sub said we'd have to remove the ceiling medallion like they had upstairs, and then proceeded to tell us that in the process of removing the medallion he had broken it (because he thought it was wood and would pop off) and that he had thrown it away.
My reaction was... shock, panic, disbelief. I went through the range of responses. I was angry, but sad. I thought of all the photos I have of that medallion and how I could to try to match it from various supply houses that have original molds. Mostly I was stunned that anybody would think that was the appropriate response to a piece of the original trimwork of a historic house.
We had a long talk about it after work, and decided the best route was to take down the remaining medallion before anything happened to it. So Noel headed over and I went for a long walk to calm down (which was marginally successful; at least I got some decent exercise).
I was about halfway through my walk when Noel texted me this: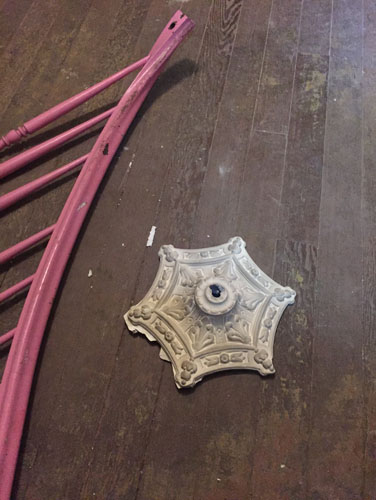 One medallion, successfully protected from construction.
And I was walking up to the Admiralty when he texted me this: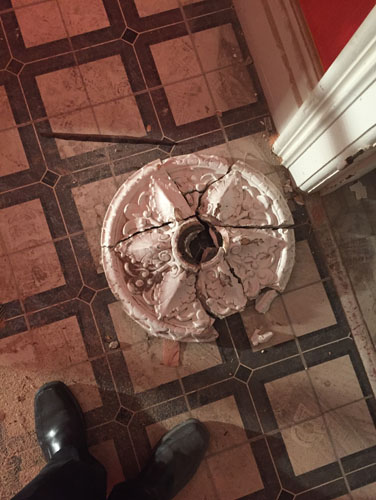 My first thought was that he'd accidentally dropped the last remaining medallion, and I was heartbroken. Then I looked more carefully and realized it didn't have the star points of the hall medallion. He'd gone through the trash bins at the house and located most of the pieces of the front bedroom medallion for me.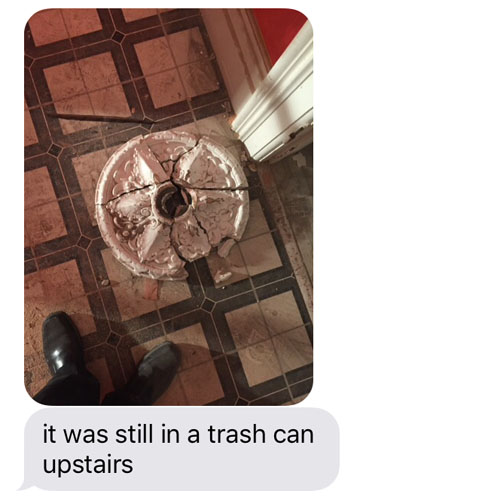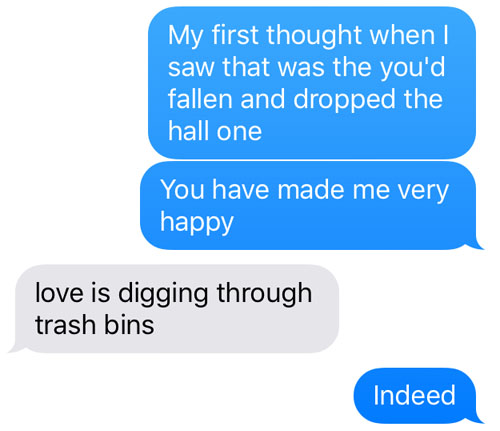 The plaster restoration people I've talked to say you really only need one good repeat of the medallion pattern to make a complete repair (medallions are usually six repeats of the same pattern around a center). I think we have that.
For those who are wondering what the contractor's response to this has been, I had a couple of good conversations with them about this and they were as shocked as I was, because this hardly seemed like it was something that needed to be communicated. It can the the things that seem the most obvious that are the most treacherous. So a renewed communication about the nature of restoration has gone out and we are back on the same page.
posted by ayse on 08/24/16