The Windows are the Eyes of the Soul
This week the contractors got most of the windows installed.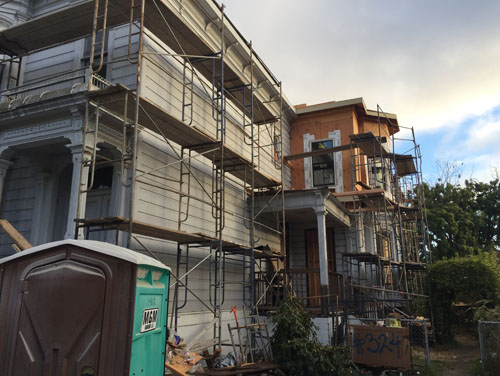 You can also see in this shot that they've started boxing out the edge of the roof for the addition. The idea is that it will match the existing roofline, though the trim will be a little different to differentiate it.
Anyway, for the windows they started by flashing with Fortifiber detail flashing. This is a pretty standard residential flashing detail.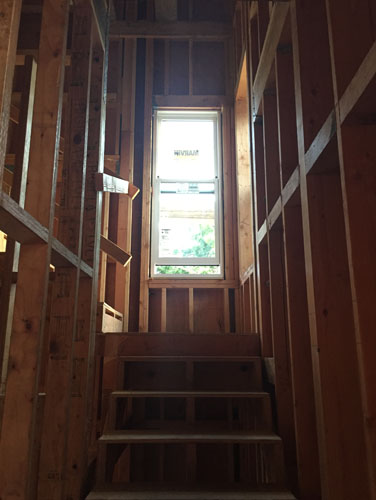 They also got into gear on the stairs and framed up and installed treads on the upper part of the new back stairs, which was convenient for installing the two windows at the back landing.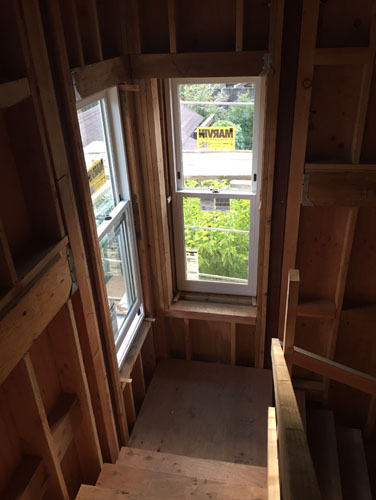 This is that landing viewed from above.
The windows are Marvin doublehung. They are installed with a sill height that matches the rest of the house, so they had to have opening limiters installed on them. You can sort of see those as a pair of black rectangles on each upper sash. They keep the window from opening more than 4"; for any window with a sill height under 36" above the floor, there can be no opening larger than 4" by default. The opening limiter allows you to override it (if, like us, you do not have small children in the household, or if the house is on fire and you need to get out) and open the window the whole way.
Windows on staircases and in bathing areas also need to be safety glass (tempered or laminated). That's not as obvious from looking at them.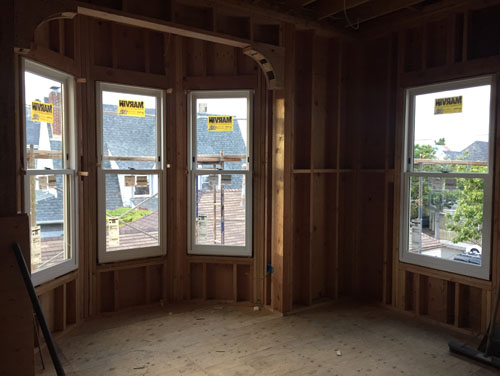 And here's the bay window bedroom with its windows. And look at how the contractors duplicated the arch downstairs up here. We won't be doing the same decorative plaster on this arch, because I'm not trying to make fake history, but I loved how this tied in with the other arches.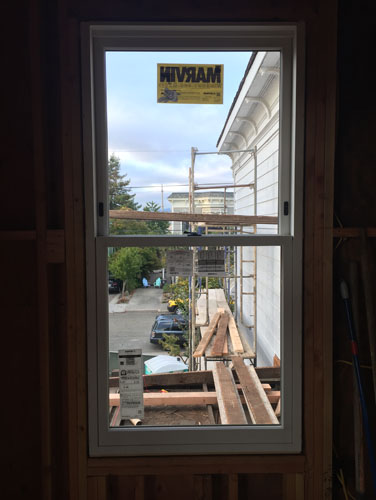 This is the view out the window to the front of the house. We can wave at our neighbors across the street. I guess we could before but the trees were a bit in the way.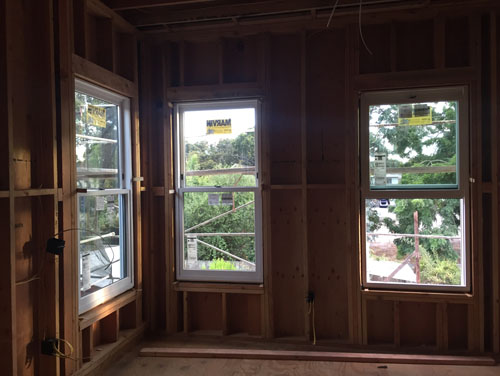 And the back bedroom. This is the room that is sized to fit a king-sized bed, which is my one concession to resale value.
I spent the weekend working on elevations of the bedrooms showing electrical locations, and also choosing light fixtures, which is much, much less fun that it sounds. We also went to a wedding, which was lovely and moving. And it was by the beach in San Francisco, so it was cold and foggy, which is just my favourite kind of summer weather.
posted by ayse on 08/28/16