Come Walk Through the Kitchen
I feel like I've looked at these elevations of the kitchen and dining room so much that surely I must have posted them before, but going back through posts I can see that is not the case. In any event, they are much updated since construction began.
Elevations, for those of you not used to reading them, are looking straight at a wall from a given plane. So anything behind you is out of view, and everything is flat with no perspective. I also simplify the lines of the drawing because I find it easier to work with fewer little lines, and I can add the detail in my head.
Here's the wall with our stove: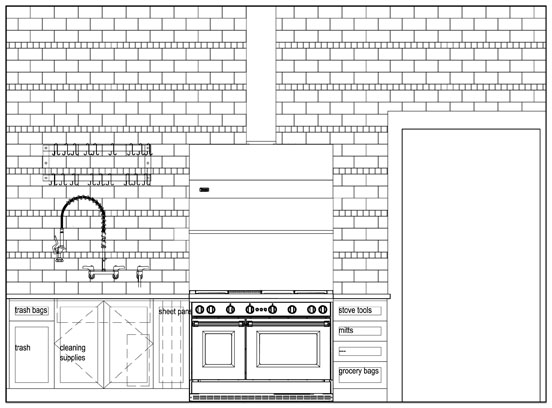 (Sorry for the crappy quality of this image; I just don't have it in me to redo it again.)
I went back and forth and all over the place with this elevation. I started with a window behind the sink, changed my mind because I prefer a wall-mounted faucet, swapped it to create a porthole next to the sink, took that out finally because I could not make it work from the exterior and it was still in the way of functional space. So here we are, no window. That did give us some more shear wall, which is always nice.
The main kitchen area is pretty simple: a wall-mounted sink with a pre-rinse sprayer, a hose pot filler, a gigantic stove, and a gigantic hood (which is actually a little wider than it looks here, I was just being lazy). Hanging over the sink is a pot rack, much like our old setup only less ramshackle and actually able to hold our heaviest pans without endangering anybody below it. We also slightly reconfigured the door to the hallway, to make a long line of sight down the house, and to make getting larger things in and out of places a little easier.
The backsplash is tile all the way to the ceiling (it's all going to be either very light grey or white depending on how I feel at the point where I absolutely have to order it, with white grout, so the grid you see in the image is mostly just planning out grout lines and pattern rather than the look I'm going for), switching to stainless steel behind the stove. The hood has warming lights in it so we'll also have a drop-down shelf for warming things there.
The cabinets here are pretty simple: trash is against the wall in a pull-out (on the far left), with a drawer above for bags and stuff. A big cabinet for the sink, which you need when you have a big sink. A tray cabinet, which is quite literally my favourite cabinet ever and I don't know how I ever lived without one. And a bunch of drawers for cooking tools right by the stove.
Behind you at that elevation is the island: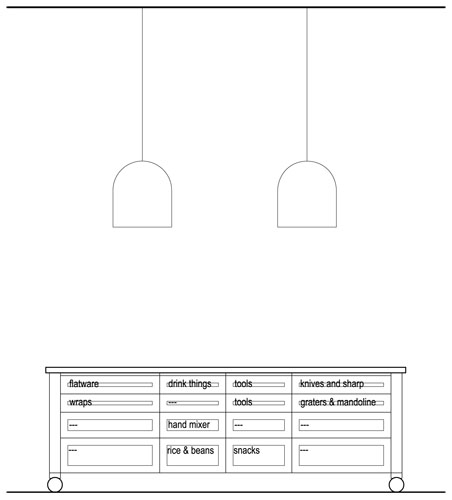 I have reconfigured this island a lot. I have about fifteen saved previous versions of it. But this one feels pretty final.
Things I am sure of:
1. Two large pendant lights over the island, designed to be looped up out of the way when necessary
2. Lots of drawers
3. On wheels to be pushed out of the way when necessary
Things I am not sure of:
1. Exact configuration of drawers
2. Symmetrical, mirrored, or repeated? Oh god
Walk around to the other side and we have a sort of seating bar: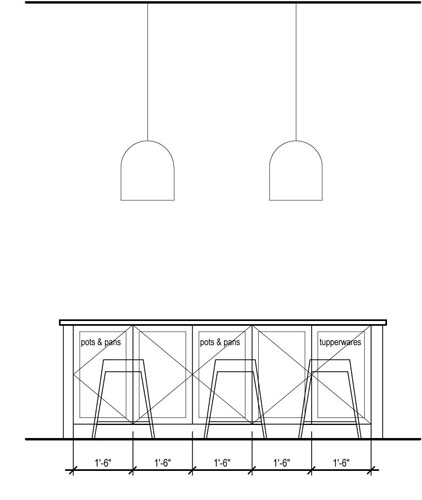 With some cabinets below for storing less-used pots and pans, and storageware (euphemistically called "tupperwares" even though I have no actual Tupperware storage containers surviving to the present day; this is kind of an inside joke at my office).
The idea of the bar seating is that people come over and want to hang out while we are cooking or prepping massive amounts of food for storage, and this is a safe place for them to sit while still being close to the action.
The island is at table height, so I can use it for cooking without needing a stool or getting uncomfortable. Right now the planned surface is soapstone, but we are planning an excursion to look at stone in the next week or so.
Head to the east into the first pantry, then: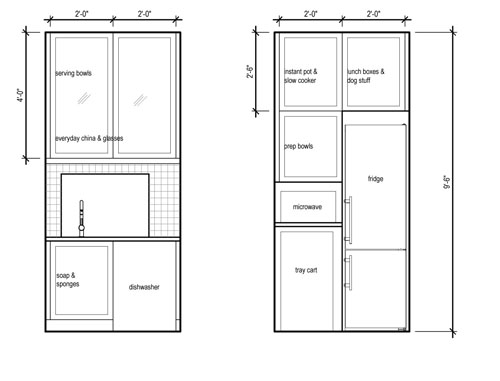 I'm calling this the Dish Pantry because it has the dishwasher in it and everyday dishes are going to be stored in here.
I had a funny exchange with the plan checker over the dishwasher. They gave me a comment asking me to clarify a note on the drawings saying that the existing dishwasher should be relocated to this pantry. I wrote a note back giving a fair amount of detail on how to move a dishwasher from one room to another. They wrote back asking what it meant. I pondered hiring a philosopher but just called and had a very very stupid conversation about why you might want to keep a perfectly good dishwasher rather than throw it away and replace it.
Seriously.
This room has our new fridge in it. We had not planned on buying a new refrigerator -- ours is less than 10 years old, though I guess not too much less -- but the one we have is very wide, and I found a european-style vertical fridge that works for us. 90 percent of the time we don't need a lot of space in the fridge, and we made the decision to have an auxiliary fridge in the basement that we can plug in when we need extra storage, rather than pay to run a whole giant fridge for the majority of the year when we are not handling five-gallon buckets of tomato sauce or strawberry jam or squash or whatever.
This is the opposite of how most people handle a new refrigerator, but we're OK with that (I have a nefarious plan to build a homebrew walk-in in the basement, anyway). That also gave us room to put the microwave in there, plus a tray cart which our friend Steve showed me many uses for in the home.
The sink and dishwasher wall opens to the dining room through a pass-through: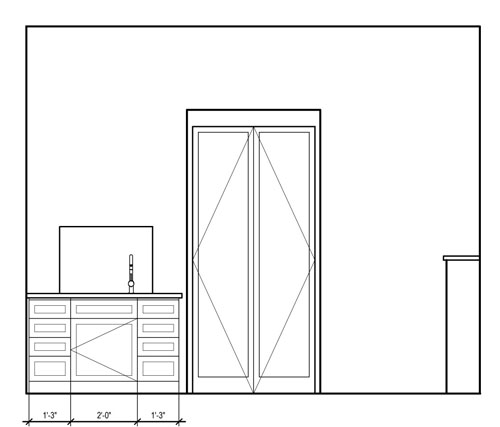 This is in the dining room, and I'm still unsure about it. It looks fine, but this will be where we'll store things like silverware and paper plates and other party supplies, so maybe I want the cabinet to be in a different configuration. I can't quite decide. I basically have one week to make up my mind and I'm being super indecisive about it.
(Those doors are to the library, aka back parlour.)
Skipping the rest of the dining room for a moment (I'll get right back to it), the second pantry, which I think of as the Food Pantry or Larder: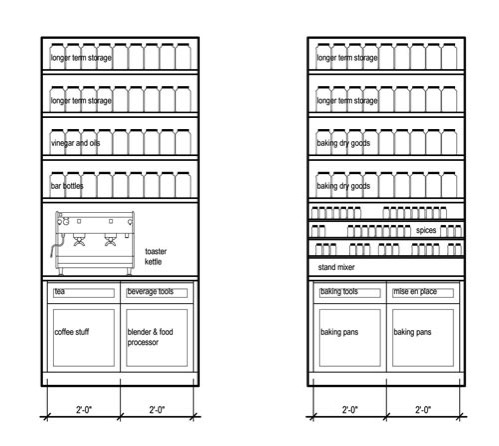 One side is the drinks side: espresso machine, kettle, coffee supplies, tea drawer, the blender and food processor stowed in the cabinets below. Above, one shelf is for liquor, the rest for other things we use less often (I'm thinking that the remaining wall of this pantry needs a ladder mounted on it so I can get to stuff). One thing we may do is have a piece of furniture act as a bar in the dining room, which would free up space in the pantry. Noel doesn't drink at all and I hardly ever drink, so having liquor front and center doesn't make too much sense. Then again, buying a large piece of furniture for liquor probably makes even less sense.
On the other side of the pantry we have the spice rack, my stand mixer, dry goods like bins of flour and sugar and so on, plus all my baking pans in the cupboards (together at last, after years of being stashed around the house in file boxes).
Yes, it is true that you may just find both of us crammed into this tiny closet of a room a lot of the time.
Anyway, the workhorse of the storage plans is the dining room fireplace wall, which is also the most decorative storage:
The big blank space above will be full of art. I have a LOT of pieces I am auditioning to hang there. There's always a conflict when you like both books and art.
Below, on the left, china and tablecloths and napkins, especially my prized collection of hand-hemmed "hockey" napkins, made by my mother as she watches Center Ice every winter. They are seasonal, so some have pumpkins and leaves, some have candy hearts, some are Christmassy. I look forward to being able to see all of them at once more conveniently. In one drawer I will also put the doilies made by "aunt" Emily (my grandmother's best friend). I took a small selection of them from the enormous trash bag full that we unearthed in my grandmother's basement after her death, and I love them. I don't actually use doilies all that often but there's something special about handwork that really connects you to a person.
On the right, stemware and serving dishes that are more decorative, and I have no idea what will go below. Maybe trays? Imagine having four wide drawers with no specific thing that needs to go in them. It's luxury, my friends. (Will this survive our actually moving in? Probably not.)
The fireplace is a gas insert, though we did not include it in this project because we had to save something for the future, right? Also because my plan is to have a custom marble fireplace surround for the front parlour made in Turkey one of these visits, and if it wasn't ridiculously expensive (don't worry, it will be) I might have a second one made for this room. I didn't want to install the insert before having the surround ready. So it will be boxed in for now and there will be another project for us to get to in the future.
With rough plumbing and electrical underway, we are in the thick of things and it's nonstop buying things and doing mood boards (which aren't just for daydreaming; they help you make sure you are putting together a cohesive look for a room) and buying more things. Maybe we will get enough frequent flyer miles from this to buy that fireplace surround a couple first class seats instead of a long slow ride in a container.
posted by ayse on 09/14/16