Seeing the Floors
On Thursday I had a suuuuuper long site meeting with the contractor, and there was discussion about removing the 1/4" plywood and vinyl flooring from the rest of the house. And lo and behold, it happened.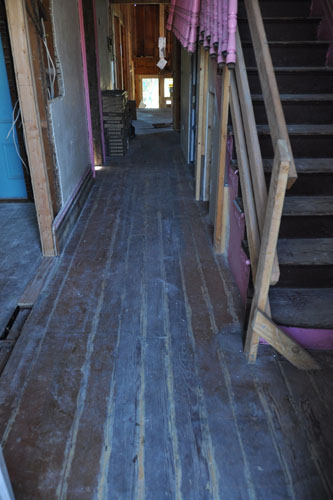 There's the hall floor. It's actually not so bad; I guess we could have removed the vinyl before now. Though you never do know and it always seemed like a bad idea to tempt fate and discover something really awful and expensive under there.
Here you can see the transition to the back of the house: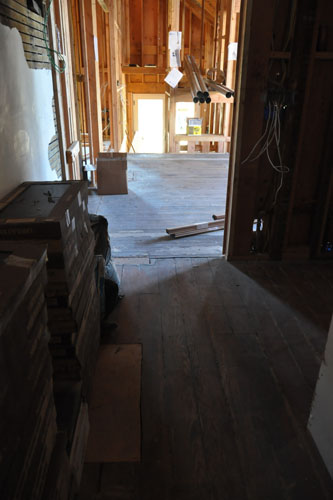 People sometimes ask me how I know the back ell of the house was a later addition. In part it's because there was a seam in the foundation there, but here's more evidence: the flooring changes significantly.
It's more obvious in this picture. In addition, the construction methods were slightly different for the back part of the house. So this addition is just part of the history of this house being altered to meet changing needs.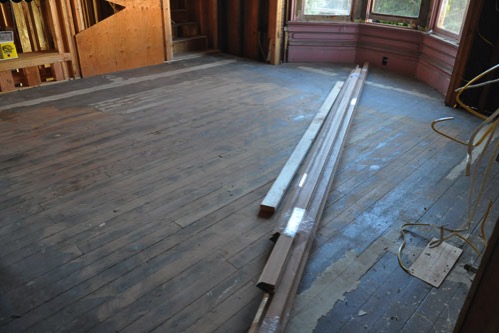 The kitchen looks pretty amazing without the crappy vinyl. This floor is more the finished floor look we generally like to see in homes.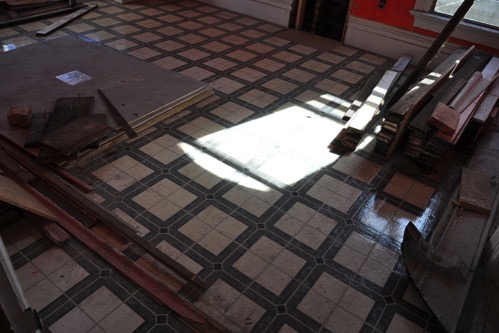 Next up is the front bedroom, which looks to be the least pleasant of them all.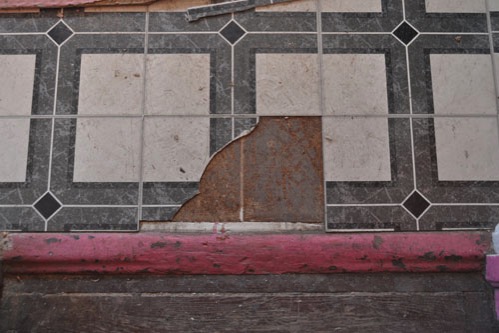 This room has particle board under it, which comes up less easily than the plywood. Hopefully that yucky mastic there won't be too much of a problem.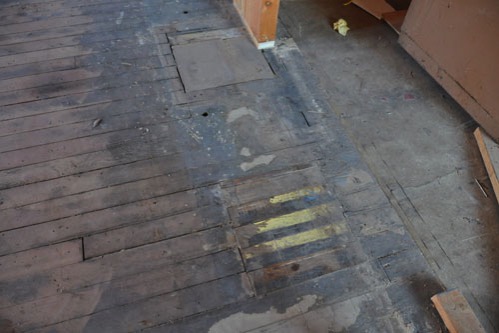 Also uncovered is all kinds of floor palimpsest showing old routes from basement to attic. The upper of these was visible when we took out the defunct furnace chimney in the old dining room, the lower was hidden under the plywood so is at least pre-1958.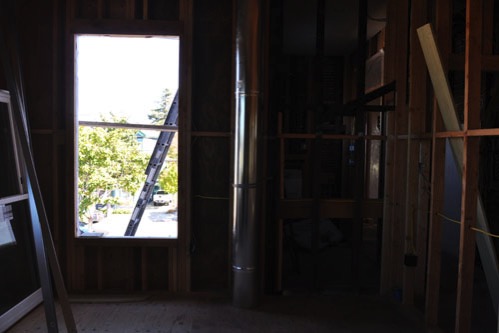 And we are creating our own: the vent hood for the kitchen needs to exit through the roof, and that takes it through the back bay window bedroom. It will be boxed off, and I'll make a built-in bookcase between the bumpout and the other wall to make it look intentional, but there was pretty much no way to avoid it. We'll also have the exhaust from the boiler coming up through here, with its own bumpout in the hallway (this will make more sense when I can show it to you).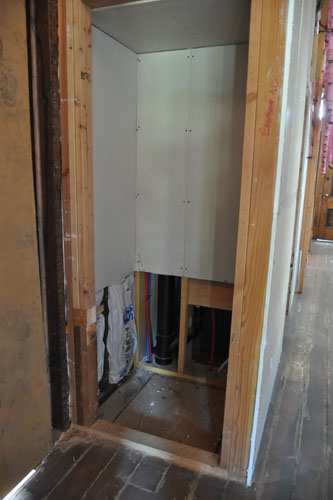 And this week the guys removed the air return and its little closet area, so we have the full height of this closet (this closet we have never used!) available to us.
posted by ayse on 09/24/16