Getting Ready for Doors
We are getting ready for the new interior doors. The existing rooms are (obviously) keeping their doors (except the front parlour, where we are replacing the solid wood door with a new glass french door to open it up to the hall), but we added a bunch of rooms and they all need doors. So I have been going through the door order with the project manager. We've gone through it twice now and we are getting close.
In the meantime, on site, we have this: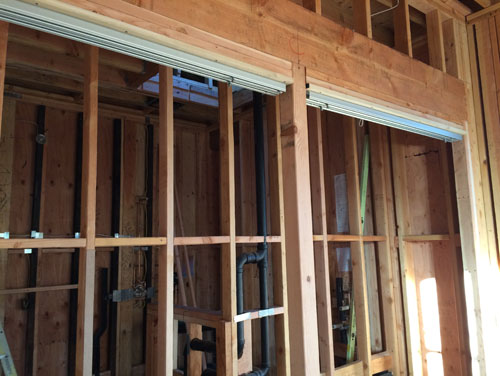 That's the closet for the back bedroom. It's a very wide closet, more of a "master closet" than a Victorian usually has. We divided the opening in half because it was so wide it was unwieldy. The guys have installed the tracks for the closet doors, which are just your typical sliding closet doors, a little nicer than Home Depot specials but still sliding closet doors.
I kind of pondered doing something more elaborate but I didn't have it in me. I find closets completely boring, I am sorry. Eventually we will have a closet fitting company come and fit this out with all the stuff. For now, just sliding doors.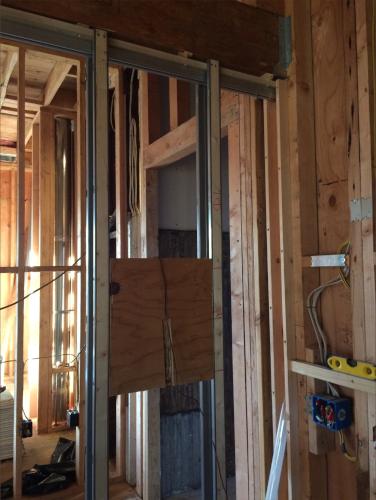 Similarly, the tracks for other pocket doors are installed, such as this one in the back bathroom. Pocket door kits come with these weird little partial studs to hold the drywall on either side of the door, and the guys have added some blocking there to stiffen the wall up. There will be a thermostat mounted here, so the wall will get more touching than walls usually get.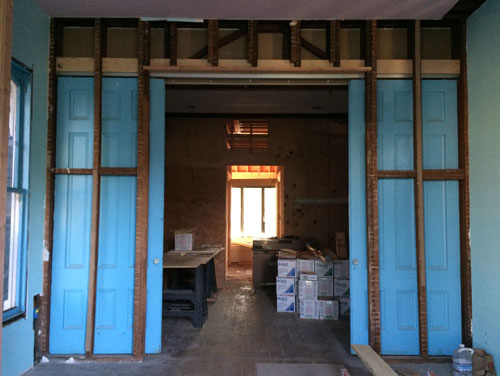 They've also installed the new tracks for the big pocket doors between the parlours, and rehung those doors. They glide like a treat now. To be fair, they've always been operational, but sometimes they were a little rough to pull closed or open.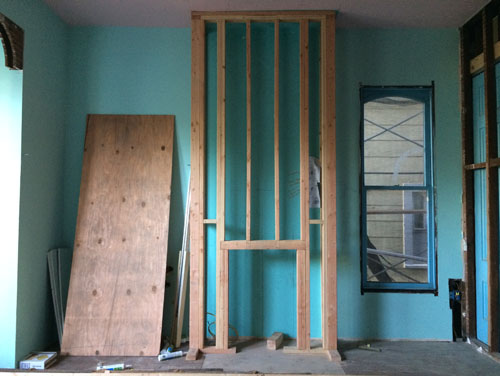 And as a bonus, they've finished framing up the fireplace surround. We are putting off installing the fireplaces for a couple of years, I think, because it felt like we were doing quite enough this time around. Maybe we can buy each other fireplaces like jewelry, for significant anniversaries.
posted by ayse on 10/18/16