Rainy Rain
Naturally, as soon as the roofers showed up a weather system rolled in and started to dump what they say will be an inch of rain on us. (Stop laughing, that's a lot of rain for this coastal desert.)
Fortunately, our new windows were installed in the existing spots: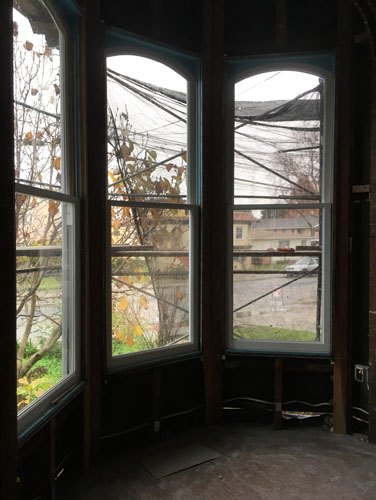 I went by the house this morning to check things out and there they were. Boom, just like that. The replacement sashes were made and installed by Hansen Windows of Oakland. They've been really good to work with.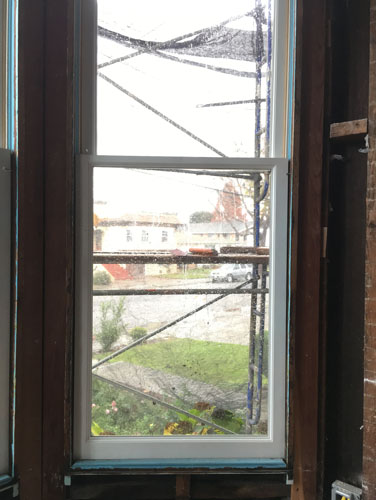 With the original weights and new cords and everything. I did not get the authentic-looking glass; it didn't seem worth it and I don't like replacing something old with something new made to look old. It just feels dishonest to me.
What you may notice in those pictures is that the walls are down in the parlours: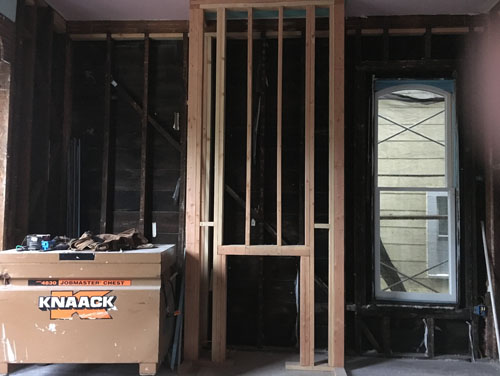 When we talked insulation with the contractor I asked him to do this so we could replace the fiberglass insulation with closed-cell foam that will stay dry no matter how much water gets in the walls. This rain gave him an excellent example of what I was talking about when I said water runs down the back of the siding; he had not seen that before.
The real reason I went to the house was to see this in daylight: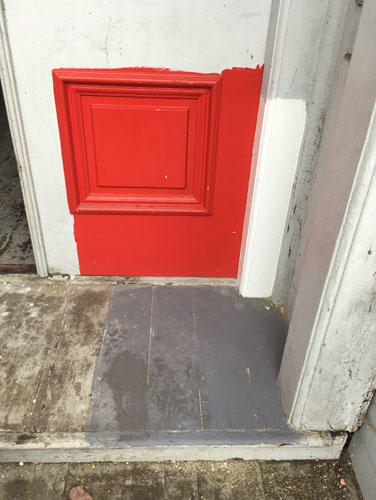 I really like the red, the white for the trim works just fine, and I asked them to try a slightly darker gray for the stairs. The body of the house is staying the same colour, Benjamin Moore Sidewalk Gray.
posted by ayse on 12/09/16