Three New Things
This has been kind of an exciting week. We approach doneness on the roof -- maybe we are even there?
In the meantime, the roofing contractor also has been installing the metal siding in the back notch.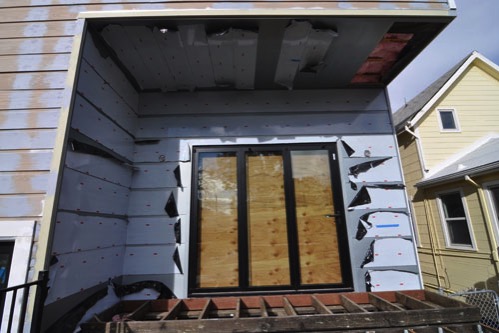 This is the same material as the roof. My original design for the house had this metal siding on the entire addition, but that was shot down by the planner pretty fast. Which, OK, probably saved us a lot of money. Anyway. I liked how it talked to the existing siding while definitely showing itself as more modern. They did not like that, and the planning department always wins.
Fortunately, it was acceptable in the back of the house in a less-street-visible area, which is this inset notch over the back deck. Which is great because I didn't want to go all traditional back here and try to mix my very modern glass door with that.
In that photo you can also see that the contractors have framed up the new landing for the deck. I think it looks pretty nice.
Inside, I came in to the house today to take some photos and saw this:
That would be our elevator, my friends. I mean, it will be. Sorry for the very blurry photo but I got a little excited and took a series of increasingly blurred photos. They do make the floor look amazing, I admit.
The best part is the set of jugs in the corner. Those are jugs of hydraulic fluid. Or just McDonald's Orange Drink for the party the installers are having (do they still sell that stuff? I recall it being utterly vile when I was a little kid, so it must have been 90 percent sugar).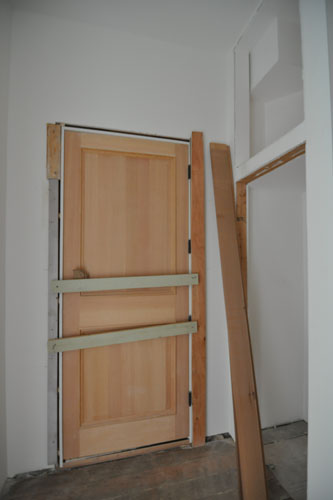 And finally, here's a slightly better view of the new side door. Now I'm half wondering if I should have gotten a door with a window. I guess that is a thing we could always make happen later; the way the door is built we could definitely add a window to it.
I went around the house today and took some more reference photos; I'm putting together a post with a bunch of animated gifs because I know how 100 blinking images makes everybody's day.
posted by ayse on 03/04/17