Cabinet Progress Photos
Some nice progress on the house this week. On Tuesday, as mentioned, the cabinet builder showed up and began installing the built-in bookcases in the library.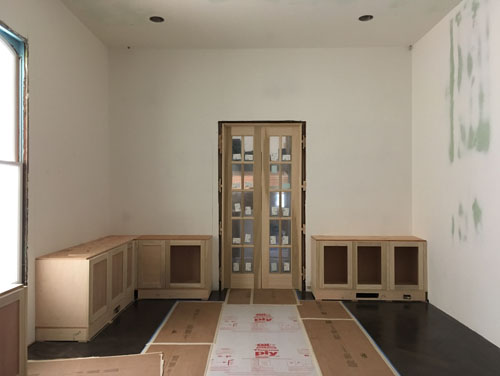 These bookcases have a lower level that is a little deeper and has a marble top before the bookshelves begin above. This gives us a place to put larger art volumes plus board games, sheet music, random small musical instruments, and the stuffie hospital (for stuffies that have been loved a little too vigorously and need puff-saving surgery).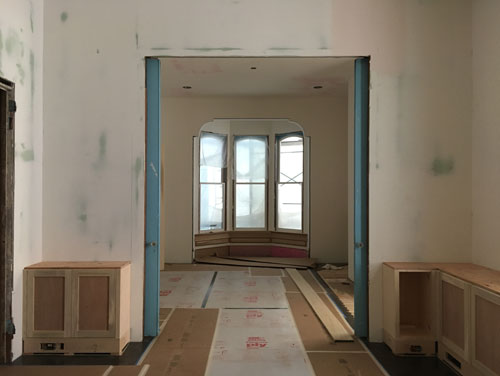 The lower level needed to go in because the marble fabricator needed to cut all the marble for the front and back parlours together to maximize efficiency. And we need the marble hearth in place for the front parlour in order to finish the floor in there. See? Construction is all about dependencies and managing them (and not creating circular ones).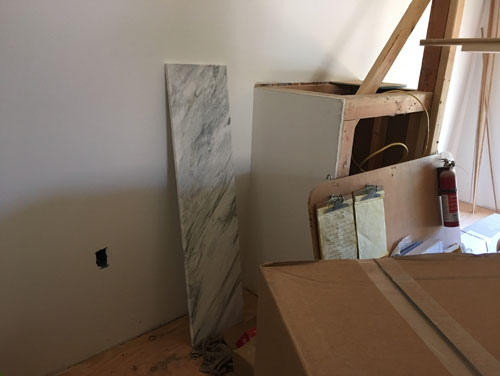 The dining room hearth is a little less complicated. The counters are the same marble in the kitchen, the dish pantry, and the dining room, and they are all rectilinear so the fabricator was able to cut out just this one piece for the hearth. As soon as we get all these boxes out of the way that can be installed.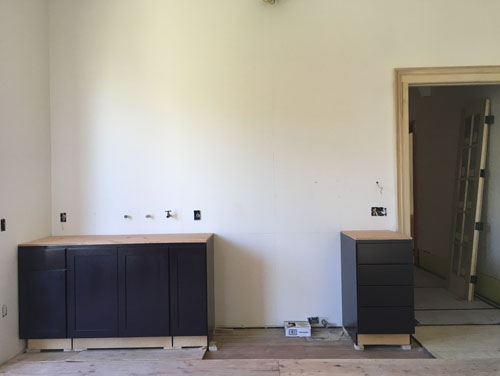 But still, when I showed up today, the kitchen cabinets were in place.
And... I made a mistake. The cabinets are the wrong colour. I changed the colour to a dark blue a while ago, but failed to fix the order. Am I worked up about this? No, I am not. I would be if this were for a client (this is why I hate it when my designers change the cabinet colour partway through an order; it always gets somebody in trouble). This very dark purple still looks very good, and if we hate it, paint is a very viable option.
Also, you can see that the cabinets are up on little feet, because the mortar bed will be floated under them. The tile will not be installed under the cabinets (this saves you a ton of grief if you want to change the tile, by the way). But that mortar bed is a ways away, at least right now.
posted by ayse on 04/08/17