Colour Tests
Exciting things afoot on the west side of the house. The primer cured up over the weekend and then the guys did this for us: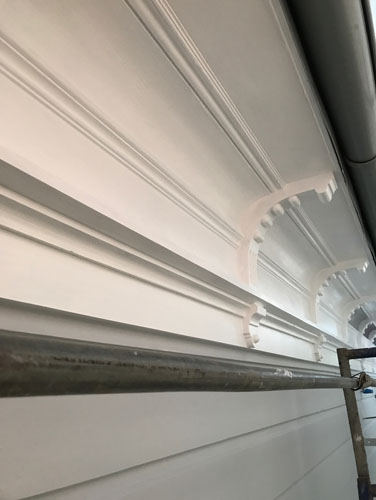 There's the new white trim colour (Benjamin Moore Chantilly Lace OC-65) over the body colour which is staying the same (Benjamin Moore Sidewalk Gray 2133-60). We aren't changing the house colour too dramatically, but we are adding some definition to the trim details Woody has spent so much time restoring.
And it gets even better: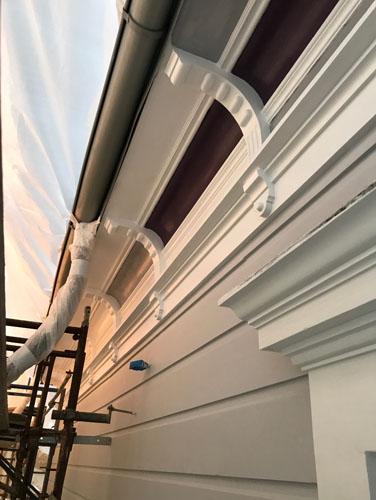 We got a pot of Benjamin Moore Purple Rain 1386 and are doing some tests on various colour schemes for the crown at add even more definition.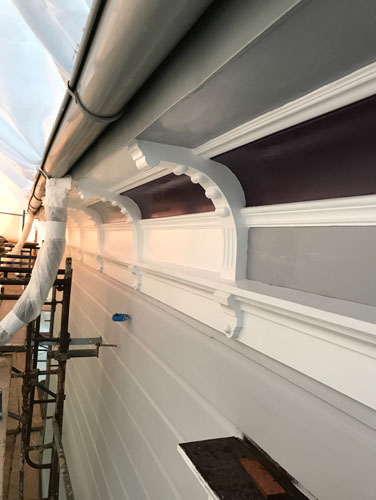 I did some Photoshop mockups and liked a crown with medium gray at the underside of the eave and on the fascia, and a purple on the cove. The purple I chose to begin with was not rated for exterior use, so Woody chose this purple as a close approximation. We had a discussion today about possibly changing the purple, but modulo a few details there I like the gray/purple combination better than the white/purple or white/gray.
posted by ayse on 10/24/17