Solder on the Rooftop (and Some Trim)
First a quick update on the kitchen bay window. After epoxying and priming the existing wood to protect it from the weather, Woody started adding back trim details. The pilasters around the bay were missing several decorative pieces, including these center bands and the column bases.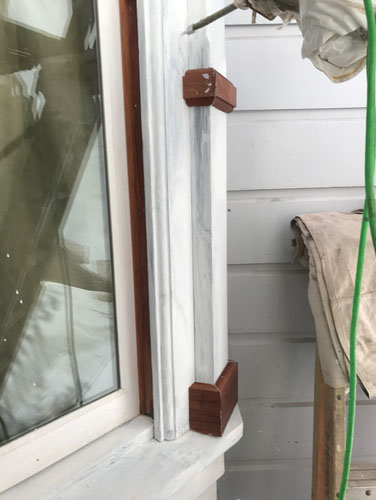 Earlier in the week Woody put these pieces up, then epoxied and primed them (so a photo now wouldn't show the work he'd done, hence these slightly older photos).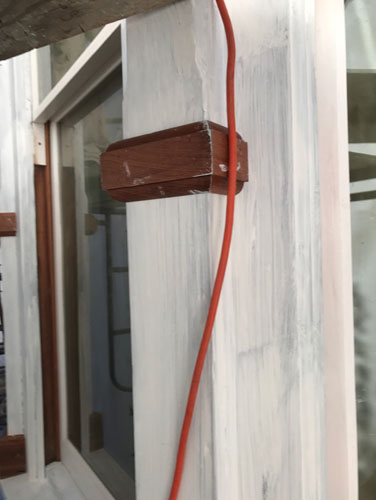 The center bands were pretty straightforward. These are replacements of pieces that were there but very damaged.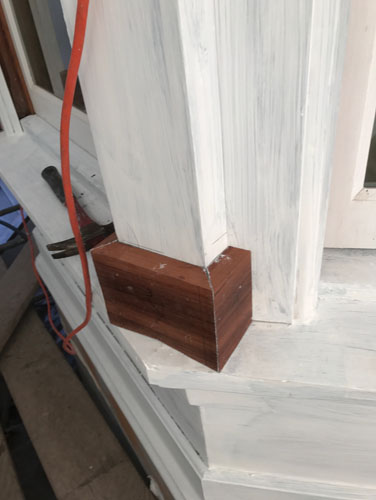 The column base detail was more complicated to fit into place. The window sills are slanted down, and there's the angle of the bay window, which means that there are no square corners on the thing at all. All I can say is that I am glad I only have to appreciate the amount of work that went into that.
In addition, we have this replica frieze piece. I'm not sure where this one will go, but you can see the piece it is copying.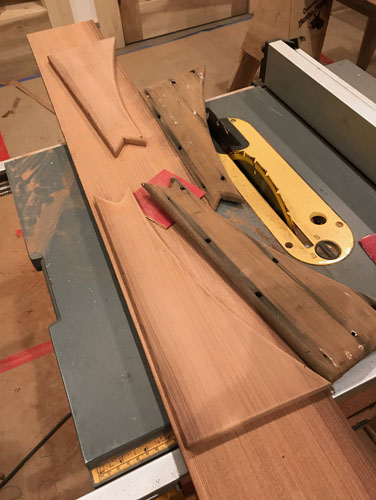 The stacks of wood trim pieces all over the first floor are pretty daunting. I'm not sure Woody's system is any better than what I would come up with to track it, so I'm not interfering.
Anyway, on to the front porch roof.
When last we addressed this roof, Woody had discovered that the original sheet lead roofing was still in good condition -- better than it looked like initially, in fact. The one place that needed repair was this raised sill where the decorative metalwork is mounted. He put a new piece of sheet lead there.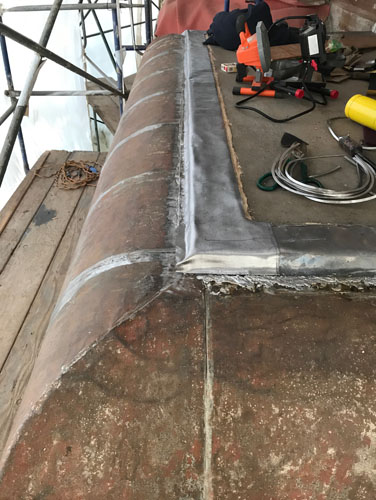 This is what it looked like yesterday when I dropped by just as a metalworker was coming on site to solder the lead in place.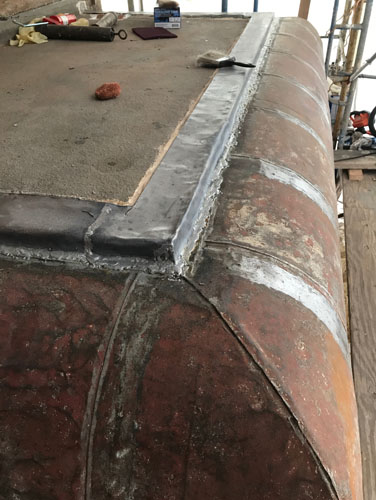 After soldering, there's a nice, neat seam there. This should keep water from getting into the roof there. The detail is still kind of terrible, and the whole roof is a building technology nightmare apparently held in place mostly by layers of paint, but you don't get to choose historical details.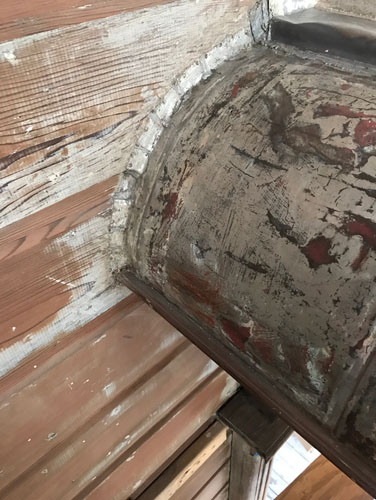 Here you can see the new soldered piece (coming in to the right) and the original soldering to a flashing at the wood siding. Some skills never change.
posted by ayse on 11/10/17