Front Trim
I have Noel working on putting together video from our site cameras showing some of the work on the front, but until those are done, how about some photos from the front of the house?
Over the weekend the crew applied the epoxy to the upper part of the front. There's still a lot of work to be done on the front porch, which turns out to be pretty much one of the most crazily hacked together pieces of I-can't-believe-it-hasn't-collapsed ever built. More on that later.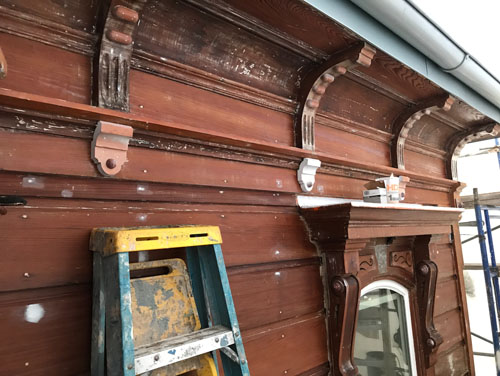 Here you can see the crown brackets restored with their replacement lozenges and shields with buttons. On the right you can see the window of the Accordion Room, which turns out to have a center top shield that is just slightly a different size to the other ones on the house. Because this house seems to have a hundred unique pieces of trim just to be maddening. Anyway, yet another replacement shield needs to be made for that spot, so they'll have to come back to that.
The window brackets are all done, though! The little spiral poop emojis and buttons that were missing from most windows have been replaced and look amazing.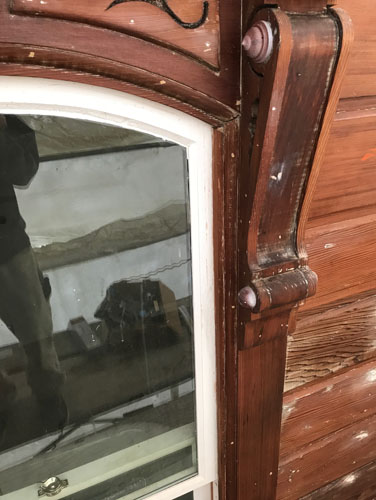 As a reminder, here's what those brackets looked like before: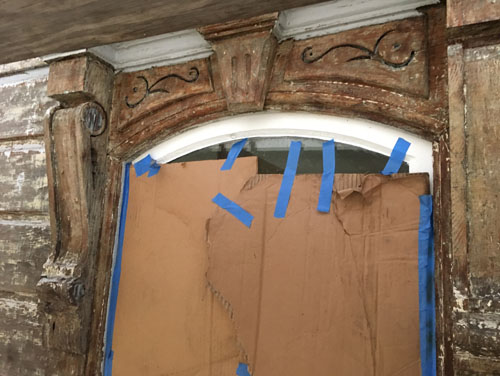 (That's a different window but same concept, because those things just fell off all over the house.)
There's been quite a bit of work on the front bay window, too. several little decorative spirals and shield-shaped bits were missing and have now been replaced.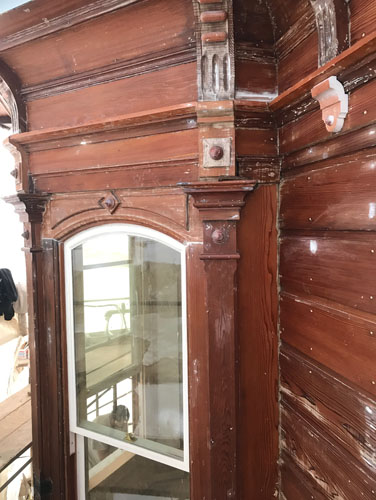 This afternoon, they primed the whole thing, but I didn't get any photos because the sun sets so ridiculously early these days.
posted by ayse on 11/21/17