More Buttons
One of the reasons why we finally decided to not pick out the buttons with either paint or gilding was the dawning realization that the front of our house is just bristling with buttons. I'm not sure that's what buttons do but basically there are a whole lot of buttons up there.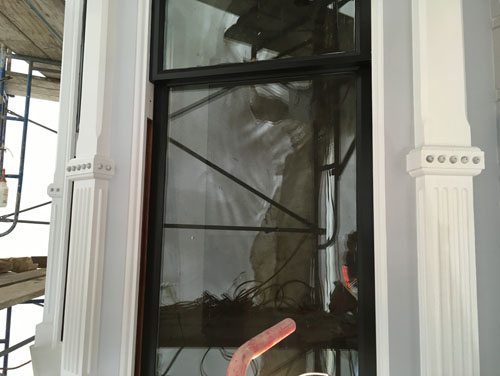 For example, Woody finally installed the 3/4" buttons on the front bay window. The ones on the porch are 1" buttons, of course, because why should everything be the same size? It does actually make sense, when you look at the two elements, that the columns should generally be more massive than the pilasters between the windows. I'm just a little grumpy.
One thing we did as a sort of systemic thing was to paint the flat trim behind the pilasters in the body colour of the house, Benjamin Moore Sidewalk Gray. This is the colour the whole house was before, and I love it and it works really well so we're sticking with it. It adds just a little bit of contrast to bring out the white of the trim.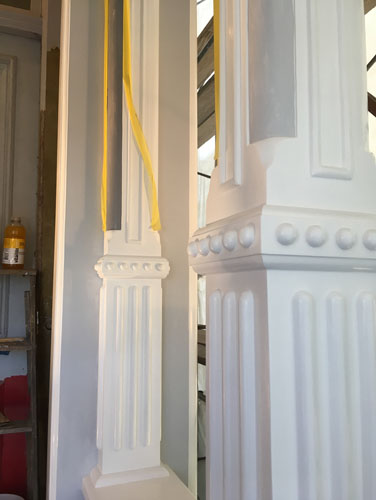 What didn't work was an idea I had to add a little colour detail to the porch columns. I thought we could bring out the slenderness by adding a gray, either the Sidewalk Gray or a slightly darker one, in the quarter rounds. As you can see above, it was not particularly successful. Having the background trim there in the sidewalk gray was way more effective.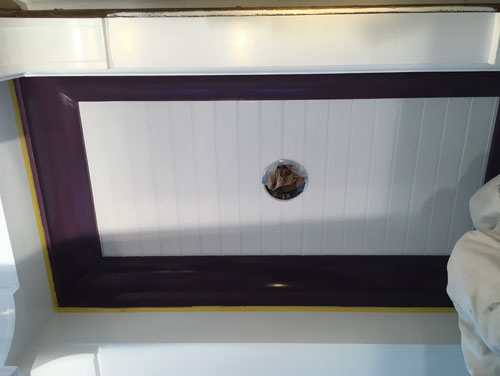 Another colour issue is this idea. Bodhi, Woody's son, liked the idea of making the cove molding in the ceiling of the porch be the same as the cove molding at the crown. I think it's too much, and I'm thinking what I want here is maybe the Sidewalk Gray for the cove and a light blue ultra-traditional porch ceiling. Or all white, which would also be good. (That yellow is masking tape, so everybody just calm the heck down over there.)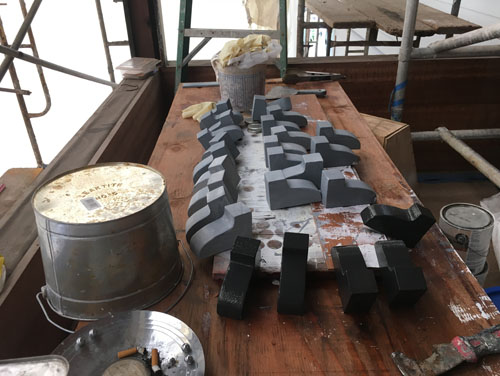 And those horns for the window sashes are being painted in preparation for installation. I think they will really clean up the look of the windows in a very traditional way. Much nicer than the blocks that were there.
I'm hoping the front of the house will be finished up in the next week so we can pull down 2/3 of the scaffolding. It's been several weeks of feeling like they were almost there and not getting there, but with the front porch in colour choice stage we are so close.
posted by ayse on 03/22/18