Garden Report: April 15
We've been relaxing a little after the marathon fence-planting of the weekend, in part because Roomie John's truck, which we hoped to borrow to get the rest of the fence supplies, is in the shop having some suspension work done.
In the meantime, it turned mid-month again, and I'm making my bloom inventory. This time I thought I would share it with you, or at least as much of it as I got decent photographs of.
Temperatures: high 66F, low 46F
Honey bees not flying, but native bees out
Anagallis monelli -- bought as an alleged annual from Annie's Annuals last year. Not dead yet.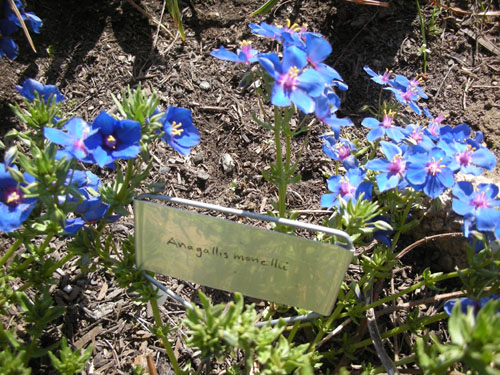 Dianthus 'Firewitch' -- I want to dislike this one, if only because the colour is a bit too reminiscent of the front hall for comfort, but it blooms so consistently and has really nice foliage year round.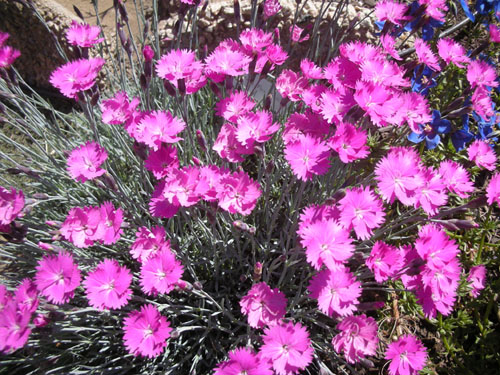 Dianthus 'Rose de Mai' -- still getting started with its bloom, this one is a bit disappointing to me as it looks somewhat mangy and never quite gets covered in blooms. On the other hand, like all dianthus it is cast iron in this garden, so I'm not complaining. These are supposed to be short-lived perennials and the only mortalities have been specimens in pots that went unwatered during heat waves.
Dianthus superbus -- a nice, somewhat inoffensive dianthus that puts up with a lot (even being laid on by dogs). I somehow ended up with two of these.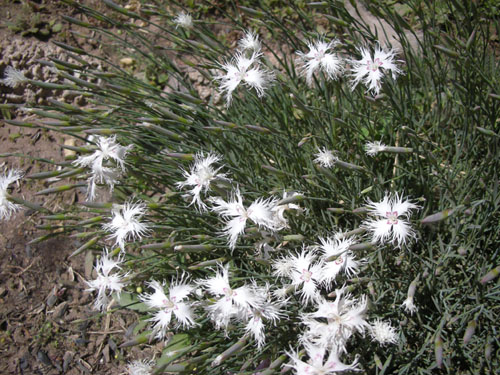 Dianthus deltoides 'Flashing Lights' -- a favourite, for its intense colour. Photos do not do it justice.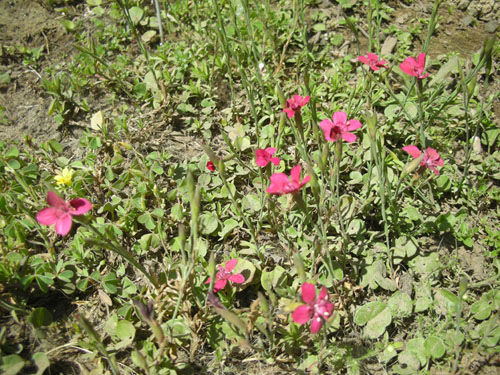 Dianthus -- one of a pair of showy commercial hybrids I bought last year in a moment of weakness. They contrast strongly with the more delicate old-world varieties.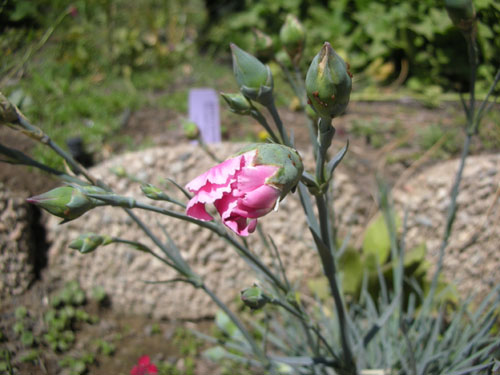 Allium schubertii -- Great big architectural flowers dry into large, weird seedheads. If you want an allium that says HELLO WORLD, this is your allium.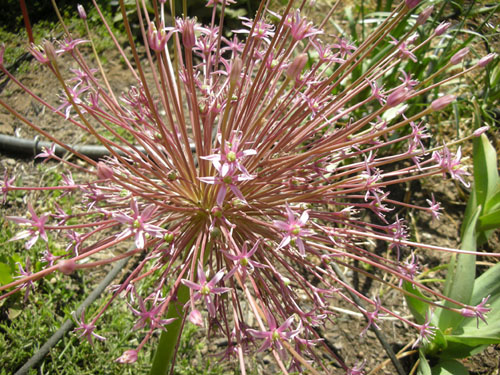 allium -- these are some species allium I spread all over the garden last year without making any notes.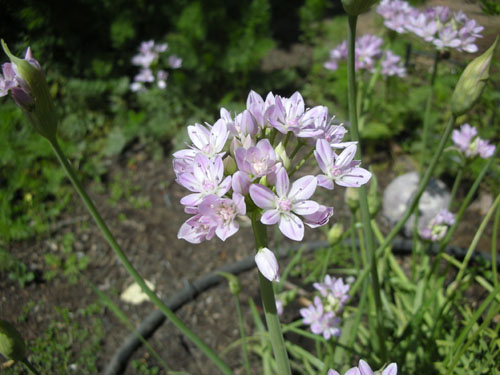 Mimulus, aka Monkeyflower -- I'm not sure why this is called Monkeyflower. It has a tendency to the orange which means it is here on probation.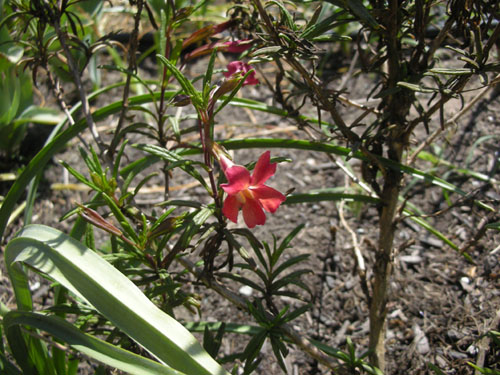 Strawberries -- in heavy bloom right now, and actually setting fruit, too.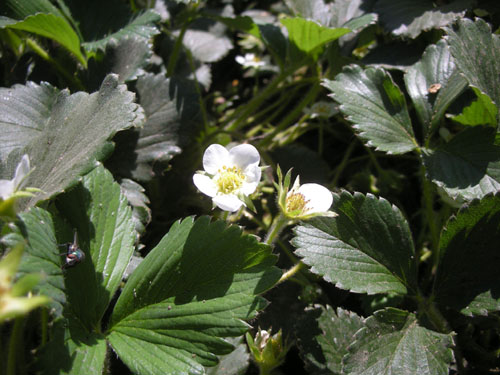 Campanula rotundifolia -- a purchase from High Country Gardens, this is supposed to be moderately invasive. We do not have nearly enough water in our soil for that to happen in this garden, but it is spreading nicely and getting groundcoverish.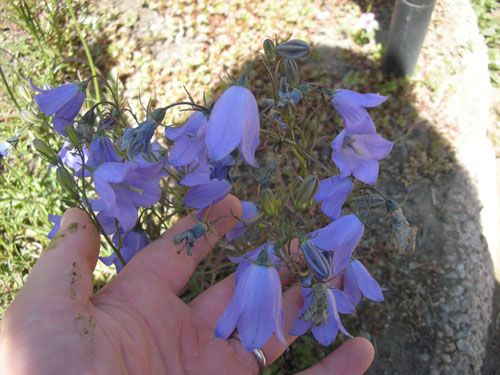 Another campanula -- this was a small potted plant from Trader Joe's a couple of years ago. Unknown variety, as it was, naturally, unlabeled. Seems not to spread very much.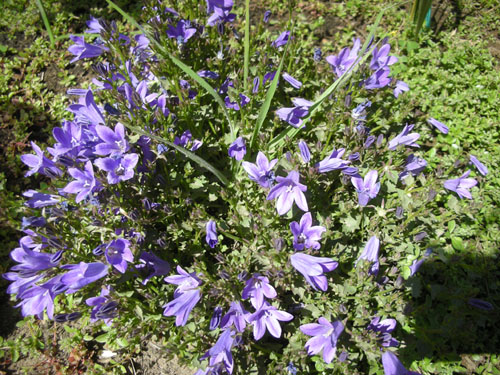 Nicotiana langsdorfii, a self-sown plant from the original which was on the other side of the nectarines. I have nicotiana coming up everywhere.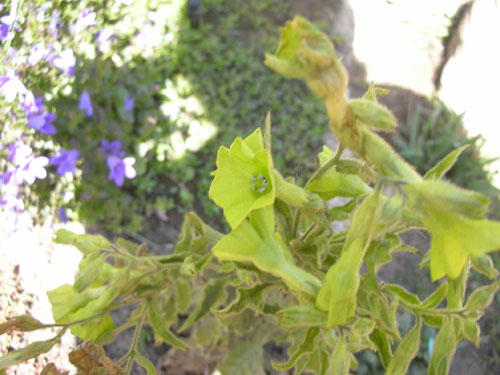 Apple -- all the trees are in bloom now, so I have hopes for more than two apples this year.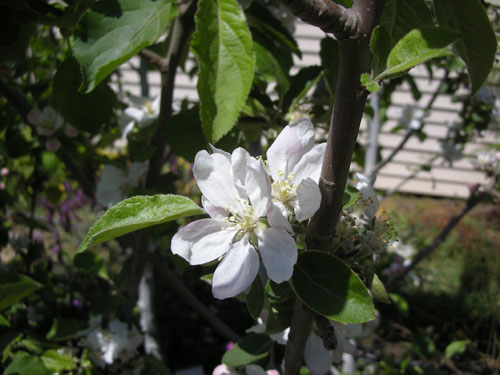 Salvia spathacea -- a passalong plant from a friend. Bloomed all winter long. Chickens love to play in it and eat the spent blossoms. Hummingbirds have thus far ignored it, even though the common name is Hummingbird Sage.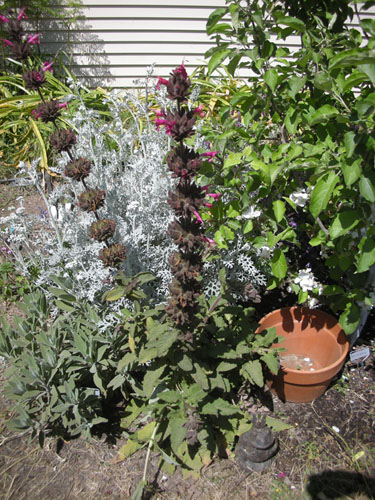 Salvia 'Indigo Spires' -- another year-round bloomer. Doing poorly after a run-in with a dog at top speed. But still blooming.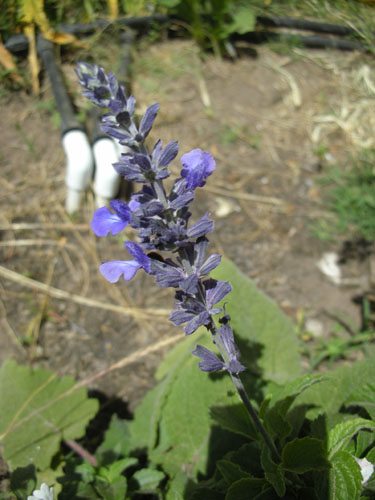 Little pink oxalis -- oxalis is a weed here, and most of it is yellow. But this year I have been getting a lot of this pink oxalis, which I don't mind all that much.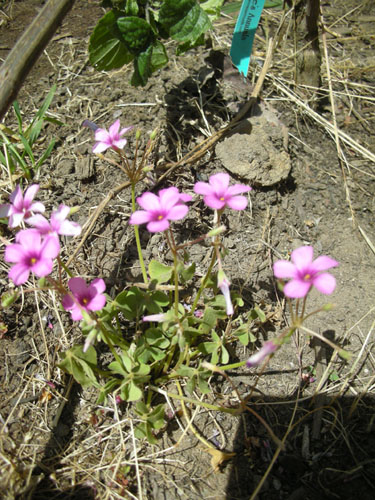 Spanish lavender -- self-sown from seeds in the compost. This will have to come out soon because it's growing too close to the apple trees, but the bees are loving it so I hardly have the heart.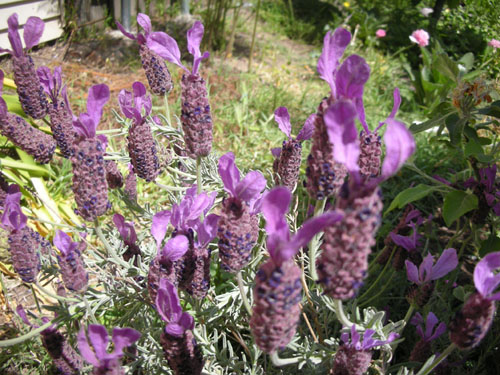 Blue babiana -- the blue half of the pair of babianas from Annie's Annuals. Both have grown enough that when they go dormant this year I should split them. Very pretty, but not terribly popular with much apart from honeybees.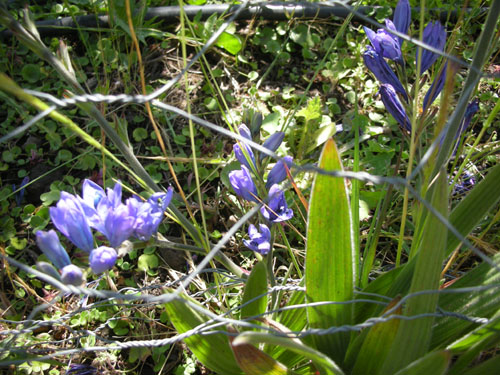 Montmorency cherry -- birds are supposed to leave these sour cherries alone, but last year they stripped the tree before any of them ripened. This year, I bought some nets.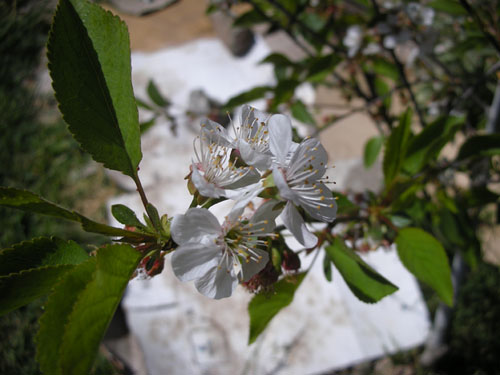 Freesias -- I planted these in a huge clump last year. When they go dormant I should spread them around a bit more.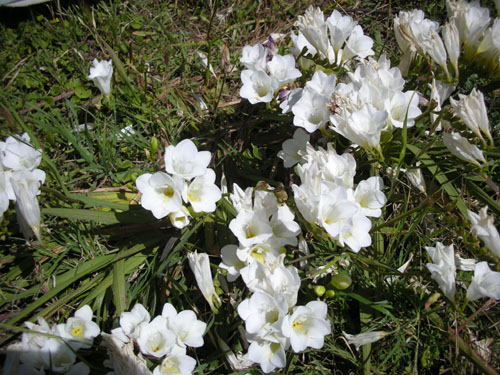 Wisteria -- coming over the fence from the house next door. Needs heavy pruning as we neglected it this last fall. Losing a fight with the Cecile Brunner rose.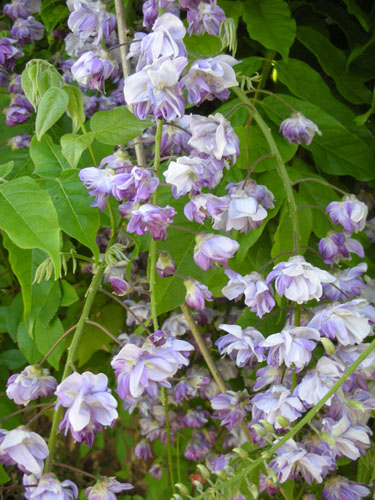 Cecile Brunner rose -- now grown to five feet above the top of the fence it is leaning against. Lots of little pink blooms in the spring, lush, evergreen foliage in this climate. This is not a rose to be messed with, or to plant too close to a structure.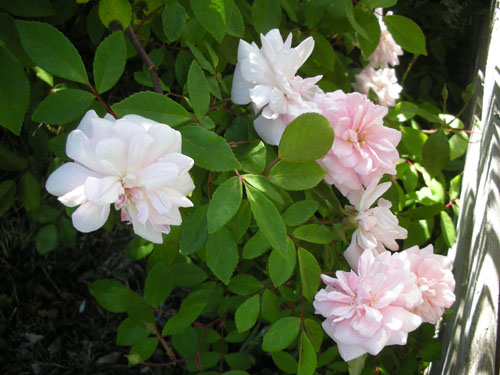 Dandelion -- I let these grow because the insects love them, and they don't tend to get too invasive around here. Noel, in some kind of midwestern lawn instinct, occasionally goes through and pulls them out of the lawn and wherever they show up.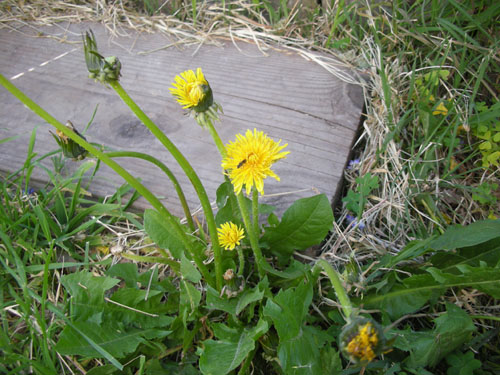 Thalictrum rochebrunianum -- I have two because I thought I killed one. They like water, and will go dormant if they don't have enough. Supposedly has pink flowers, but I've not been good enough about watering it through a summer to see them yet.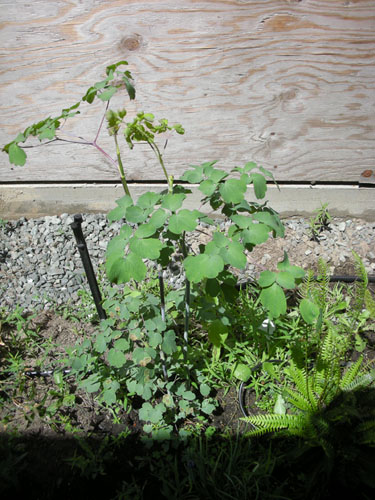 Heucheras -- not in bloom, thank goodness, but lovely at this time of year. Heucheras are one of the few plants where I think the bloom really makes them look awful. Right now, with lots of water and warm weather, they are feeling perky and happy.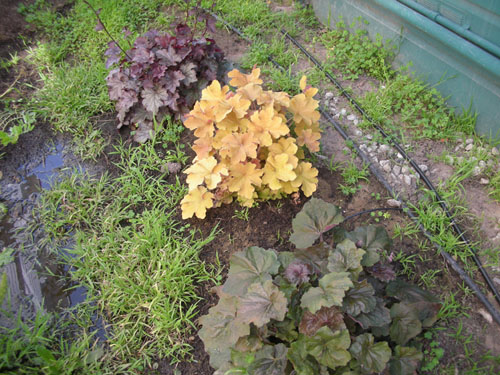 Dicentra spectabilis -- a California native woodland plant. Goes dormant in the winter. Pretty little pink flowers with hearts on them.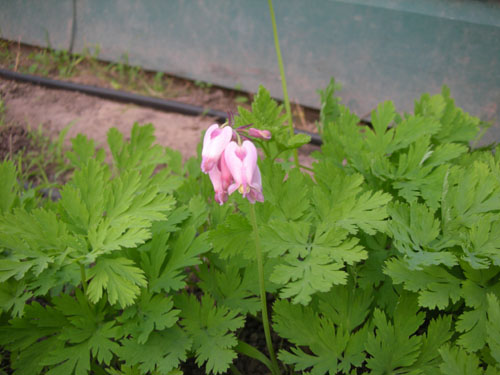 Columbine -- one of many varieties planted in this area. Tendency to powdery mildew and a fave of the local slug population. On the other hand, they do self-sow to fill in their bed, and the foliage is nice even when diseased.
Hydrangea and impatiens bed -- It's full of low-lying weeds and smells like a coffee shop, but the plants are doing well, where they haven't been devoured by snails. This is a good location for snail-hunting in the evenings.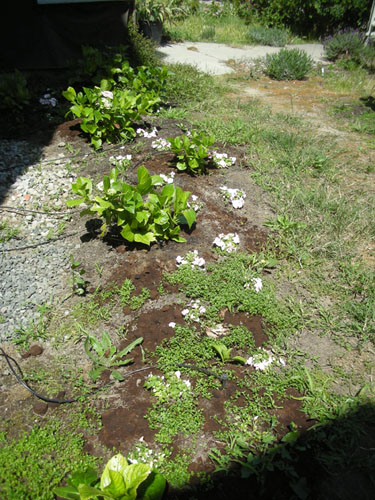 Linaria triornithophora 'Three Birds Flying' -- Incredibly invasive, popping up all over the place in the Fern Walk. Pretty flowers, though.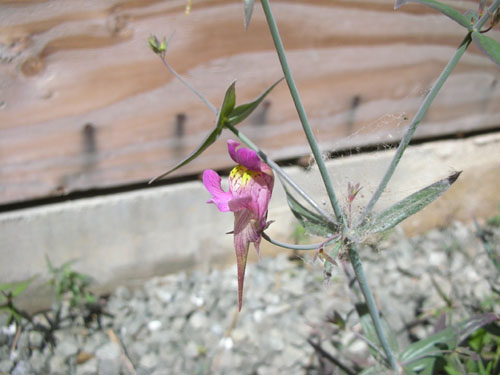 Anemone -- at the very end of its season.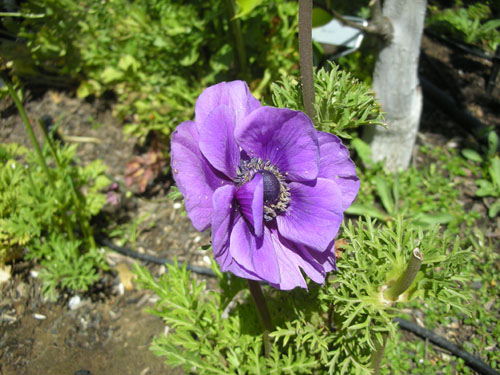 Ranunculus -- also at the end of its season but still quite handsome.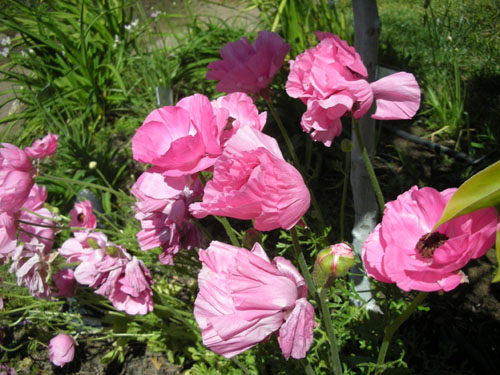 Geranium 'Bill Wallis' -- a nice true geranium, tends to self-sow but not in an obnoxious way (this one is right next to the pot with the mother plant).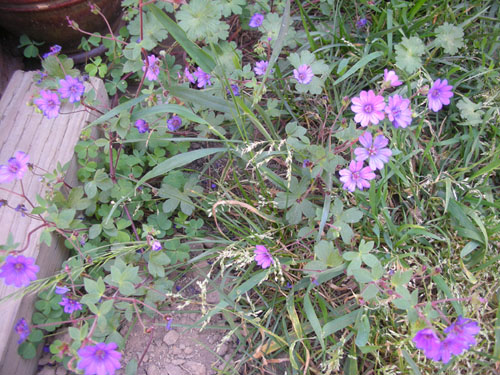 Salvia greggii 'Teresa' -- from Plant Delights, a nice pale-pinkish salvia. Has been very subtle about blooms so far.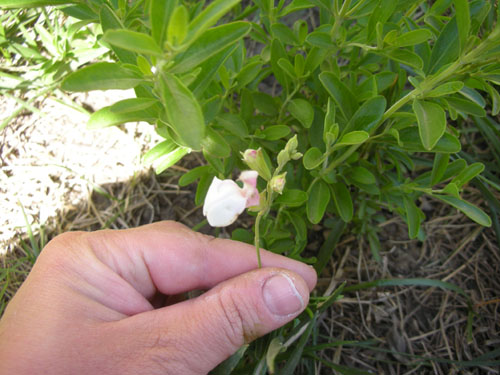 Camellia 'Tama Peacock' -- planted this winter, still doing well. Likes lots of water, which it certainly has had this year.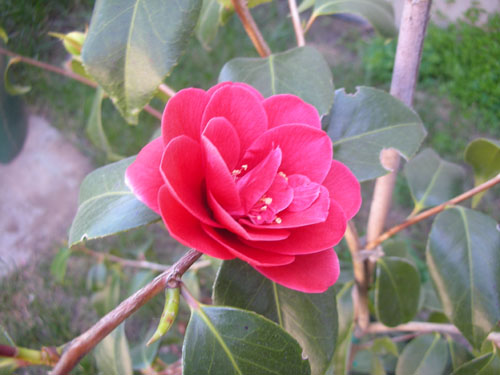 Sweet pea -- planted this winter, this is the first bloom. Another plant that tends to get aphids and powdery mildew but makes up for it by having really awesome blooms.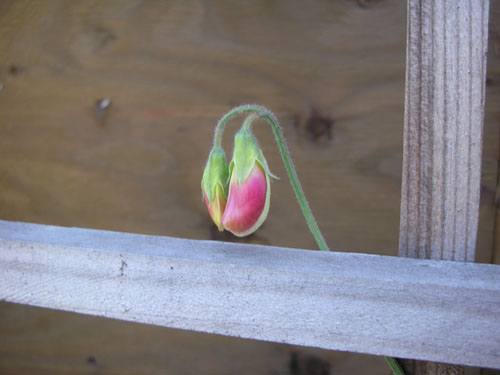 Penstemon palmerii -- a nice, pink penstemon, has taken to growing horizontally most of the time rather than in nice, ladylike spikes. Then an occasional flower spike will come up several feet from the original plant. Growing in an area that is sort of out of control and undirected.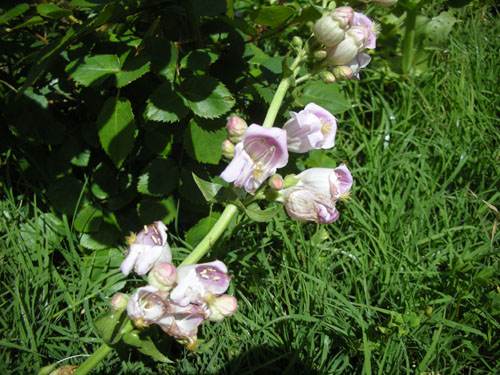 California poppies -- several varieties. The orange ones have stayed because Noel really likes them even though they do not fit the colour scheme.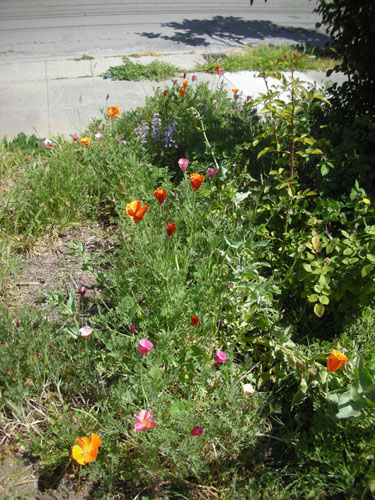 Chinese Houses -- another California native, self-sows, very short bloom life but totally worth it.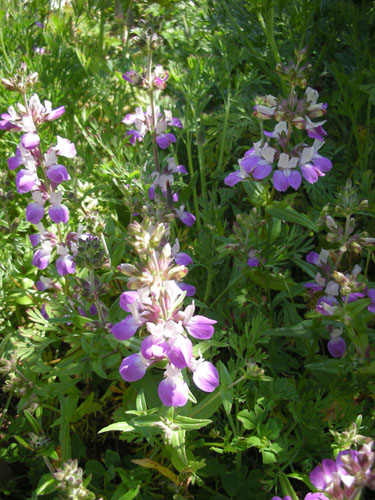 Penstemon heterophyllus -- Much more reasonable in growth habit than palmerii, very pretty blue flowers. Last year somebody ripped a bunch off around this time, but the plant was OK with that and I don't mind too much as long as they don't actually dig up and remove the entire plant (which has been done).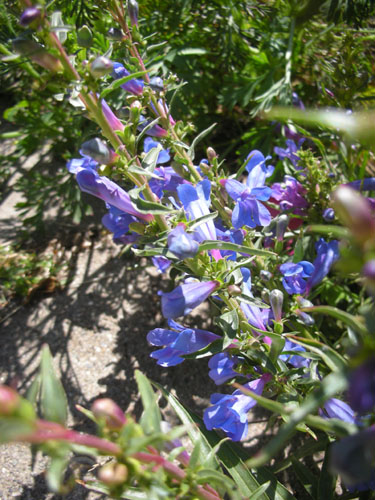 Cobweb thistle -- shown with little green bee in deep involvement. A California native, endangered in its native habitat along the bluffs north of here. Good at self-sowing, but prickly.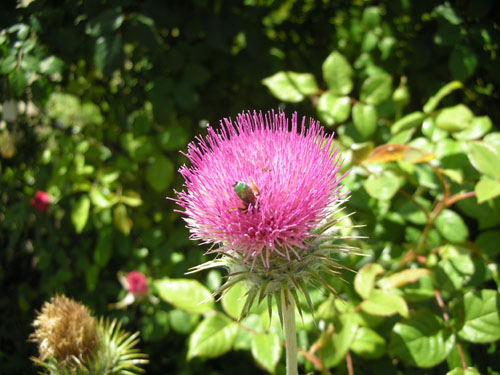 Iris douglasiana -- Another native, has generally done poorly in this garden for unknown reasons that could be anything from too little water to too rich a soil. Seems happy this year.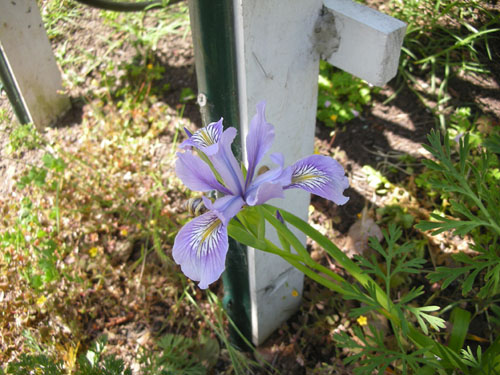 Rose hedge -- mostly in bud right now. I expect the major bloom in mid-May, which is a bit early but we've had a warm year.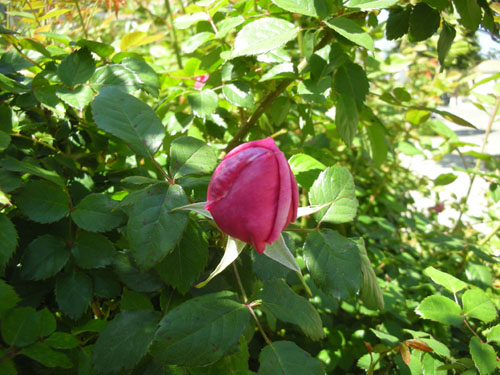 Wooly thyme -- people keep telling me this is hard to grow. It's taken over the walkway where I planted it and is creeping along the planting bed. So far, not too hard to grow.
Also in bloom: hollyhock, another type of allium, armeria, lupine.
Technorati Tags: california, flowers, gardening, native plants, plants, springtime
posted by ayse on 04/15/08