If I Had a Stapler
Or rather, if I could find the box of staples for the staple gun, which has gone missing sometime since I made a little cat enclosure in the attic so we could convert the Accordion Room from cat room into guest bedroom. I've looked in all the obvious places and several not-obvious places, but in the end this is probably going to involve buying another box, whereupon I will immediately find the old box sitting out on a table somewhere really obvious.
This seems to happen a lot.
Anyway, this is how I spent a little of my evening. We were able to make a trip to Home Depot to get the rest of the fence panels and some 2x4 redwood, and I made one wall of the chicken yard. Then I tried to staple the chicken wire up and ran out of staples, hence the incomplete look.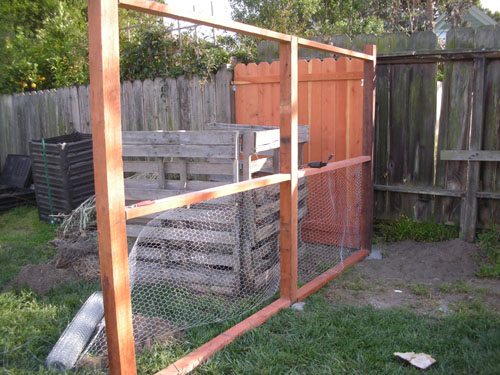 I am pretty happy with how the cross-pieces came out. They're attached with Simpson Strong Ties, so they don't have to rely on me being a good woodworker to be strong (good thing, because one thing I learned in architecture school was just how lousy a carpenter I really am).
I only have to attach the wire to these frames, then build the four doors (two sets of double doors) on the other side, and then I'm going to fill in the area where the chicken house will be with more chicken wire to make a complete yard. Covered over with aviary netting, this will be a nice place where the chickens can come out and play while we work in the yard or play with the dogs, and where they can have a little, modest chicken shack to live in if it takes us a while to get round to building the chicken house.
Also, we're being little social butterflies all weekend, so we'll see how much of the back fence we actually get built. Noel is optimistic, but he's always optimistic.
Edited to add: Found! In the last half hour of light, no less, so I was able to get the chicken wire over the new section of fence before it got too dark to find my way out of the compost pile I had to stand in to do it.

Technorati Tags: fence
posted by ayse on 04/18/08