Pantry at Last!
Our first task today was to run some errands, which took remarkably little time, given that it's now holiday shopping season and one of our errands was at IKEA. Then Noel spent a merry couple of hours sorting through his assorted boxes of gear while I raked the chicken yard, cleaned the chicken room, raked out some garden beds, and did some watering. But soon enough it was time to get to work if we were going to get the pantry to done today.
We started out sanding the plywood floor, which had taken a beating during the drywalling and painting process. This is when it's nice to have a sander with a built-in connection to a shopvac for dust control.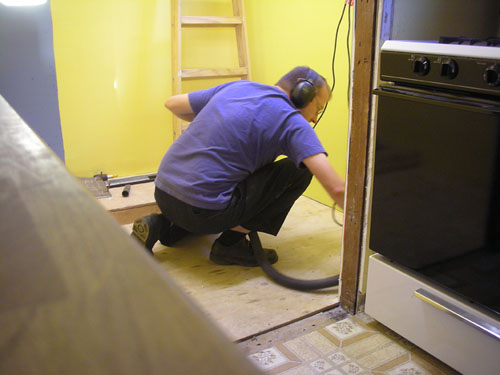 There was also a bit of a gash in the floor that had loosened up, so I filled that with putty to even it out. The spot will actually be under the fridge, but dips and holes in flooring bother me.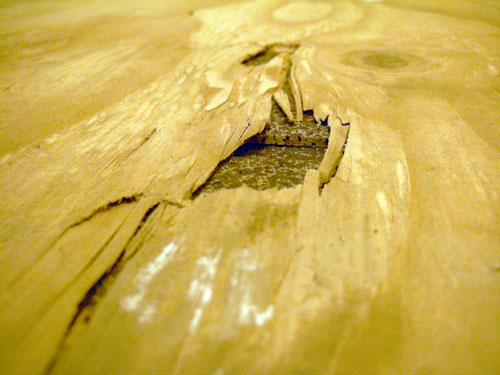 After working with drywall mud, wood putty is incredibly irritating stuff. It wants to stick to itself and pull away from the hole. Fortunately, the repair didn't have to be too fine, because it was going to be under floor tile, anyway.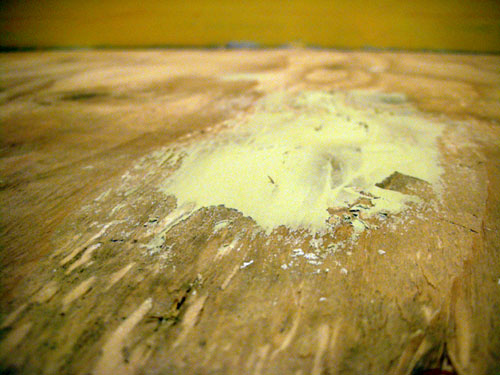 The tile laying itself went very quickly, as installations can only do when they involve what amounts to applying stickers. Noel applied the tiles and I rubbed them in with a printer's brayer. This is why everybody should keep supplies for linocut printmaking around the house at all times.
The edges were a bit trickier, but it's a simple geometrical rotation to figure out how to trim the tile to fit against a not-square wall and a square edge.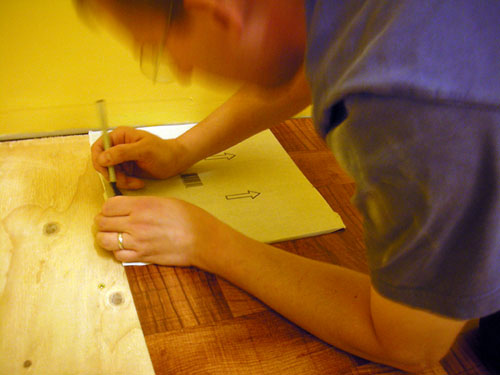 There was only one tile where we got confused and cut it backwards. It's a tile that will be behind the fridge and therefore entirely invisible. Can you see it?
We filled in the corner with lots of odd trims, because we realized we were running out of tile.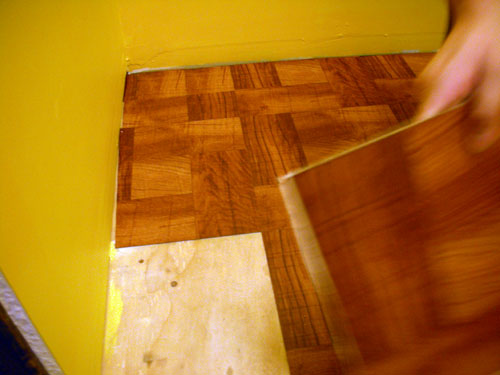 In the end, we had one full tile left and more than three full tile spaces to fill (we're putting off the threshold until we figure out how to make it). So we have to buy another box of tiles just to get three more. It looks like we'll be tiling the bottom shelf there, given our glut of tiles.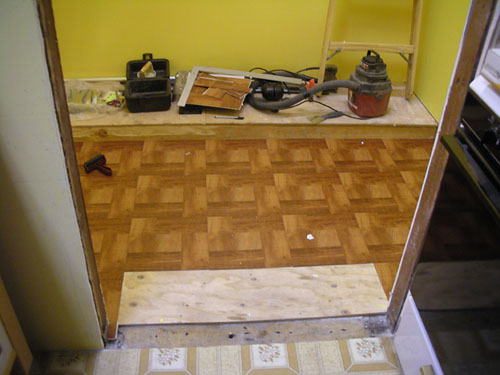 Not being done with the floor didn't stop Noel from moving the fridge out of the kitchen into its new spot. I couldn't even help because I was holding the neighbor's baby, who needed a short spot of babysitting while his parents ran a quick errand.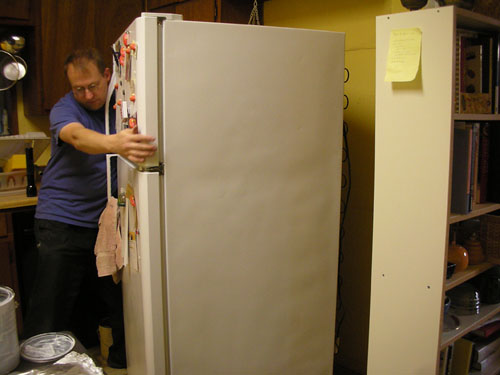 And then we could move our IKEA countertop unit over where the fridge has been, and bring the small table I used to have in San Luis Obispo in as a kitchen table. This has two advantages over the old arrangement: twice as much workspace, and a place where we can dine when we totally trash the dining room next year. Also, we're hoping the table is more consistent with a floor heat vent than the counter unit has been.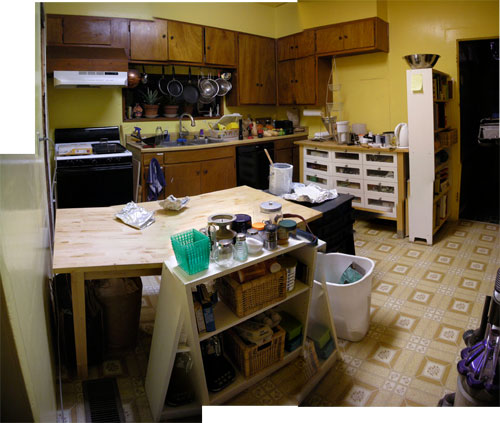 Sometime soon I want to get the bookcase moved elsewhere, with or without the cookbooks it houses. If I had endless patience, I would try to build something along that South wall of the kitchen where the fridge used to be to hold cookbooks, but I don't, and we have a lot of other projects to work on when we get the pantry stabilized.
Our next step is shelving. This evening, after making a pot of soup and a lasagna, Noel proved he is indeed a Renaissance Man and got up on the ladder again to attach the shelving supports. We had some of these left over from our office in our old house in Berkeley, and we bought a couple more today to have enough for this wall. Of course, we have three sets of them, all slightly different, so it was not exactly easy to get them all lined up. But with the help of a level, Noel got the job done. Now we need to buy new shelf supports (our old ones were more aimed at storing books and software rather than kitchen stuff) and some material to make shelves out of. Then some of the piles of stuff lying around the kitchen can be tidied onto the shelves.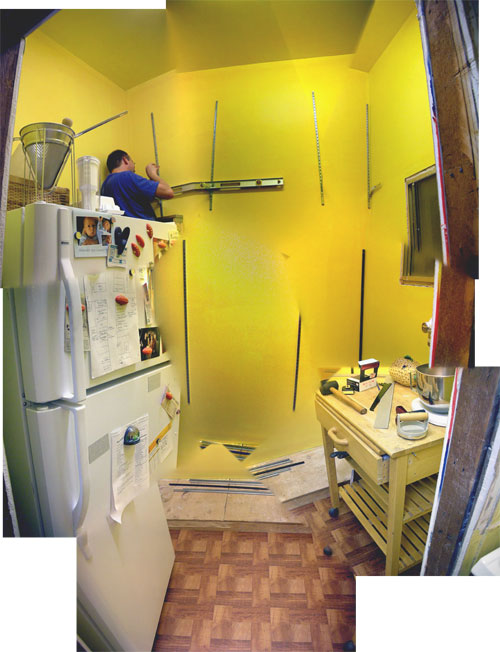 A pretty good long weekend of work, all in all.

Technorati Tags: flooring, sanding
posted by ayse on 11/30/08