The First Eight Boards
Before we started installing decking boards today, Noel crawled under the deck to install one last connector he'd forgotten.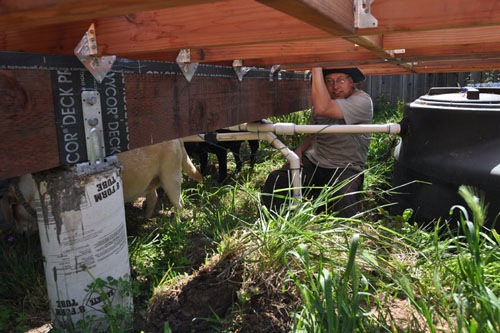 Then we had a brief discussion of logistics and how we want to approach the installation. Sometimes in discussions like this we will change our initial approach, but not this time.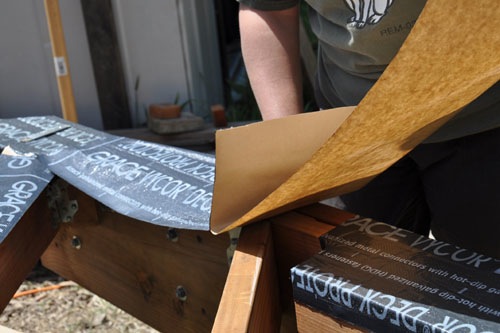 We started by putting down Vycor Deck Protector over the joists. This is a kind of belt-suspenders-duct tape approach to building a deck when you're not using pressure treated wood, but I'm not keen to rebuild this deck in this lifetime.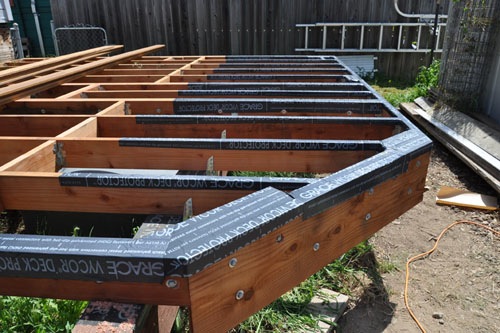 I only went about five feet out with the Vycor because we didn't have enough wood to do the whole deck today, so no point in installing all of it. I'm not an expert installer of this stuff, and it can be a bit challenging to handle, but it went on OK for our purposes.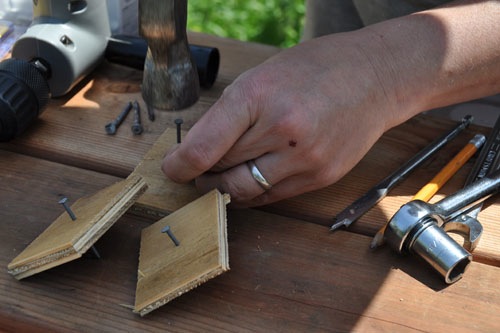 We weren't able to find board spacers for purchase locally, so we made these handy spacers with some small nails and plywood. Board spacers keep the deck boards lined up with an even gap between them; I want more than what you'd get by placing the boards tight against each other, but not too much of a gap.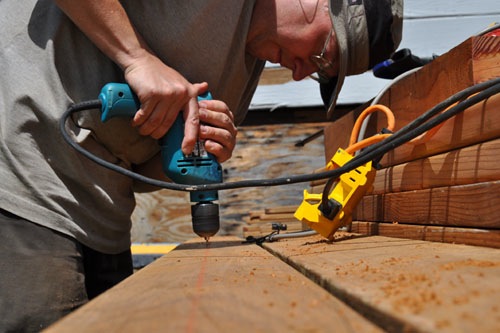 Ipe is a hard wood, and prone to cracking, so recommendations were to predrill the holes. Since we're doing recessed screws with plug covers to hide them, we also predrilled the holes for the plugs.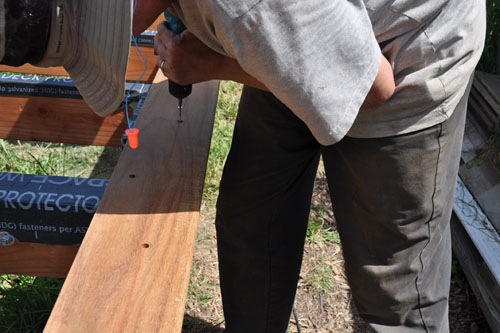 The first board took longest: we had to line it up with the edge properly, and marking where we wanted the fasteners was more complicated than it would be on the rest of the deck. Because there is a slight overhang, we fastened this board to both the joists and the end board.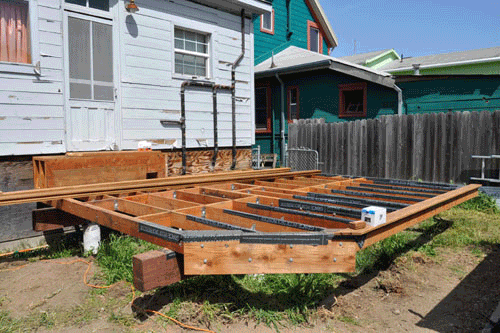 The next seven boards went quickly. Noel predrilled the holes, then wrestled the board into place and screwed it down. I came after him and glued the plugs into place, whomping them in with a mallet. We probably could have done more work, but called it quits when we got all the boards we had down.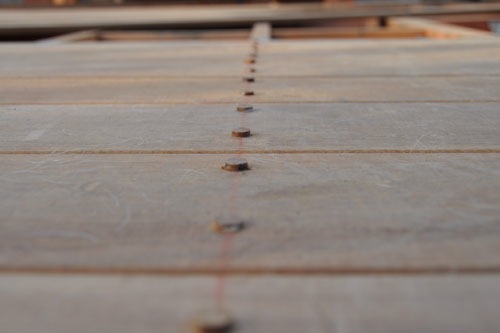 One thing we're not sure about is how to cut off the plugs at the surface of the deck. I borrowed some chisels from our neighbor, and had mixed results (one plug broke off below the surface and had to be drilled out and replaced). We're thinking maybe a Japanese saw might do the trick; Noel is going to investigate.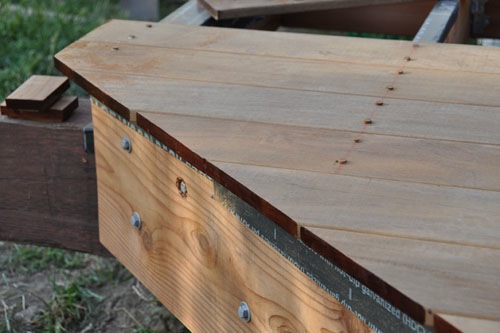 At the end of the day, we sealed the cut ends of the ipe. This was recommended to us by multiple sources, and we bought the same sealer that had been used to seal the wood we bought from Economy Lumber. It's not pleasant stuff, but it beats ending up with some weird staining on the wood.
posted by ayse on 04/29/12