Garden Report: April 1
No, no jokes or weird attempts at humour. We have what is shaping up to be a super busy week. Inside and out: it's all spring and madness outside right now. Look at this: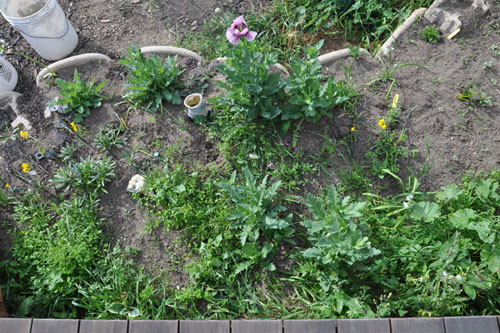 That's the bed by the deck, as viewed from the deck. The improbable poppies turned out to be Lavender Breadseed, which is a favourite of mine so yay. You may be able to see that there are several poppy seedlings in there and they are full of buds, so we should have a nice show here this spring.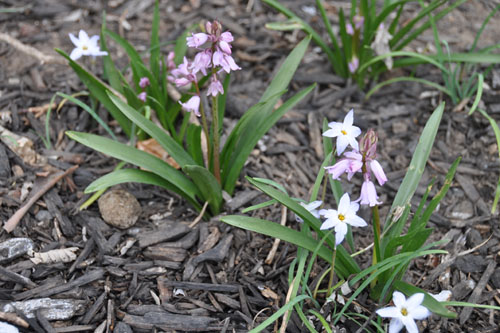 Under the buddleia the hyacinthoides are blooming alongside the ipheion, which is very pretty. The hyacinthoides manage to look rumpled and disorganized from the very start, which is kind of funny. I wonder how they will look next year, if they even bother to come back.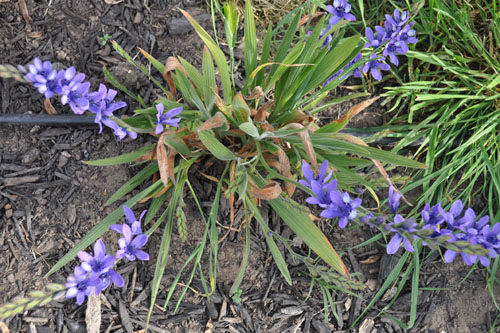 The purple babiana bloomed this week, which made it clear that the pink babiana has disappeared, perhaps in the Great Garden Disaster. This is not a huge tragedy since I can buy another one, but it was a very nice plant and I'm missing it this year.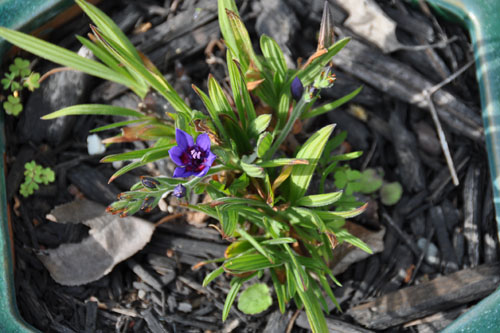 I do have this new babiana I planted in a container last year, while thinking about how I really needed to divide the old babianas. It has that nice red center, even. I like flowers with contrasting colour centers, and they are not super common. But I still liked that pink babiana a lot.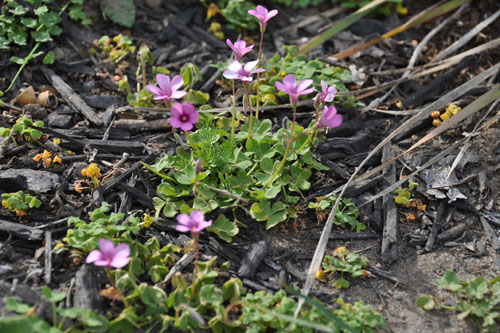 Anyway.
I have a lot of these this year. It's a volunteer plant, a pink oxalis that showed up one year out of nowhere and has slowly spread around by itself. I'm conflicted because oxalis is really more of a weed than anything else here, but this variety is well-behaved and small and kind of pretty, so it doesn't seem too bad to let it do what it wants (within reason).
Of course, it's not like I have a whole lot of control over where oxalis shows up in the garden, so my liking it is irrelevant.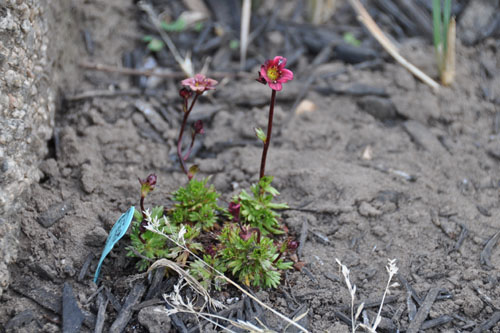 The oxalis is right above the Saxifraga x arendsii "Purple Carpet" that I got last week, which is an interesting pairing. Two small plants with pink flowers right next to each other is normally something I would try to avoid doing.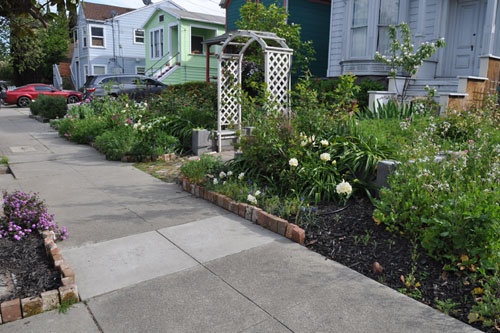 The show out front is kind of a little crazy right now, and the roses haven't really kicked in yet, even. I do think I need some coloured freesias for next year, but I'm not sure what else could help the overall picture. Now that the California poppies have started blooming, I'm picking out the orange ones just about every day and you can hardly tell plants are missing.
A while ago I was discussing my garden with a garden designer who also occasionally reads this blog. She pointed out that I tend to concentrate on tiny little moments and forget the big picture. Which is probably true: I try to pay attention to the big picture, but the tiny moments are the things I fixate on. Like this: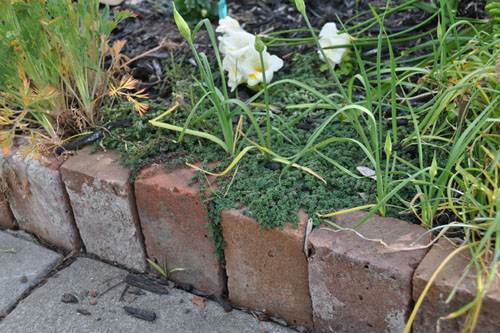 The Elfin thyme is spilling over the bricks, and tiny spears of allium are growing through it. The texture of the thyme against the old bricks just does it for me. I could sit and look at this all day, except that I'd have to be sitting on the sidewalk.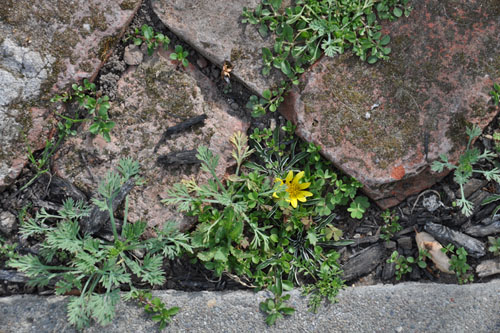 And the little green and white groundcover I have planted in the brick walkway is in bloom. And the weeds (and more California poppies) are filling in a little. OK, this is only eight inches wide, but I love it.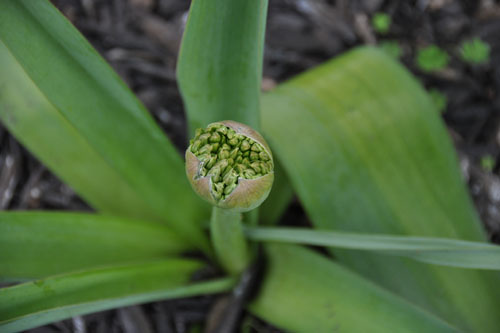 And the Allium schubertii is breaking into bloom, slowly. These guys take days to bloom in full and every day is a new and fascinating picture.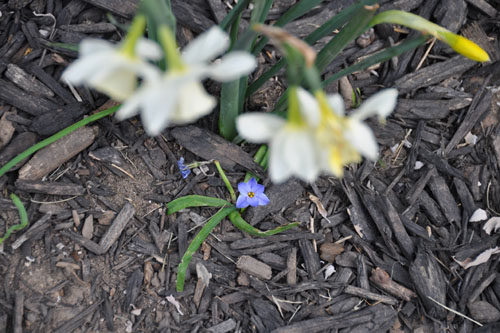 And the ipheion I planted all over the place are coming up, sometimes a single blue flower in a sea of nothing else. I think they look like little blue winks. These singletons are a sign that I am essentially an optimist: I hope they will naturalize and spread. I hope they don't look awkward and unnatural where I planted them. I hope this whole thing turns out looking more planned than chaotic.
I used to be more worried about how this would all turn out if I could not tear myself away from the details, but it turns out that plants kind of pick up and fill in for themselves, and if you just let them do their thing they will do it, and it will look right.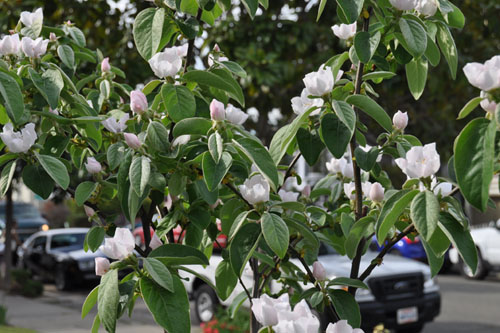 And last, the quince is in bloom. The mulberries are next, I think.
posted by ayse on 04/01/13