Another Company to Avoid: PlumbersStock.com
I know you all love to read about terrible experiences we have with vendors, so here's another one.
For the downstairs bathroom, I wanted to use a Toto automatic faucet, the Toto TEL5LW60#CP. I ordered this faucet from an online supplier, PlumbersStock.com, on March 2.
In my research before ordering I saw that people were overall happy with PlumbersStock, but that they tended to undercommunicate and maybe were late a lot. But I wasn't under any time pressure so that seemed fine.
ominous music plays
This is the confirmation email I got:
Thank you for your order from PlumbersStock.com. Once your package ships we will send an email with a link to track your order. You can check the status of your order by logging into your account. If you have any questions about your order please contact us at support@plumbersstock.com or call us at 435-868-4020 Monday - Friday: 7am - 7pm, Saturday: 8am - 2pm MST.

Your order confirmation is below. Thank you again for your business.

Your Order #S2210596 (placed on March 2, 2014, 7:31 pm)

...

Item
SKU
Qty
Subtotal
Toto TEL5GW60 Polished Chrome Helix Wall-Mount EcoPower Faucet Thermal Mixing
107026
1
$585.53
Subtotal
$585.53
Shipping & Handling
$3.50
Tax
$0.00
Grand Total
$589.03

Thank you, PlumbersStock.com
OK, so the catalog page said this would ship in 2-3 weeks, and I just set it aside, mentally, until that time span had passed. At the same time I ordered a whole bunch of other things for the bathrooms, so this one faucet was not looming there in my mind.
It was not until March 25, which was over 3 weeks from when I placed the initial order, that I finally got this shipping notice:
Your Shipment #295341 for Order #S2210596


| Item | SKU | Qty |
| --- | --- | --- |
| TTOTO TEL5LW10R#CP HELIX EFAUCET THERMAL 0.5GPM 10SEC POLISHED CHROME | 386502 | 1 |

...

Thank you, Plumbersstock.com
Now, maybe it seems subtle to you, but it was not at all subtle to me that what was being shipped was a different faucet from the one I ordered. The faucet I ordered had a 60-second maximum run, while the one that was being sent to me had the commercial-style 10-second run. You know how commercial faucets are so annoying because they turn off all the time? Yes, that is what they were sending me.
I checked the tracking number and it said UPS hadn't yet even gotten shipping information from the sender, so I shot off a very quick email to PlumbersStock, thinking they must have mistakenly sent me the wrong faucet.
I was just checking the shipping notice for this order and the item you are shipping is not the item I ordered. You are sending TOTO TEL5LW10R#CP, and I ordered the TEL5GW60. I hope you can fix this before you send me the wrong faucet. Please let me know if you are not able to fill this order, since clearly you are having some trouble making the estimated delivery date.
A little irritable, but to the point: I ordered a specific faucet, and what was being sent to me was the wrong model.
PlumbersStock wrote back:
Unfortunately, the TEL5GW60 has been discontinued by Toto and replaced with the TEL5LW10R#CP, which is why we sent you that model number. If this is not going to work for you, unfortunately we cannot cancel the order since it has already left our warehouse. If you would like to set up a return, please contact us when you receive the item so we can set up a return. Please do not refuse the package as it will result in a 25% restocking fee. If you have any other questions, please let us know.
I have dealt with Toto for years, and never ever have I heard of them just sending an alternative product to a discontinued model without any kind of confirmation. And in fact, this was not the replacement model, this was an existing model they they carried at the time that I ordered. So I was not exactly inclined to believe the story that Toto sent this faucet. Especially since they admitted it had been in their warehouse rather than being drop-shipped.
If it came into their warehouse then surely they knew before sending it out that it wasn't the one I ordered. Why on earth would a vendor think they could just send a different model without even bothering to ask first? Just wait and see the rest of the exchange.
I said:
It would have been helpful if you had asked before substituting.
Then I decided to see if they could make the order good, having already decided to send me something other than what I ordered. The difference between the model I ordered and the one they were sending me is only one part, the dynamo, and they had the dynamo listed on their web site as an available part (of course, they still had the faucet listed on their web site as available). I sent this suggestion for a solution:
Actually, since you carry the Toto part that is different between the two models, you can just send me that part:

Toto TN78-9V260R Part Dynamo Assembly Single Supply w/ 60 Second Discharge For Sensor Faucet
(Your URL: https://www.plumbersstock.com/product/160628/toto-tn78-9v260r-part-dynamo-assembly-single-supply-w--60-second-discharge-for-sensor-faucet/).
The next day, in response to my comment that it would have been a good idea for them to check with me before sending an alternative product, they said:
I'm sorry, but your order has already shipped out. Once an order leaves our warehouse we are unable to make any changes to it. We had to source this faucet directly from Toto, so they are the ones who replaced the faucet. Like I stated before, if you are unable to use this faucet please let us know when you receive it so that we can set up a return. If you have any other questions.
I was stunned by the ballsiness of this. "If you are unable to use this faucet." I didn't ORDER that faucet. It was as if they decided to see if I would just take it, since they could not fill the order.
Who sends out an unordered product and hopes you'll just accept it? Scammers, pretty much. Not legitimate businesses.
I wrote back:
All you need to do is send me the one part that differs between the two models. And when you got the wrong model from Toto you should have confirmed that that was okay with me before sending it.

So: are you going to send me the part your web site has listed? That would make this better.
Basic customer service lessons should not be my role as the customer, but clearly PlumbersStock didn't know much about how to deal with a situation where they advertised a product and were unable to provide it.
They finally responded:
I have checked with a manager and unfortunately, we are not able to send you that part due to the high cost of it. Again, if you cannot use this item please let us know so we can set up a return. If you have any other questions, please let us know.
Again with the "if you cannot use this item" line. Like somehow the burden was on me since they'd decided to send this to me. At that point I was irritated.
Then I'd like you to arrange for the package to be picked up. Since I didn't order the item you sent, I am not going to pay for shipping and I am not going to schlep it to a shipping center for you.

You can check the tracking and arrange to pick it up the day after it is to be delivered. I would also like you to immediately process a refund for the full amount I paid, since you were not able to provide the item I ordered. And by immediately I mean right now, and now after you get your faucet back, since I never ordered the item you sent me and by your own admission you are unable to send me the item I actually ordered.

Making unrequested substitutions for expensive fixtures is never OK.
They wrote back:
Your item is scheduled to be delivered today. I have set up a return with a pickup request from UPS. They will make 3 attempts to pick the package up from you. Once I can see that the item is on its way back to us, I will issue the full refund. If you have any other questions, please let us know.
Here's the thing: if you send somebody a product without having a contract to sell it to them, do you have the right to hold onto their money for another item, which you have admitted you cannot sell them? I ordered the 60-second faucet. For whatever reason, they could not sell me that so they sent me the 10-second faucet, without asking me to approve the substitution, and probably hoping I would not notice. Did they have the right to not refund my money?
I think they didn't.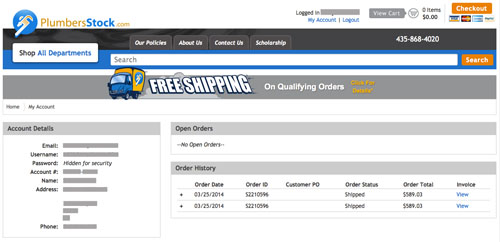 I checked my account on their web site. Somehow, in addition to the order for the 60-second faucet, they had created another order for the 10-second faucet. Did they intend to make it look as if I had placed an order for the faucet they sent me? That would be fraud, especially if they were trying to make my request for a refund seem unreasonable. And if they wanted to charge me a restocking fee.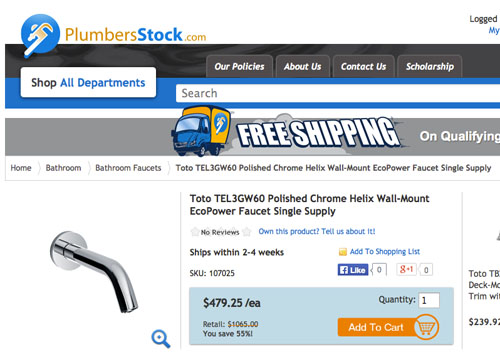 And guess what? They still had the faucet I ordered listed on their site as available. It was starting to look like a honey-pot business model to me: take customer money and then take a few weeks to not deliver, in the meantime you have a free loan of however much money.
At that point I realized it was time to get out of the relationship as fast as possible. It was Thursday, I'd let them know on Tuesday that I had not approved a substitution on this order -- and would have let them know even earlier if they had bothered to ask me. Having them hold onto money from me seemed unreasonable.
If I do not have a refund by Friday, I will just dispute the charge with my credit card. I don't want the faucet you sent me (and I tried to let you know as soon as possible so you could avoid sending it to me), but as I said, your faucet is not really my problem. There's no need for you to act as if I'm trying to steal a faucet from you that I very definitely do not want.

By the way, you still have the faucet I ordered on your web site even though you (now?) know you can't fulfill orders for it. And you created a fake order in my account for the wrong faucet. Pretty sure those are both pretty compelling evidence of intent to commit fraud. So is your actual business a game of holding money from your customers as long as possible while they dispute your bad orders? That would actually be a pretty interesting business model.
In response to that they seemed to think I was saying I was going to take their faucet -- the one they sent to me unsolicited. They also seemed to think I had some sort of reason to worry about publicizing the contents of the exchange with them, which of course I don't. I tried to help them not pay for shipping the faucet twice, but they kept suggesting I might just want to keep the faucet they'd sent me even though it was not the one I ordered.
In the meantime, on Thursday afternoon UPS dropped off the package with the faucet they sent me on speculation.
This is what PlumbersStock wrote to me Friday morning:
I understand your frustration, but we are only abiding by our policy in which you agreed to at the end of the checkout. We did assure you that when the product is picked up by UPS we will issue you the necessary refund. If you feel the need to file a credit card dispute, you may do so, but please note that we have a record of this conversation along with our notations and your acknowledgement to our policy in which you agreed to to provide back in response to the dispute. Please allow UPS to pick up the package as the previous representative has informed you they will do so. Once they pick up the package, I can assure you that the refund will be issued. They have 24 hours from the label being created to make the pick up, so it is now in UPS' hands to make the pick up as you requested the call tag instead of us just providing the return label for you to drop off the package at the UPS store. If you have any questions or issues with the information stated above, please let me know.
Oh, please, do try to threaten me by revealing this conversation. That is the kind of blowhard behaviour that pretty much guarantees you'll get your own post here just to show everybody what kind of company you are.
Here's the thing: their order policy only has any standing on orders actually placed. So it doesn't apply to the faucet they sent me on speculation, even though they wanted to claim it did. Maybe, to make it look like an order had happened, they made that fake order in my account, thinking there would be no way for me to dispute things with that up their sleeve. Not quite, and I'm not sure how well acquainted they are with the concept of fraud.
I'll spare you my lengthy reply, since there was nothing new if you know how to read. I repeated again that I had not ordered this faucet, and that I had tried to stop them from sending it, and that I was not intending to stop UPS from picking it up. They seemed very focused on whether I would not allow UPS to pick up the package, which made me think they do this a lot, and end up with angry customers who don't want to send back the speculative products that had been sent to them (fair enough, but I don't need to deal with a faucet I don't want and I was being nice).
On Friday afternoon, UPS came and picked up the package. On Friday evening, Noel and I went to the credit card account and looked for the charge. The charge wasn't submitted on March 2, when I placed the order, or on March 25, when it shipped. In fact, they had not yet put through the charge when the exchange above happened. No, they waited and put it through on Friday. So they did that just to be as horrible as possible. They are in Utah, so they had the chance to see the package was picked up by UPS before the close of business on Friday. So much for their saying "Once they pick up the package, I can assure you that the refund will be issued."
Doing some research into the company this weekend, it looks like they use a reputation management company to hide bad reviews and unfavourable feedback. That, or for some reason they have a lot of customers who write very generic and not very technical positive reviews of their services, except when they are unhappy, when they start sound more like contractors and plumbers. Many of whom have been sent substituted products when PlumbersStock was not able to supply the original item at the advertised price. I wonder how the state of Utah would feel about all of this, since I can see several places where this sort of behaviour violates Utah Title 13.
So: I recommend against ever ordering from PlumbersStock.com or anybody associated with them.
posted by ayse on 03/30/14