Touristing
Noel's parents were in town this weekend, so we did nothing on the house at all. So here's a mishmash of things that have been going on.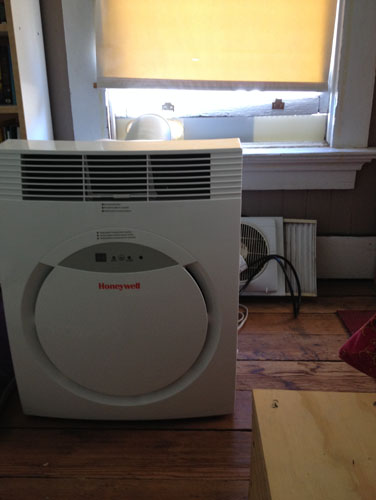 There have already been several days over 90 this year, and the meteorologists are predicting a hot unpleasant summer, so I finally broke down and bought an air conditioner. That means it has been cool and breezy out since the day it arrived, of course. No argument here; I just wish that was a foolproof strategy. Since my stroke last year I am much more sensitive to heat, and I moved to the Bay Area because I like my summers cold and foggy, so the prospect of a hot summer was not fun.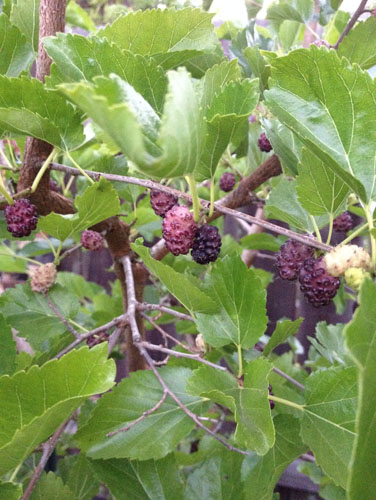 In fruit right now in the garden: pink mulberries. They are not very "pink" except when compared to regular black mulberries. I love the light, sweet flavour. The tree isn't quite big enough to give us enough for jam yet, but maybe next year.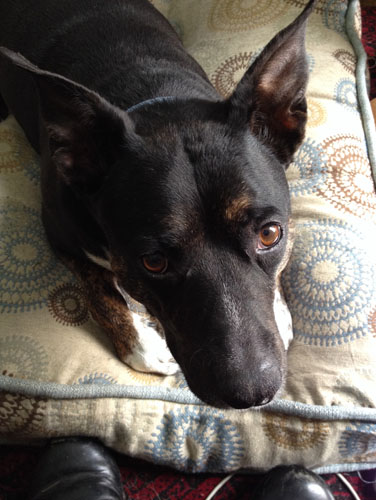 We had a new doggie visitor this weekend, Mina. She was learning all about how to be a good dog around cats, and she did a great job. She's much more sensitive than Rosie, but also a fast learner. Since we had visitors she spent a lot of time in her crate, but periods of intense learning combined with periods of rest turn out to be a great way to cement new knowledge. Henry was not pleased, but he rarely is.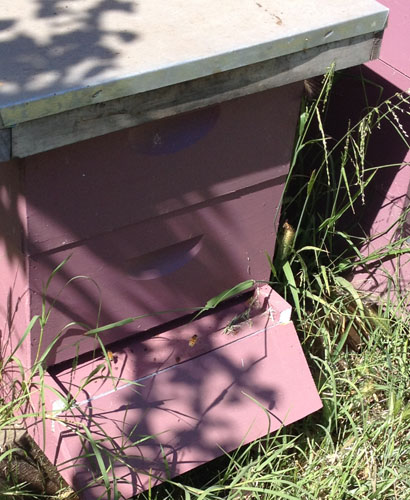 This is a little hard to see, but a while ago I set up a small hive with some old comb and empty frames next to Hive A, and dabbed a little lemongrass oil in there as a lure for any swarm looking for a home. Having a full time office job means I can't go out and collect swarms that get called in to the local hotlines, so this is kind of a second-best way of getting free bees. And it works! This weekend we noticed bees coming in and out of the hive. Yay for more bees! I'll go in and inspect next weekend after they've had some time to settle in (and to be sure there really are bees living in there).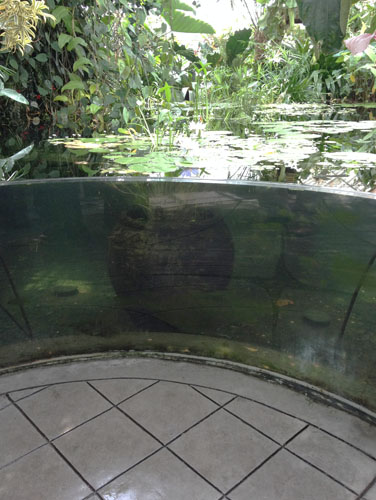 On Sunday we took the parents to the Japanese Tea Garden and the Conservatory of Flowers in Golden Gate Park (both recommended), then we had hand pies for lunch at Peasant Pies, and drove them around the city along the shoreline.
This is the pond in the water plants room at the Conservatory of Flowers. Isn't the clear wall neat? And it bows inward both so you can see more and so the structure can take advantage of the strength of an arch, which is the kind of detail I love.
posted by ayse on 06/02/14