Around the Bay
Noel has taken the rest of the week off to work on house projects as we try to get a handle on the schedule. Today he installed siding around the bay, including a fix for yesterday's mistake.
The mistake we noticed yesterday was that we forgot to put flashing around the two wall penetrations. That meant pulling boards off and installing it, then reinstalling the boards. That went pretty well, and then he noticed that the part of the bay that he installed yesterday was not quite straight, so he re-trimmed several boards with the Fein Tool.
Fortunately, we hadn't installed any more boards on that wall yet.
He has a different approach he wants to try for the front bay, starting in the center of the bay and working out. That seems like it might work better.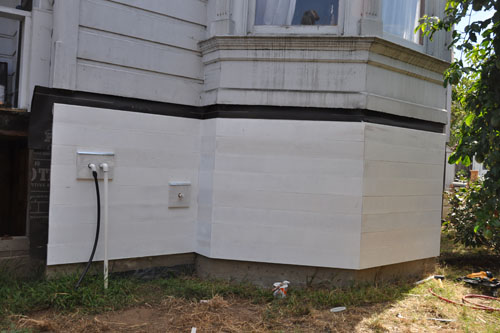 He made it all the way around the bay, then through the shrubbery.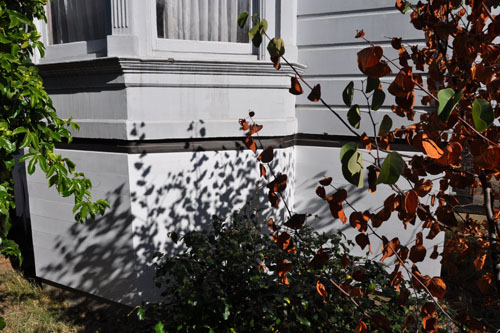 The wood siding is ending here; the back of the house will be covered with cementitious siding because we are planning some other, disruptive work there in the near future. We'll store the siding for that part of the house in the meantime.
Today I talked to the contractor who is looking at the side porch rebuild; apparently he's been emailing me for a couple of weeks and I haven't responded because his email never got to me. Oh, technology.
posted by ayse on 10/07/14