The Ghost of Foundations Past
Our house, as it turns out, is haunted.
By a very specific and weird ghost. When we did the whole foundation in 2005, a worker hit the water main with a hammer and the old galvanized pipe broke. We had the whole house repiped -- not a bad result, actually. And the foundation we got was lovely and has held the house up without leaking. So all was for the best.
I had no idea that was our first manifestation of the foundation ghost.
Last night, the water supply that used to serve the back bathroom sprung a leak and got water everywhere, taking out one of the cameras and blowing the breaker for the irrigation pump and controller in the process.
We looked through the footage on the camera before it zapped out around 3am, but it's pretty subtle. No massive, dramatic waterfall for you, alas.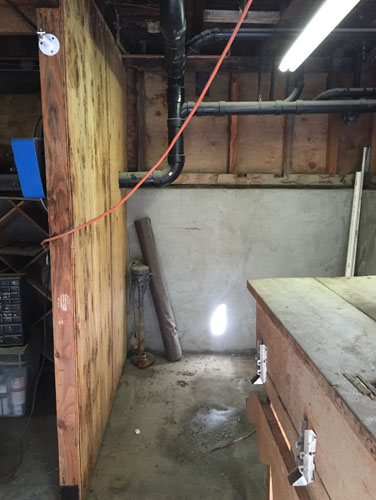 Of course, everything's all wet, but that's more subtle in a photograph.
The contractor was there first thing in the morning stopping the leak and mopping up the water, and nothing critical was damaged -- the camera can be repaired -- and after work Noel went by plugged the irrigation into another outlet and moved a bunch of stuff out of the corner where the leak was heaviest so it could dry out. At least it is supposed to be warm and dry this weekend.
The water offering was made, and the ghost is appeased for the time being. The next time we do any kind of foundation work I will make the offering upfront. This is how entire religions are founded.
Anyway, with that sorted out, the guys made decent progress today.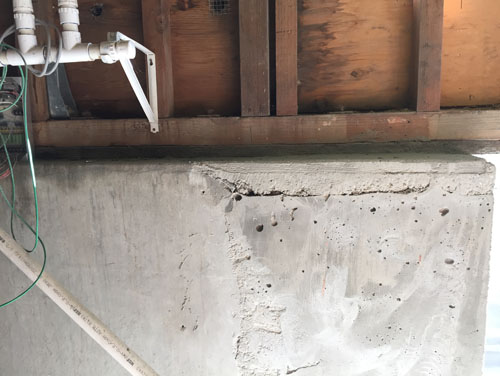 They stripped the formwork off the walls. These walls look really different from the old foundation because they were cast-in-place rather than shotcrete. The shotcrete does give a very smooth look, but in a basement, in a storage area that will be too short for even me to stand up in, I'm not sure super sexy ultra-smooth walls are a priority for me.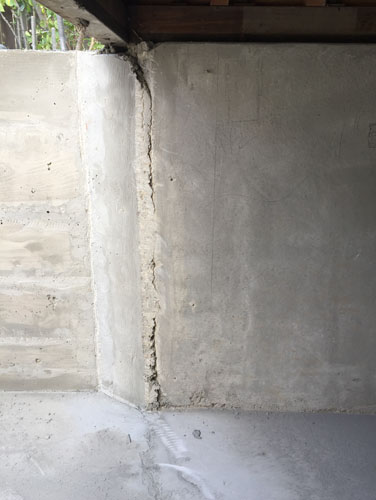 Here's where the new walls (left) join the old walls (right) at the bumpout to the west.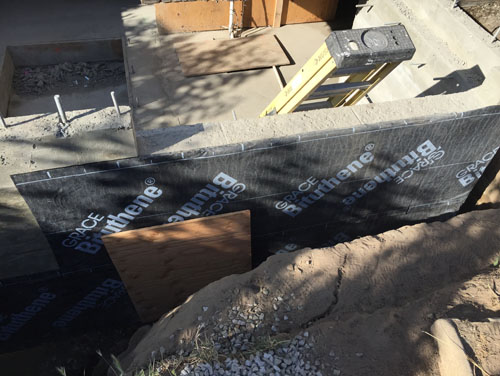 Outside of the walls they began applying the Bituthene waterproofing. This is the same waterproofing as we have on the old foundation, so I chose it to tie in cleanly. Over this, the guys will install Hydroduct, which is a drain board of sorts (but more like cloth with big airspaces in it) to break the capillary action of water in soil. That will run into the underslab drainage bed and into the sump.
(See the door notch now, Jennie?)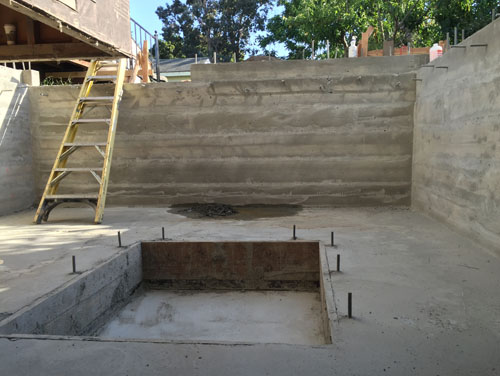 And now we can stand here and see the new space in all its glory, only without all the walls and the elevator and the multiple staircases that will fill it up pretty solidly. Moving between floors takes up a lot of space.
posted by ayse on 05/27/16