Fun With Stone
Yesterday we took a day off work and drove around to stone yards to find slabs for the various places in the house where we are using stone.
Those places are:
1. In the kitchen on the cabinets against the wall
2. In the kitchen on the island (which is a rolling island)
3. In the dish pantry at the counter with the pass-through
4. In the dining room on top of the built-ins
5. In the library at the midpoint of the built-in shelves
6. In the powder room the sink is a fabricated stone sink
Of those, 1, 3, and 4 are the same stone.
We are also using a manufactured product (probably Caesarstone but possibly another similar brand) in the food pantry and in the back bathroom, but we didn't need to choose that in person because it's uniform enough that there's not much selection to do.
My thoughts on the stones were pretty worked out. I had a sample of the blue-veined marble I wanted for the kitchen counters. I had a sample of the soapstone I wanted for the island. And I knew I wanted to use a classical marble in the library, though probably not the same marble as in the kitchen. For the powder room I was thinking of a dark manufactured product but wanted to see what was available.
So what is the stone yard process like? Well, this is what a typical large stone yard looks like: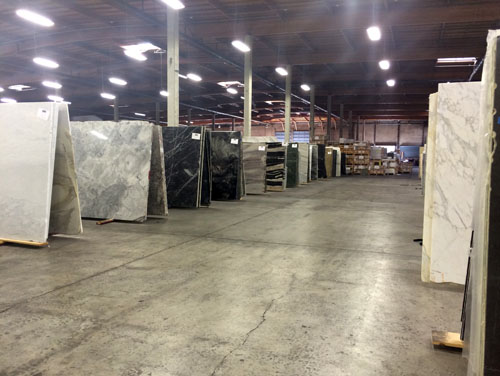 They have slabs sorted out in some logical order, leaned up so you can see one slab in every stack. If you want to examine more than the top slab, you need to work with a salesperson who will direct the forklift operators. The forklift has a little gripping hand to take the slab by the top and move it around.
Generally it's better to look at the stones on top first and get an idea of what you want to see in more detail, then start digging around. These are very heavy, fragile slabs, so moving them around a lot is a bad idea. It's great if you've worked with somebody who has small samples of stone to get an idea of what you'd like, then you can show the salesperson your sample and they can find you a stone that is like it. You are obviously not going to find an exact match, but you may find something startlingly similar.
We started our day in San Francisco, at M. Teixeira Soapstone, where the salesperson who helped us was super, super helpful. He gave us a quick-ish overview, looked at my sample and identified the type immediately, and then showed us a series of slabs. It turned out that they had this slab that was just about perfect: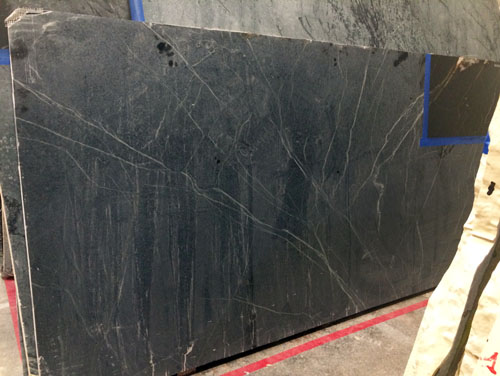 This is called Barroca. I have no idea what that means apart from it being a bluer stone. The dark corner is where they oiled it to show how it will age. We will be oiling the stone once it is installed as well; the counters they showed us that they'd oiled several times were a really nice dark colour; if you don't oil it it will naturally darken over a long period (like 10 years or so). In between oilings it lightens up, too.
One risk with buying stone is that it comes in slabs of a certain size. You can't buy just part of a slab; you pay for the whole thing even if you only use a tiny piece of it. It just so happened that they had this slab sitting there that was lovely, and also exactly the size it needed to be for our island. I was prepared to be super flexible, and also to change the island design to fit the right stone, and I didn't have to change a thing.
It still remains to be seen whether they can actually move the whole stone in one piece into the house, or whether we will need a seam. The whole thing is about 800 lbs and that may be beyond the ability of normal human beings to carry up even seven steps. My hope is that it will work.
Because this was our first stop of the day, we put this stone on hold for 24 hours. M. Teixeira is a smaller place and they don't generally do holds because the whole place could be locked up in just a few designer visits, but they were willing to hold it for me overnight so we could see a few other stones. And I called this morning and paid for it, so there you are.
After that we drove down to Da Vinci Marble in San Carlos. My office does a lot of business with Da Vinci and they are one of our go-to's for stone. They also sell tile but we have our own more local places for that.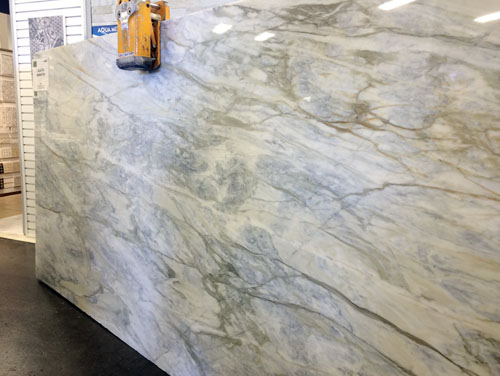 My marble sample for the kitchen was from Da Vinci, so they'd pulled a piece that was similar. Unfortunately, they only had one slab, so we looked at it, took some photos, and I have a call in to the fabricator to ask how much stone they need to do the work. This is "Manhattan" marble (the sample I had was labelled "Bluette" but the names are pretty much just branding done by the stone yards in Italy or wherever) with brown and blue veining. I like how dramatic it is.
While we were there we looked at a few other options for the powder room. I'd been thinking manufactured stone, but the salesperson I was working with suggested a few other things, including sandstone.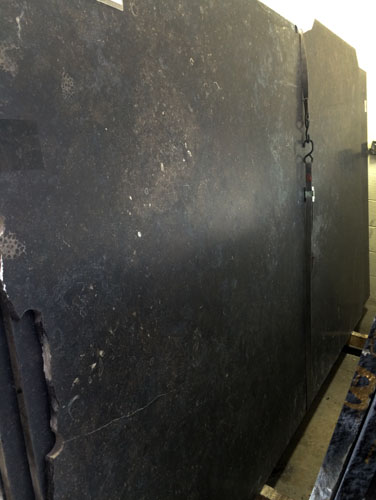 We both really liked this Petite Granite sandstone. It has a "leather" finish which is just a little less shiny than polish. And you can see all kinds of inclusions in the stone, but it's dark enough that they are subtle. This is a pretty big stone and we don't need all of it for the sink, so I will probably save some for a counter in the future greenhouse, if I can sweet-talk the fabricator into storing it for me.
We'll also be getting our Caesarstone or whatever from Da Vinci.
After we stopped for a late lunch, our last stop for the day was Carmel Stone Imports, in Palo Alto. That's where the warehouse photo above was taken. My boss was here last week and saw some stones she thought I would love and put them on hold for me, so we came in part to see them and also to look for something for the library and possibly other ideas for the powder room.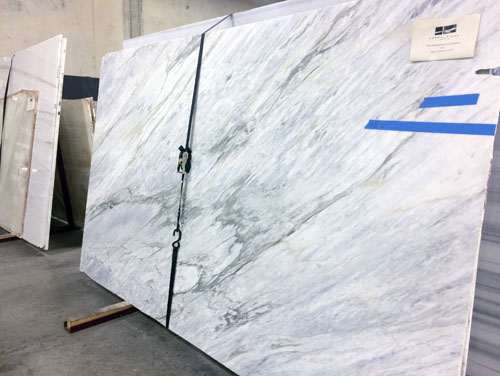 These are the marble slabs that were on hold for me. This is also "Manhattan" which means it came from the same quarry as the marble at Da Vinci. In many ways I like these slabs better because the veining is a little more subtle. If the fabricator needs more than one slab we will be buying these two.
After inspecting them, we walked around the yard looking at various kinds of stone. For the library we wanted something that read "traditional marble library counter" but was somewhat warm in colour and worked with the colours we've chosen for the parlours.
We carried our colour samples around to about five different slabs before we decided we loved this one: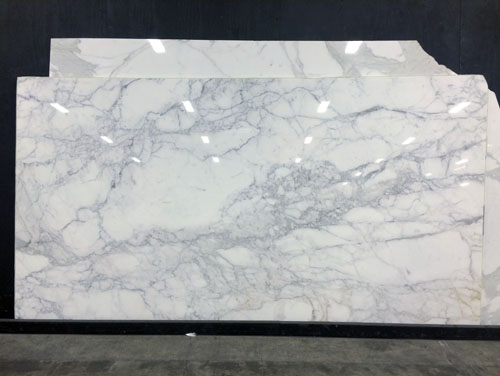 This picture does a totally horrible job of showing the colours, which are pale green, a sort of purpley pink, and gold. The gray veins are a warm gray. We did have to have them dig through several stones to find just the right one, but I'm glad we found this one.
With that, we'd used up our day. Most stone places close around 4:30 or 5:00, and the longer we put off going home, the worse traffic was going to be (it sucked, but we lived).
So our track record for the day was phenomenal: one slab bought that day, three on hold, and two arranged to purchase the next day. Stone buying is not always so easy, so it's great to have things arranged and working ahead of time. I hate it when we put off stone shopping until the last minute and are limited in what we can get because we have a time crunch. This way I was able to just ask them to hold onto our slabs for a while and then we can arrange transport to the fabricator when we are ready for that.
posted by ayse on 09/22/16
Note: We're getting pummeled with spam comments, so I've turned off the ability to use any HTML or include any links for the time being. Email with any issues.