Skimming Along
For the drywall finish, I chose Level 5 walls, which is when they do the standard drywall taping but them do a thin skim coat over everything and finish it very very smooth. It's the closest to the traditional smooth plaster look that you can get, and unless you go around knocking on the walls you'd be hard pressed to tell the difference.
That means the drywall is taking a little longer than it otherwise should have, but it looks amazing.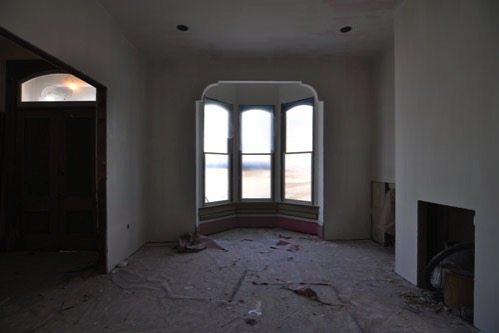 Here's the front parlour, which is mostly skim coated. You can just barely see the old pink of the ceiling through the skim coat. And you can also see here that the trim that was saved from around the house is being reinstalled. Some of it was damaged too much for reuse, so we are having replacement trim custom-milled by a local business, White Brothers in Oakland. They have also milled much of the trim for the exterior, apart from the trim we had done by Jackel Enterprises.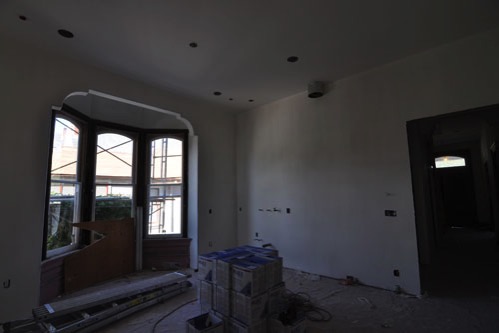 The kitchen looks pretty amazing. We had a meeting with our landscape architect at the house this morning, and I'll write up a little more about that when I have some time to think it over, but it went really well and while it is bitterly cold in the house with no heat, now that the rooms aren't stacked high with stuff it was possible to really get a feel for how nice these spaces will be when they are done.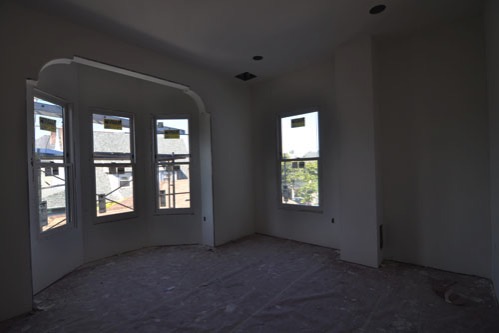 And directly upstairs, this is the new room where the old Cat Room was. It looked pretty good before but I think it will be amazing when it is all done.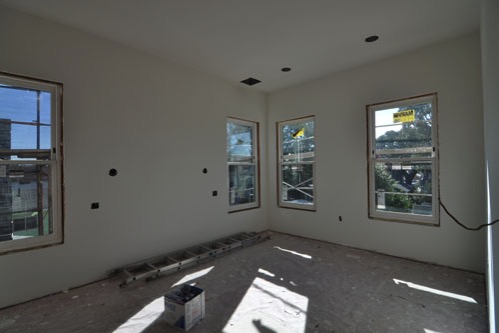 The back bedroom is just full of light. I used to work in healthcare architecture and there are all kinds of interesting studies done on patient outcomes in rooms in different orientations, and these days new hospitals generally try to orient patient rooms to the south because the light helps people feel better. The idea of this work was both to make space for my parents to live with us, and also to make the house work for us as we age, so we can stay here even when our health and mobility is reduced. I can see us moving to this room as health declines, to get the benefit of all that sunshine.
This room is designed to be the "master bedroom" that everybody told me I needed to add, without the things I hate about master bedrooms. If some future owner feels differently about having a toilet next to their bed, the bathroom next to this bedroom is designed so that a doorway can be opened between the two spaces and the hallway bathroom door can be closed off, with no structural changes and no need to move wiring or plumbing. I get that opinions are divided on master bedrooms, but basically what it comes down to for me is that I don't really care for them, and I plan to live in this house for about another 30 years.
After I'm gone the next inhabitants can put their stamp on the space. I'm going to write that here so nobody worships at the altar of the house, no false gods of historical accuracy are built up around this. I designed this space and I give the future permission to change it to fit their needs and how they want to live.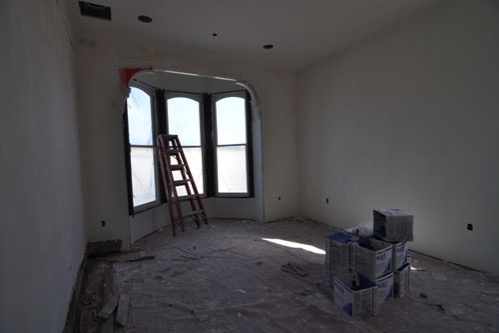 Here's a space I altered. This is the front bedroom, now with no defunct chimney chase. We took out the rotting brick chimney years ago because it was a seismic hazard, and it's not like we were going to be buying and burning coal in our coal fireplace (coal fireplaces are too small to burn wood so that was not an option). So we took out the chimney chase and eventually I'm going to put a whole wall of cabinets there with a murphy bed because I have wanted a murphy bed forever.
The skim coat in here has fixed a lot of odd little dings in the plaster. This was a kid's bedroom when the previous owners lived here and it showed it.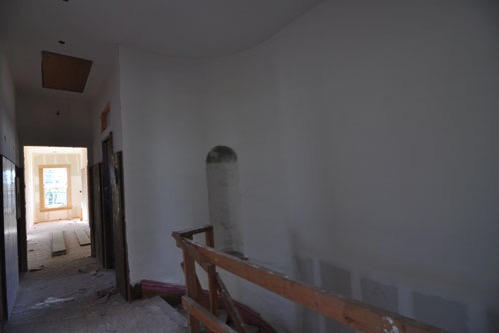 Here's another look at the curve in the upstairs hallway that I had a cellphone photo of yesterday. Though looking at this one, it's about the same quality.
Let's try it from below: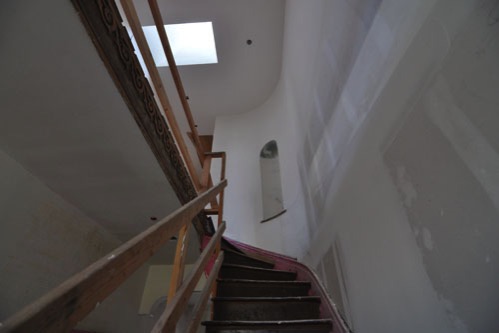 The front stair is almost transcendent with that skylight. I dithered and worried over that skylight for so long and I'm so glad we put it in because this dark, unpleasant space is really amazing now. Once we get the bannister restored and back in place it is going to be the most beautiful part of the house. The insulation guys broke some of the trim so it's going to be a bit of a puzzle for the finish carpenters from our contractor to make the repair. I'm really glad I don't have to figure out how it is done.
I just need to finish ordering the light fixture for over the stairs. I got halfway through ordering lights and got demoralized by buying so many things and stopped. Obviously I need to get on that again.
This week is going to be more finish purchases. I need to put together my tile orders and get those in, we need a kitchen sink, and I have a small kitchen island problem I need to solve with the help of my cabinet manufacturer. In the meantime, the kitchen cabinets have arrived at the local warehouse. The heating system should start going in soon, starting with the boiler installation downstairs, and then moving upstairs to the radiant floors. This is where the real construction skill comes into play.
posted by ayse on 01/28/17