Cabinet Hardware
You wouldn't think it given how much I have stressed over the doorknobs, but I actually really enjoy doing cabinet hardware. I mean, yeah, you do have those overwhelming moments when you look at things like this and the world goes kind of fuzzy at the edges: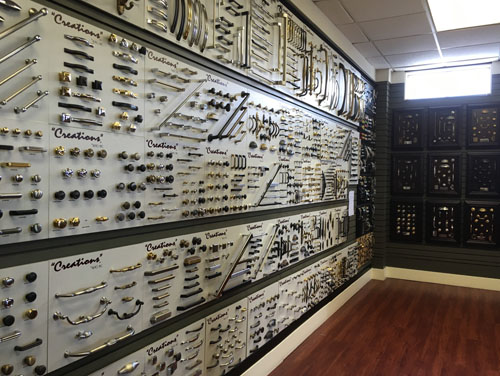 But overall, I feel like I understand cabinet hardware and enjoy looking for the right pieces for a room.
So let's talk about all the places where we need cabinet hardware for this renovation, starting at the front downstairs and working our way upstairs.
Library: door knobs for the upper cabinets (which have glass doors) and lower cabinets (which have solid doors). Have I considered what these should be like? I have not. They will probably be small brass knobs of some kind, because there are a lot of them, and my ability to be fancy with knobs goes away really fast when face with purchasing more than a dozen at a time.
Powder room: we've had the cabinet for this room for a couple of years. Today I realized I probably need hardware for it, which resulted in a little bit of a hunt to find the original order and figure out how many drawers I had to work with.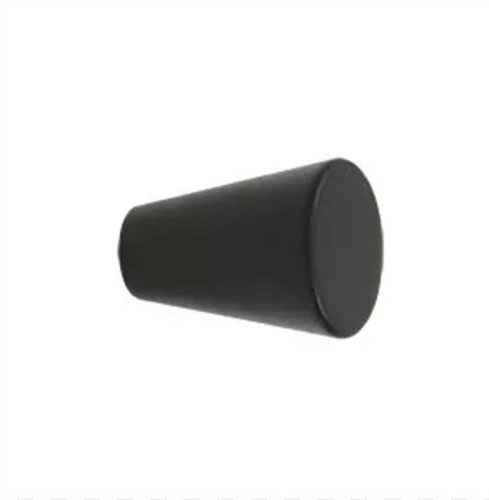 Fortunately, the cabinet order was in my files, and I settled quickly on some conical knobs (in polished chrome, not the black shown here) for the four drawer fronts (one of which is decorative as there is a sink behind it). The drawer fronts are slabs, so this will be a simple graphical statement.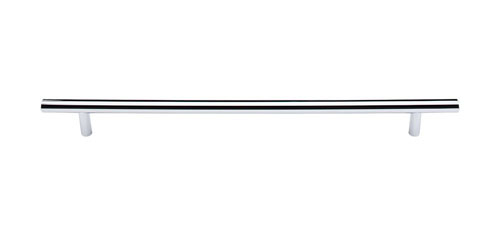 I also chose a wide pull that can double as a towel holder for the door, which helps me avoid putting in an actual towel holder like an adult.
Kitchen: We need hardware for the built-in wall with the stove, and hardware for the new furniture island. I'm still thinking a bit about the island so that will wait a bit, but for the stove wall cabinet we chose these bars from Schoolhouse. The idea being that we can use them as towel holders (this is a big thing for us), they will look delicious with our dark blue cabinets, and they will feel amazing. I've used these bars on a couple of work projects and the nice heavy brass is just perfect.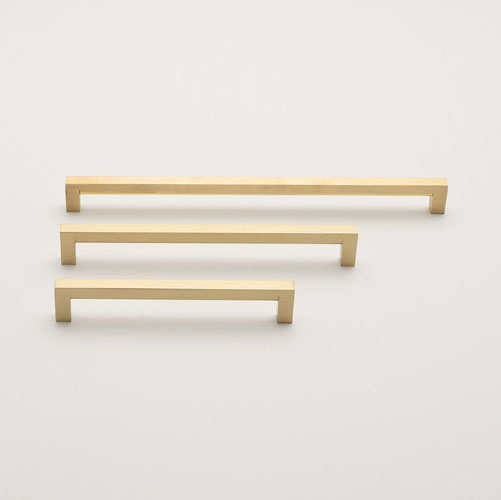 We are getting 11" bars, which will be a nice big statement and also somewhat more convenient for the towel thing.
Pantries: the cabinets in here are a little more basic, so the hardware was also going to be basic. I chose some simple brass oval knobs (a shape that is picked up elsewhere in the house) and by happy chance they are on super sale so yay for cheap knobs. They shipped out immediately and arrived today, well before the actual cabinets showed up. As a side note, the shape of those knobs is pretty but not much like a robin's egg at all despite the product name.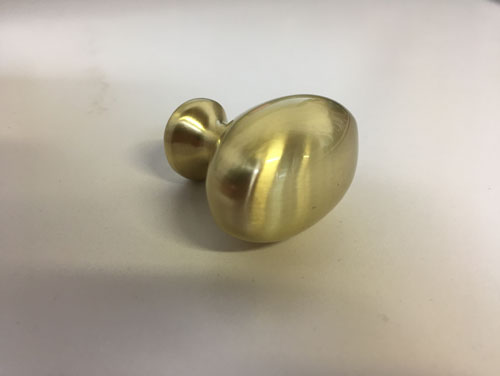 But I also wanted some bar pulls for the drawers (those towels are not going to hang themselves, people!) and for that I chose Lewis Dolin 5" bar pulls which are inexpensive and serviceable and will hang a towel like a pro.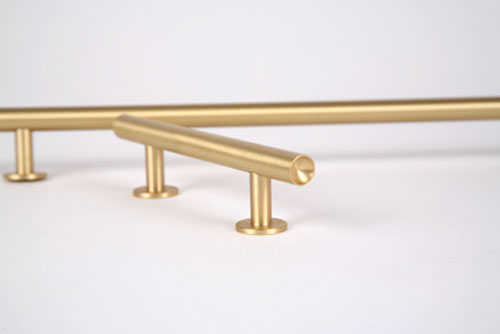 Dining room: I chose some nice oval glass knobs from Emtek (though with brass escutcheons rather than the stainless one pictured, and mine have a tighter fit than the one pictured) for the doors in here, and our trip to Belmont Hardware was all about choosing drawer pulls that would go with them while not being too fakey-fakey historical.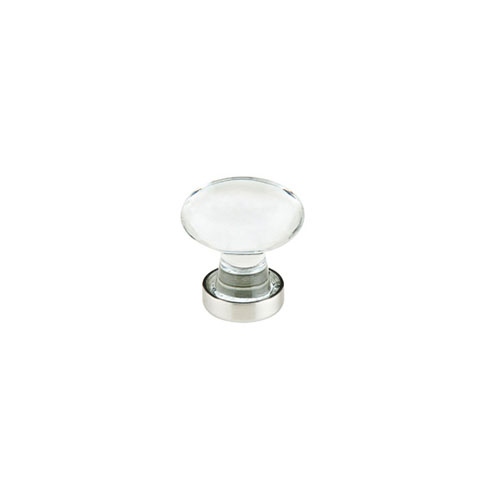 I actually have these knobs in the house right now but it's gotten dark and I hate trying to take photos of glass things after dark, so you will have to live with this. The oval crystal picks up on the shape of the new parlour doorknobs, and yes I did that deliberately. Echoing the same shape and material around the house while not repeating the same exact combination adds texture while contributing to a feeling of cohesiveness. You feel like things are coordinating, without a sort of boring sameness.
We went a little midcentury simple modern, and I feel OK about that. Not all Jetsons midcentury, just ultra simple.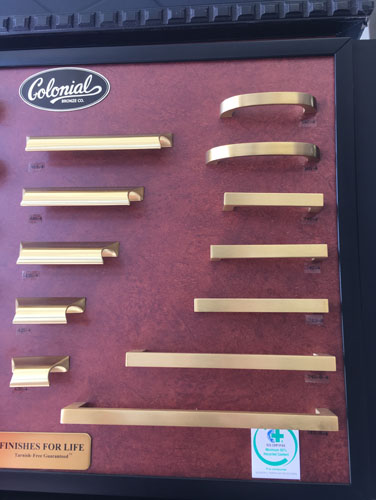 We chose these pulls (well, actually another one that was similar and of which I have no photo; the difference is subtle, so I'll try to show it to you when both sets of hardware have arrived) from Colonial Bronze which turn out to take forever (maybe they make them to order?) At least dining room cabinets are not a critical feature of the house, right?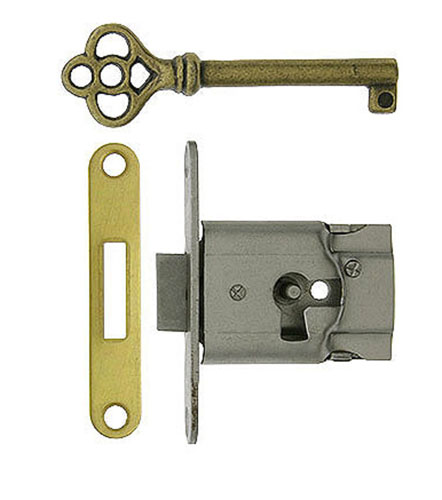 I also have these mortise locks and keyhole liners for the doors, not because we need a lot of security on our china but because I think they look kind of neat.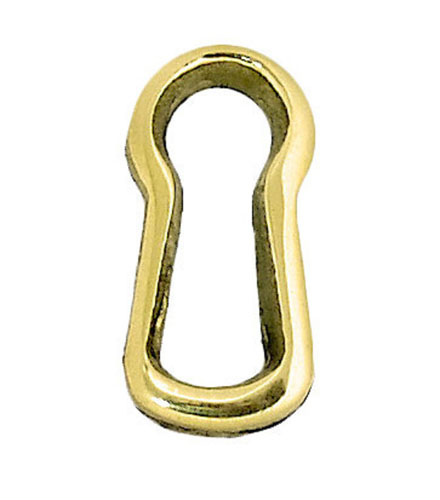 Keyhole liners are kind of fascinating, a little 18th century in styling but also so simple that they are also very modern. You can see an example of one in place here.
Back bathroom: this room is a modern room (as is appropriate because it's also a new room), so I chose these 3" tab pulls from Berenson for the cabinets. They are also ADA-compliant for manipulation, which isn't critical but helps. These arrived today which feels very controlled and organized. So ignore the fact that I'm still ordering doorknobs and half the cabinet hardware won't be here for two months at the soonest. EVERYTHING IS OK.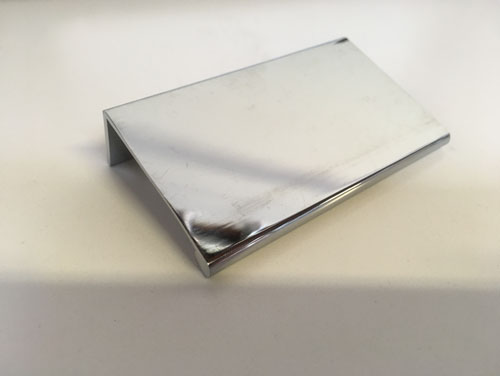 From the side you can see how they go together. The corner goes over the door of the cabinet and then you open the door by pulling on the tab. You don't need much dexterity to open the door or drawer because the lip there helps you out.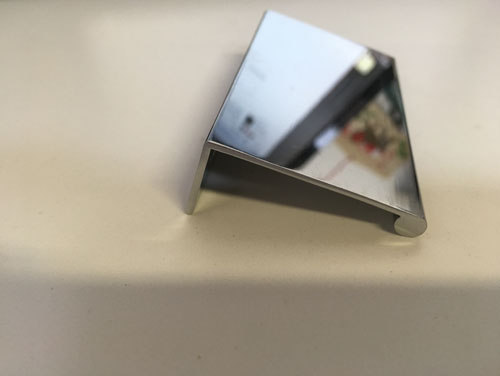 Middle bathroom: Another modern room! But no excuse this time, as this is the remodel of the existing upstairs bathroom that we never finished. Appropriately for the level of organization we put into that room, the cabinet we got for the sink turned out not to fit. The contractor told us months ago that the cabinet we had would not fit, then when I asked them for measurements the measurements they gave us would totally fit the cabinet we bought, then they told me last week would not actually fit, though actually their drawings still show it fitting just fine but at this point I give up, so I'm buying a new cabinet for this room, and it will need some hardware. It will be something like this:
That's a 15" wide appliance-type pull from Schaub (the Menlo Park Appliance Pull in polished nickel, for the detail-oriented among you). The cabinet in that room has a pair of 24" wide drawers and a nice wide pull seems like a good place to hang towels, if you get what I'm saying. That could still change but at this point my ability to handle too much selection choice is very low.
Other cabinets: we are also planning some cabinets in the basement for tool storage, but no details there yet because we literally cannot think about that right now. When we get them the hardware will be fairly utilitarian because they are cabinets in the basement. Whatever we choose will be in the $5/pull range (cabinet pulls bottom out around $1/pull and those are for basically plastic pulls on sale).
posted by ayse on 03/17/17