Gardeners: A Horror Story
I went up to the Annie's Annuals Fall Party today. I was out of town all week in Boston, doing some intense/fun training, and then I stayed an extra day to see family and visit a few old haunts, but I came back Friday night. Several people asked me why. Well, so I could go to Annie's for the sale, duh.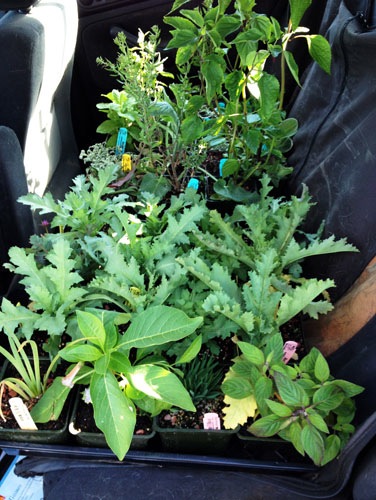 I'd actually been thinking earlier this year that I might skip it, but then the gardeners tore out several hundred dollars worth of plants in what can only be described as a fit of pique, and now I have a bunch of fall planting to do. And new gardeners to hire.
Let me back up a bit.
I looked around for gardeners and found one company that seemed intelligent and thoughtful. I'm not really all that fussy about the garden but I wasn't looking for any design work, just maintenance, which made hiring a gardener more complicated. I guess a lot of people who hire gardeners want somebody to just give them a garden fait accompli. Certainly my communications with the gardener I did hire made me think they are not used to people who go outside or plant things in their gardens after installation.
Anyway, I chose Earthly Sites based on a site visit with the owner, Ingrid. Though perhaps I should not have, because scheduling that visit was such a pain in the butt. We'd gone back and forth over several days and times when we could meet -- she wanted to meet during business hours which seems pretty common among vendors and contractors, as if everybody who ever hires anybody to do work on their house is independently wealthy and available at any hour of day -- then she rescheduled at the last minute. Foreshadowing? If I were writing a novel it would be.
Anyway, she seemed to understand the kind of work I wanted done and was willing to work with that. Here's what she told me her care plans were:
Annual plans are typically based on the number of hours I've estimated for care -- however this can also be the number of hours you'd like help.   Annual plans are a minimum of $200/mos & max 10 visits (64 hrs annually).
(In this post, when I quote Ingrid, her words are in italic.)
OK, cool. We walked the site and I showed her the limits of where I wanted any work on the garden done, which was basically 2/3 of the back yard, since we were working on the deck there and my plans for under the deck were not firm yet. That line turns out to have been less firm for her than for me. She didn't quite seem to understand what I meant by not having them work on the other side of it, even though I explained how construction projects work to her. But fair enough. No need to understand if you stay on the right side of the line.
We agreed that she would provide me with a care estimate when the big weeding project was done, and that was all good. She sent me this estimate:
Minimum visit, 16 person hours @ $600 ($37.50/hr)  

32 hrs: $1164 (3%)

48 hrs: $1692 (6%)

64+ hrs: $2160 (10%) 




I estimate we'll need:

• 24-30 hrs for front clean up 

• 4-6+ hrs pruning

• 15+ cleaning up back (15 feels like a good start with that bed, but obviously its just a start)

• 1.5 - 3 hrs per cubic yard of mulch  (truck loads are between 10-20 cy)
OK, that's a little vague. I said yes, let's do this project. Her response:
What amount of work?  Fixed or total?  That will effect scheduling.
Um. I mean. What amount of work? What does that even mean? In retrospect that should have told me she was going to get angry at me for her own bad communication skills. I mean, she gave me an estimate, and her cost breakdown for various hours of work, and sure, I had to do the math myself, but I could see just how many hours it was going to take. I'd agreed without saying anything like, "Oh, can you spend less time on X because that is a very high estimate."
Anyway, you all saw the photos of the first big garden project in the spring (here and here). It was great, some plants I wanted got pulled out, but I was calm and didn't even ask them to replace them. I pointed out that I leave the tags in the ground next to plants to make it more clear what is a weed and what is a desired plant.
I wasn't crazy about the mulch, though, or that they spread it all over the place and never once mentioned it was full of garbage, which you'd think a gardener would do. Especially since she talked me into getting the mulch from the transfer station instead of Acapulco Rock and Soil as we usually do. Lessons learned there, too.
Then the maintenance part just didn't work. The first visit was supposed to be six weeks after the big project, but was scheduled for eight for reasons that ended up sounding to me like "I forgot." Then rescheduled, for Earthly Sites's convenience, for nine. Then canceled and rescheduled, without telling me again, for ten weeks. I was not crazy about that. When I let Ingrid know it -- at the time that the next quarterly payment was due -- she got angry with me for taking the time to read our contract before paying her more money. I did pay her again, though, even though I was having doubts about how wise that would be. I am a strong believer in contracts. Stupid me.
Here's one of her many responses to me:
Please let me know precisely what you'd like in terms of visits for the remainder of the year:  duration and week of visit.  You've seen what 12.5 hours results in (although there will be variability depending on the actual work required).   At this point, there are 35.5 hrs remaining for the year.  



Last time we spent 12 hrs.  Our minimum visit duration is 6 hrs.  We could visit at 6 wk intervals, approximately:  7/18, 9/1, 10/15, 12/1 for ave 8.875 hrs each time.



Please let me know exactly what you want.
I figured she was confused and thought the issue was that the garden was taking too long to weed and this was going to cost more than she had estimated. Which is true, but I thought her estimates were low to begin with.
So I responded:
I'd like to be very clear about one thing: if it costs more to have the garden kept up, then I will pay more. This garden has a unique set of circumstances (the amount of water it gets is exceptional) and tends to grow a lot faster than other Bay Area gardens, even during the usually slow months in the late summer. I do not want you to hold back on doing the amount of work the garden needs because it will cost more; just tell me it will cost more and you will get more.
Her response was very confusing to me:
Thank you for this clarity; this was not my prior understanding.  Should we "do everything", i.e. all perennial, annual, shrub care, trees up to 10-12'h?
Our previous agreement had been that they would do "everything" in the maintained area of the garden that was provided in the contract. Why would she not have that as a prior understanding? (Shush, you, if you've figured it out.)
Another email from her:
I'm still not clear, i.e. do you want us to weed everything, as well as all the plant work?

6 wk intervals?
I got that and thought, WTF? I hired her to do weeding and plant care. Why would I suddenly decide I didn't want weeding any more?
Anyway, skipping forward a couple of weeks to the week of July 19. Earthly Sites was supposed to come and provide maintenance care for the yard. Normal maintenance.
We'll visit on Thursday for deep / complete garden care, tbd hours.  



The plan is to take care of all annuals, perennials, shrubs, vines and trees under 12'H.   We'll also remove all weeds.  



...



Can  you also clarify if there's any work we should not do, other than mowing lawn?
I responded:
Also, FYI, the ferns growing along the west fence are invading from my
neighbor's garden; I usually try to remove them when they're not
covering up something unsightly.
They'd carefully weeded around rose suckers and the ferns on their previous visit, and I am not fond of those stupid ferns. Want to guess what was one of the few plants to survive the next day?
We'll check those ferns.

Again, mowing is the only thing we're not doing, correct?
There's not much grass in the maintained areas of the garden. Most of it is in the lawns. But I'd understood from Ingrid that they don't mow, it's not a service they offer. So I started to get a little anxious about what they were planning to do or not do, especially since I knew Ingrid was still angry with me for asserting myself over the frequency of maintenance. Was she planning to strip the fruit trees or some other sabotage you could legitimately say was maintenance?
I responded:
Right.



Look, I'm getting a little nervous now. Do you need me to make an
exhaustive list of things that will be appropriate at another time of
year but not right now? Because I will be very upset if I come home
tomorrow and find that my apple trees have been pruned, for example.
The primary issue I have with you coming every three months is that
the weeding needs to be done more often than that. If something
doesn't need doing right now, I'd like you not to do it.
She got all huffy about that and chose not to clarify any further with me.
The next day, Noel texted me to tell me the gardeners might call me with some questions; they'd asked him and he told them to call me because he didn't know the answers. I didn't get a call. Late in the afternoon, several hours later, Ingrid sent me email (guaranTEED to be the best way to reach somebody with an urgent question).
Initially I was focusing on the garden beds in back plus a few planted areas, versus the entire yard.  Based on our conversations, I'm now addressing the entire yard / everything.



All weeds will be removed: some by root (in the garden beds) and some with weed-wacker (in open spaces like east side of deck, east side of house; bare earth is not desirable).  In areas where turf grass is mixed with weeds, we'll pull the weeds we can, and wack what remains.
Wait. What?
I was on a job site when I got her email, literally forty feet in the air on a shaky scaffolding. I responded as quickly as possible:
Please do not work on the east side of the deck, that area is still under construction. Not sure why you're expanding the area we agreed would be maintained?
And she shot back:
I am desperately trying to get clarity with you.  Please understand I am trying to figure out exactly what you want done.  You said "everything" then did not clarify anything other than mowing that should not be done.  SO i've indeed addressed everything.



The area to the east can be weed wacked in 5 minutes.  The weeds are getting tall.



What about the east side of house?
She doesn't seem to be trying too desperately to get clarity. I said I wanted everything done in the maintained area of the garden. She just decided to ignore my very specific and detailed explanations of why the rest of the garden was not to be maintained without asking for clarification in any specific terms.
But it is not often that people acknowledge their own mistakes. I admit I should have just called it off at the quarterly payment argument, but I chose to honour the contract rather than common sense, and much of that is my fault.
I'm struggling with our recent interactions.   I'm sincerely wanting to be clear and do precisely what you'd like done, and the nature of your landscape (in progress, and collaborative) makes this somewhat challenging.  Its also typical at the early stages of ongoing maintenance that we evolve our plan.  I can deal with this process, however, I am not comfortable with the way you are talking (emailing) with me.  It feels disrespectful and counter-productive, and I am not willing to continue if this style of communication continues.  I understand if you feel frustrated, however, clarification is the only way i know to resolve this.
I responded with this:
When we discussed the maintenance plan, we discussed a scope of work
that ended where your original large project ended. That area would be
maintained. We went over in plenty of detail that the maintenance of
the garden stopped there. You had one big work session where you
worked inside that boundary. You had a maintenance session where you
appeared to work inside that boundary. What's the issue now? Why did
you choose to expand the scope?



As to "everything," that referred to the level of service to be done
in the maintained area: perennials, tree pruning, weeding, feeding;
you were quite clear on that, you never used that term to refer
expanding the maintained area to the entire garden, just to a level of
service to be applied to the maintained area. You were the one who
began using that term, so perhaps you should have been more clear that
you intended to expand your scope of work when you said that, because
I would have told you that was ridiculous. Because, as I told you, I
am working on a construction project in the other part of the garden
and it is in progress right now, and I don't want to deal with
maintained area around it. I certainly don't want to pay to maintain
the area around it when I am about to dig it all up.



My issue has been with the frequency of visits to maintain the mulched
part of the garden (ie, you coming every 9 to 11 weeks instead of as
often as the garden needs to be weeded). I have never said anything to
suggest that I wanted you to work on the east side of the garden, or
around the deck. I'd think it was fairly obvious that heavy work is
underway there. I'm not sure why you keeping bringing up mowing, since
you certainly don't come often enough to keep the lawn mowed. (If
you'd be open to a level of service that includes that frequency/level
of maintenance, I would be happy to discuss it with you, but it seems
like you don't even want to come every six weeks at this point.)



Noel told you to call me with the questions you asked him this morning
and you chose not to. Now you've done a full day of work? Without even
talking to me about it? I haven't had a chance to see what you have
done yet but what on earth possessed you to think that I wanted you to
weed out areas I specifically told you not to touch, areas that I told
you I would arrange to have addressed as special projects when I was
ready for that?



If you would like to meet next week to clarify scope and ongoing
maintenance, I may be able to be available on Wednesday or Thursday
afternoon. ...

But Ingrid would have nothing of my reasoned response:
The amount of work beyond the scope that we originally addressed was weeding, specifically weed-wacking, and totaled 20 minutes.  You referred to all weeding so this is what I did.  Otherwise, all work was clearly specified by you.



I'm sorry but this process is not working out for me.   It is clear that we have different communication styles.



I've attached the final invoice. 
Sounds to me like she quit there, right? She doesn't want to work things out, she wants to have me pay her more money (her invoice shows $305 due).
Shortly after I got the invoice in email, I got home. And saw the devastation they had wrought on the garden. Let me show you some photos.
This is what they did to the grass walk in the orchard. They dug the whole thing up. Completely gone. Left bare, dry sand. Look how the mulch just stops at the pathway. Maybe that should have told them something, like don't rip out this sod, you morons!!!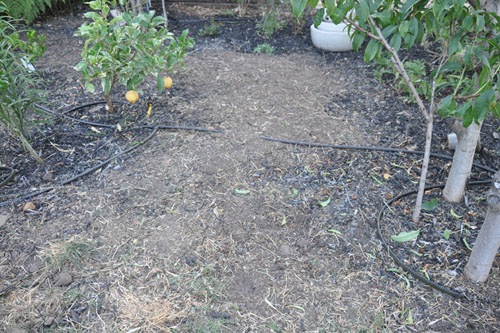 And the grass between the citrus and the nectarines. Gone. Granted, that grass was not in the greatest of shape and had been heavily invaded by Bermuda, but it had been there through their previous sessions with no issues. Note, again, the mulch just stops.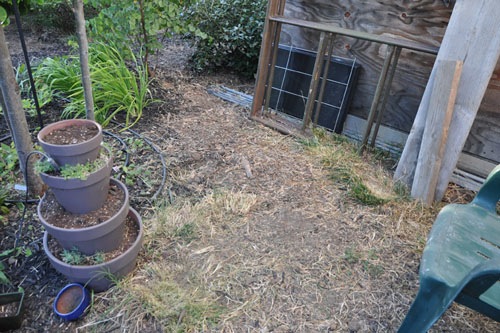 More grass gone, this time between the asian pears and the house. This grass is part of our winter water control.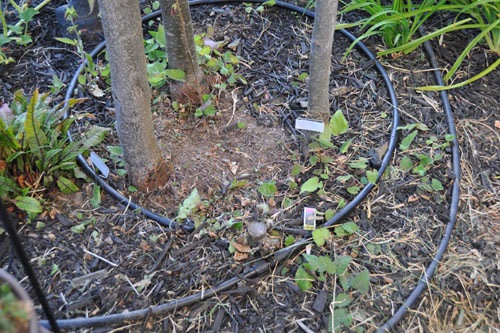 For good measure, they ripped out the campanula I have been growing under the asian pears. It seems to be coming back with gentle ministrations.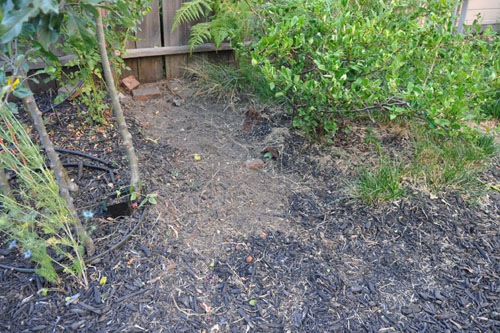 And they ripped out the lawn next to the flowering quince.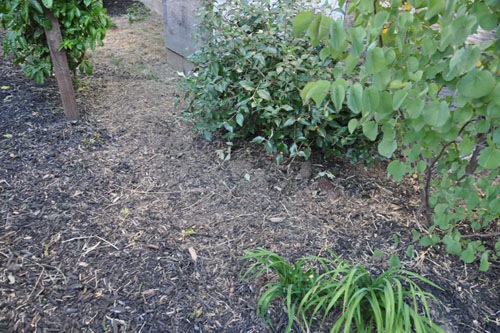 And around the passiflora.
Seriously. Everywhere they tore out lawn there was sod reinforcing in it, and the mulch ended. They knew perfectly well it was planted grass, and they still tore it out. It was obviously hours and hours of work to do this much destruction.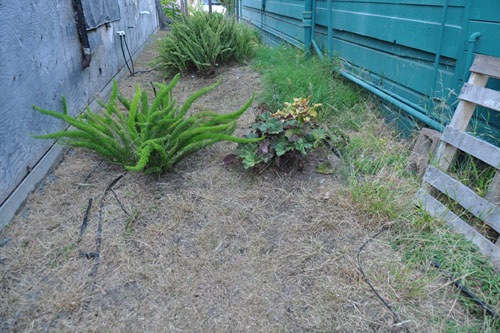 Whereas I am informed that it only took them fifteen minutes to mow down all my plants in the Fern Walk and cut up or snap half the irrigation in there (which is really not designed to be weed-whacked around, hence my not having the gardeners work in there in the first place).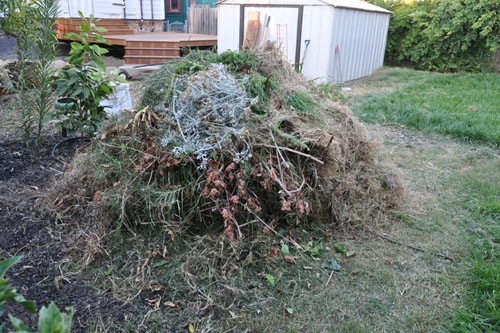 I'm not even sure why they did this, but they mowed a strip of the lawn. Ingrid vehemently denied that they mowed any part of the lawn, so maybe one day she will do a vanity search and see the evidence. I also took this picture because the compost pile there was almost four times as large as it had been before they came.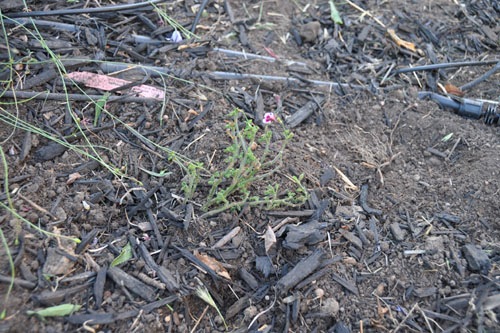 Somebody had pulled this pelargonium out in haste and stuffed it back into the ground a foot from where I had planted it (you can see its planting hole next to the irrigation tubing). It died within the week.
Also note the tag back there (also from the pelargonium). The most destructive thing they did overall in the garden was to rip out all my plant tags. I don't know why they did it; some were in the green bin, some were just thrown around the garden. It was like they were just trying to be jerks.
Another jerk move: they ripped out a flowering snapdragon from one of the front containers.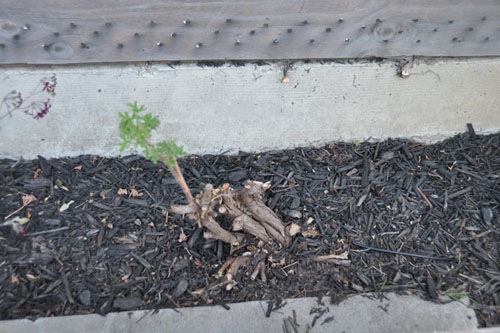 And: they pruned this rose geranium to death. It looks alive there, but they'd given it a heavy pruning the last time they visited and this pruning was too much. That's the first time I've ever seen anybody kill a rose geranium that way. These gardeners are better at killing plants than I have ever been.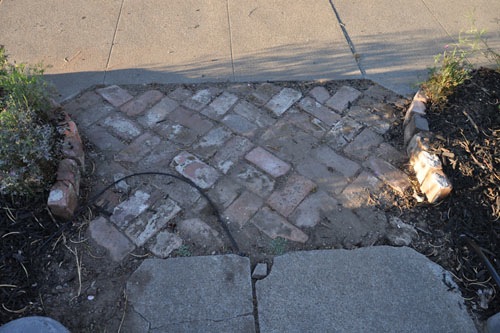 And because it shows they don't learn from their mistakes, here's where they weeded out the attempted replanting of the thyme walk they had weeded out previously. They must think we have the most persistent infestation of elfin thyme in the world.
I'll stop posting photos, but I have more, of plants ripped out, tags thrown around, destruction everywhere. I walked around the yard with the camera taking great gulps of air, calming myself. It was much worse than I expected, much worse than I would ever imagine a professional would be willing to do to a garden.
I responded to Ingrid's invoice email with this:
I'd expect to get a refund, under the circumstances. Your people did a lit[sic] more than 20 minutes of extra work.



Why did the lawn get mowed?

...

Also, in their "20 minutes" of work your people uprooted about 40
square feet of my lawn, and destroyed the irrigation system in my side
yard (the tubes are cut clean through).



Let's start talking about how much of a refund you owe me. I thought
it would be limited to unnecessary pruning, but this is a huge amount
of damage. Digging up the sod was definitely NOT in any scope of work.
And I can't think why your people cut my irrigation to pieces except
as sabotage. Wow, how unprofessional.
Ingrid, of course, could not be in the wrong. She still didn't want to acknowledge that she had misunderstood me, deliberately or not.
What are you talking about?????????????????????????????????????

...

The lawn did not get mowed.

We did not break any irrigation.



$305 and I actually forgot an hour of my work, so actually 342.50.  I want the check on Saturday morning.

I actually laughed out loud at that one. I might have been a little hysterical.
Not on your life. I did not pay anybody to mow (but the lawn has been mowed), and I certainly did not want you removing multiple square feet of my lawn.
I mean, I can be dumb sometimes, but I have learned my lesson about paying contractors who flat-out lie to me.
You know Ayse, you have a horrible attitude.  Talk about unprofessional.



If there's work that was misunderstood / done incorrectly, I have no problem reviewing and being accountable for my work. Yet you are treating me disrespectfully - long before today - hurling accusations etc.   I asked for clarification repeatedly yet the only thing you've had time to do is speak to me like i'm a les- than-human idiot.



The lawn has NOT been mowed.  I don't know what you see, but it wasn't mowed.  



You owe me $342.50 for work completed.  Not interacting with you is worth $350 however you owe me this money so I will bill you, and continue to bill you until it is paid.



If you want to discuss broken or whatever, that's one thing.  But no, it is not acceptable for you to simply be nasty and not pay your bill.
I love it when people insult me and then tell me I'm the one being unprofessional. I'm not the professional in this case. I'm the client. The person who has a responsibility to be professional is the person who chose to rip out the sod walkway in the orchard and half the side lawn.
Did it ever occur to you that if we did something erroneously that i would simply correct it?????????????????????????
Me and my horrible attitude. And proper use of punctuation.
Um, no, it did not, not after you told me I have a bad attitude
because I expect you to do the work we agree to and nothing more.
Also, call me crazy, but finding that you had cut up my irrigation in
a part of the garden I explicitly told you not to go into and which
was gated off to keep people out did not convince me that
professionalism and courtesy were what I could expect from you.
After this is when it just goes downhill. I mean, more downhill than the gardeners just ripping half my garden out. As if grass does not have a legitimate place in a garden ever ever ever.
So the reality is IF indeed we caused any damage or removed any sod, the cost to repair is less than bill due.  Of course, you aren't considering this or giving me any recourse.  Instead you are stealing, after being beyond disrespectful.



For your future endeavors, I suggest you read over the emails you've been sending since the first of July.  Courtesy has been completely lacking.



I can't be bothered with you any longer.
She hates me, she loves me.
The thing is, I had just gone through a really, really bad experience on a job site for work, with things like a hammer getting thrown at me and my car getting keyed. I am no longer willing to put up with bullying, angry behaviour from contractors to get the job done. I am no longer willing to tolerate people who choose anger and yelling over clean clear communications.
If you want to clarify something, really clarify, you ask, "Is this what you meant?" then restate what you believe they said in your own words with as much detail as possible. For example, Ingrid could have said, days before this, "I understand that instead of limiting our work to the original area, you now want us to maintain the entire property," and I would have been able to correct her. But she chose not to do that. To be fair, I didn't, either, but I thought her scope things were her trying to get me agree to more pruning than makes sense at midsummer. And none of that would have changed the grass in the orchard and side yard, which were in the maintained area.
But the lack of actual attempts at clarification were entirely her fault. Her emails to me were generally terse, a symptom of relying on her phone. I know that because that's how I am when I use my phone for communication; it's not easy to write clearly and at length. And if you are already angry and convinced you are right and the other person has the attitude problem, you are less likely to actually try to resolve the problem. This is something I think about and work on every single day at work, and it has to come from both sides.
I responded to her:
Well, consider that I am also not paying for the time you spent doing the damage. I didn't ask you to remove grass in the orchard or around my shrubbery, and the one thing I did ask you to remove, the patch of weedy ferns, is still there. You did maybe 4 hours of work that were in scope, as far as I can tell. Maybe you have better documentation of that, and I'd be happy to see it, but I see you ahead by a substantial amount on this when you look at actual work done on the actual in-agreement area.



I'll make a list of the plants your people removed plus the cost of replacing the grass removed, and we can work out where we are in monies owed. For the irrigation I will count only the cost of replacing materials and not my time to replace it, which is very generous of me since my billing rate is a little higher than yours and the whole point of hiring gardeners was to free up my billable hours, not use them replacing destroyed irrigation. And no, I don't trust you to come back and do the work yourself. Not given this exchange.



I've read over our email exchange repeatedly. I keep seeing you berating me when I am trying to take time and consider things, I see you demanding money when work is not getting done, failing to show up or communicate, and then a series of emails where you seemed to be hinting that you intended to expand the scope of work in the garden without permission, if I were smart enough to have thought you would be so dishonest. Alas, I seem to think people are mostly doing their best and I'd put the other stuff down to you being busy.



I should have known when you bragged to me about how your staff ate my spring onions (as if pulling up and eating a client's edible landscaping is even remotely OK) and when you got all testy with me when I pointed out that they had removed my thyme walk (which they removed again this time, by the way, like avenging gods with a thing against elfin thyme). My bad, I trusted too much and you got used to walking all over me. Sorry for not being a total doormat.
She didn't respond to that one.
I won't bore you with the details of our exchanges after that. But I do want to show you her closing shot, months later:
The sad reality is that if you behaved respectfully, i would have visited a day or 2 later, reviewed everything, and simply fixed it all.  It wouldn't have cost you anything, although I would have expected you to pay your bill.  Of course I expect that of all clients.
Here, in short, is the problem I had with this lunatic.
She did hours and hours of extra work to destroy my garden. She then billed me for that work. She suggested, after insulting me and telling me I have an attitude problem, that she would have shown up and fixed it, though she never once offered to come and review the damage closer to the time of the damaging, and as if she hadn't just caused all that damage in the first place (as in, never said, "let me come and review the damage with you"). It would cost me a lot of money to have her do the repairs, since I would have to take time off work to supervise them and make sure they were done to my requirements and no further sabotage was done.
But all of this was my fault.
As a postscript to her last note, she added this:
>You removed more than 40 square feet of grass from my grass pathway

>and from my side yard.



FYI

Highest price native sod is ~ $2/sf



>You removed and threw away eleven plants that

>were marked with plant labels (I'll give you a pass on three plants

>that were not marked).



At most, $120



>You destroyed five sprinkler heads, cut or

>broke three lines of sprinkler tubing, and damaged three mister heads.



At most, $55

 

>The damage done as a simple list is not really the story: what matters

>is what it is going to cost me to fix it and replace the destroyed

>plants and irrigation. Which is getting pretty close to $1000.

>

>And nice try at being professional. I suggest you stop referring to

>the reason I fired you as "damages" in quotes as if you did nothing

>wrong.

Fired?  Fired?

I feel I should respond to that list, since Ingrid's potential customers are surely going to read this.
The prices I gave to Ingrid are the cost of repairs to the damage she caused as done by another contractor. The reason I need to use another contractor is that Ingrid herself has shown certain amount of anger toward me, and has been so offensive to me that I do not trust her to be on the job site, much less do a job at the level of the work that is being replaced.
The cost of special sod (I can't use native sod because I have a high-water garden; we get drought-intolerant sod that can tolerate being watered as much as we have to water) also includes the cost of preparing the soil, installing it, and watering it in on a schedule until established. Most sod companies will not guarantee their sod without those additional steps, and since I took those steps when we initially installed the sod, I was not going to replace the well-installed, established sod they ripped out with some random crap the gardener wants to pick up from unknown suppliers.
Two of the plants they destroyed cost me $50. Each. The rest were at least $20 each. I didn't include the cheap plants in my list, like the two $10 pelargoniums, because it was not worth calculating the value of all the plants pulled out. They pulled out plants planted from gallon pots, rare bulbs, large specimens. They ran the weed whacker over several plants and killed them. They also gave one of my apple trees the worst pruning job ever, but there's no way to put a price on that.
The irrigation they ruined will cost me $20 in parts to replace. It will cost me $240 in my time to replace it, based on my current billable rate. I turned it off for now.
And yes, I did fire Earthly Sites. When you tell somebody they are not welcome on the job site any longer, even though they still want to do work (like, say, repairing some damage they did), that is firing them. And Ingrid is not welcome in my garden any more, because I think she might do some real harm.
Now, yuck. I am going to go read a nice fun slightly grumpy gardening book and try not to think about angry people.
posted by ayse on 09/30/12