Ten Projects for 2011: A Review
This was kind of an unplanned year. Not in the sense that we didn't have a plan, but in the sense that we did a lot of things we didn't really have planned, and not much of what we had planned. Part of that was that it took a lot longer than we anticipated to get the permits for our big bathroom project; I picked the permit paperwork up at the city offices the day before Thanksgiving.
The other part was that our personal lives had a lot of turmoil, including death, cancer, babies, and divorce, and all that was very distracting. I don't begrudge the friends who leaned on our shoulders this year at all, and I would choose them over the house again in an instant. I think if you prioritize your home renovation over the people who mean the most to you then something is wrong with you. On the other hand, people like that probably get a lot more done on their houses. Tradeoffs. We all make them.
Anyway, I'm going to rearrange this list, leaving the numbering the same as what we planned at the beginning of 2011:
1. Finish off the hallway
Yeah. We even got a couple pieces of scaffolding to make it easier. Still did not happen. But it is on the list for the next year, if only because the building inspector will not like the holes in the walls so much.
2.
a) Hard-plumb the water tank to the sump and the pump
Even before starting this one we changed the parameters, deciding to also lower the tank into the ground so we could have a shorter deck. So first I drained the tank, over several days, then in a couple of quick days I pulled the tank from the hole, deepened the hole, and reseated it.
With that done, I began working on the plumbing, but was missing a critical piece. A couple of days later, I managed to get everything connected and ready. Done!
3. Put in a front retaining wall
First I had to prune the roses. That gave us a massive pile of rose branches, so we rented a shredder for a weekend.
Then it was time to dig the trench. Which I did over a couple of weeks:
February 7: Short Retaining Walls
February 9: The Kind of Conversation We Have Often
February 9: Looking Like a Trench
February 10 : With Measurements and Everything
February 11: The Weather Will Ruin This
February 22: The Weather Was Kind
February 23: Officially Trenchlike
Then we added drainage gravel, leveled it, and tied up the rebar. Because we got smart of ordered a concrete truck, placing the concrete took less than an hour.
We built formwork and installed it just in time, because I was running out of post titles based on "form":
April 16: Formwork, Part One
April 17: Formwork, Part Two
April 23: Formwork, the Saga Continues
May 1: Gluing Lifestyle
May 7: Puts Wind in Your Formwork
May 21: Formalities
May 29: In Good Form
May 30: Fighting Form
June 2: Final Formwork
Then, suddenly, we ordered the concrete truck for another quick and easy session of placing concete. The next day we could strip off the forms and see what our new wall looked like.
Then it was just the endless, tedious job of backfilling the wall and leveling out the upper part of the front garden.
5. Stripping paint from the woodwork
It took us until December to really do much of this, but Noel has gotten back into the groove of stripping paint from a little bit of the pink trim every day. As his hair gets pinker, the house gets browner, which is a decent trade.
6. Finish chicken yard roofs
I could have sworn I made a post about this, but I can't find it. Anyway, it was fast and easy and Noel knocked this out in ten minutes one afternoon, in part because we finally decided not to build the back part we'd been planning since nothing and nobody could dive down on the chickens through that space, anyway.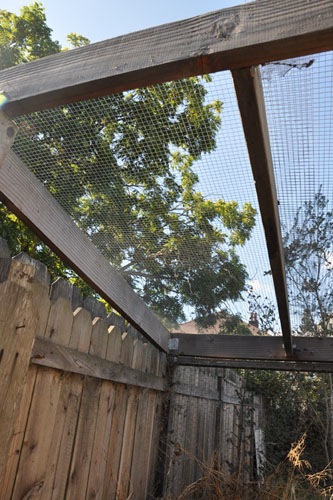 7. Begin work on upstairs/under stairs bathrooms
Once we decided we would definitely do the bathrooms this year, we quickly added the drawings to our permit application, and even before we had that done we tore up the bathroom floor in a fit of energy.
When we had the permit paperwork ready, we began ordering fixtures and deciding on finishes for both rooms. But the actual work is mostly going to end up happening in 2012 because of permit issues.
---
That's stuff we actually worked on. This is the stuff we didn't get around to:
4. Finish the arbor in the side yard
Getting this done would have required more planning than we seemed to be capable of this year. After several abortive plans to do it "this weekend for sure" we finally ditched and gave up. We need to get to it this next year, if only because the passiflora would really like to grow over the top of the arbor.
9. Start work on the pond for the back yard
The front wall was a test run for whether we should try to build the pond ourselves. I can definitively say that we are not doing any more detailed concrete work ourselves ever again; the pond will happen, eventually, when we have the money to hire out and have it built for us.
10. Replace the window over the front door
In the last weeks of December, I finally got around to contacting window places to find out what they could do for us with that window. No return contacts or anything like that, but we have everything ready to just replace the window. As soon as we get a permit, ha ha ha.

In addition to stuff we didn't get to, there's the stuff we didn't get permits for that are part of the big bathroom project:
2. Finish the foundation permit
b) Build a deck
c) Build side stairs
d) Replace missing siding
8. Put an electrical panel upstairs
I'll go into more detail on that in our plans for 2012, but basically we have a plan, and we are already nearly a month behind on making it work out, so wish us luck.
posted by ayse on 01/02/12